Lando Norris ready for F1 & contender for McLaren drive in 2019, says Zak Brown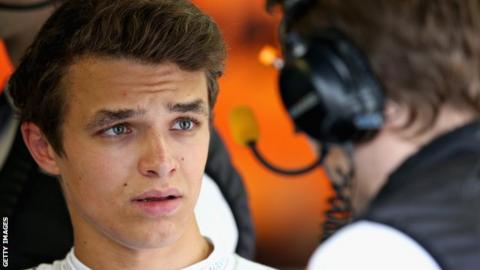 British 18-year-old Lando Norris is "ready for Formula 1" and among four contenders to drive for McLaren next season, says team boss Zak Brown.
Norris, a title challenger in the Formula Two feeder series this year, has driven in first practice at the past two races for McLaren.
Brown said: "So far, Lando has done an excellent job. He's very fast, just a few tenths off Fernando [Alonso].
"He's definitely on the pace and he seems to be quite relaxed."
Norris was slowest in a wet first practice at the Italian Grand Prix, about 0.8 seconds slower than Alonso, who is retiring from F1 at the end of the season. But Norris was on a similar pace to the Spaniard when both were on the track at the same time and had a faster lap ruined by traffic.
Brown added to BBC Sport: "Everything we do with Lando is a bit of test. He is our test driver. We want to give him a bit of experience. Putting him in for some practice ones is to see how he is getting on.
"He is ready for F1. We have three or four drivers on the shortlist and he is one of them."
Norris is in contention for a seat at McLaren next season alongside Carlos Sainz, who has already been signed to replace Alonso.
The other drivers in the frame are Alonso's current team-mate Stoffel Vandoorne and the Force India drivers Esteban Ocon and Sergio Perez.
Norris is considered the front-runner for the seat, while there are complications involved in both Ocon and Perez.
Ocon has had a seat fitting at McLaren but the team are not keen to sign the Frenchman while he remains contracted to Mercedes, for whom he is a junior driver.
Perez has a contract with Force India but there are uncertainties over their line-up after their takeover by a consortium led by Canadian businessman Lawrence Stroll, who wants to put his son Lance, who drives for Williams, in the team.
Perez is considered most likely to stay alongside Stroll in 2019, but it is not impossible Ocon could end up there instead as Mercedes supply engines to Force India.
Vandoorne is considered to be a low possibility after struggling against Alonso over the past two seasons.
Brown said: "Vandoorne is very much so [a contender]. Ocon is someone we like. Perez is a good race-car driver. If he's a driver we decide to go after, there are ways to make that happen."
Another option for Ocon in 2019 is Williams, in the seat that will be vacated by Stroll.