Formula 1 2019 season set to finish in December with Germany included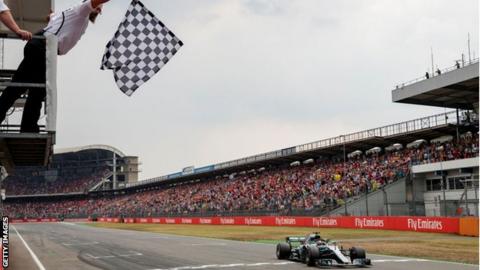 The 2019 Formula 1 season is set to finish in December, while the German Grand Prix has been included on the draft calendar released by the FIA.
It was also announced that a new contract has been signed for the Japanese Grand Prix to continue at Suzuka until 2021.
The record-equalling 21-race calendar has the same order as 2018, with the first race in Australia on 17 March.
Abu Dhabi will close the season with the race taking place on 1 December.
There have only been three later finishes to a season since the Formula 1 World Championship began in 1950 - 1959, 1962 and 1963.
The calendar will be submitted for approval during the FIA World Motor Sport Council meeting on 12 October.
The German Grand Prix has been held in alternate years recently and there had been doubts about its future with organisers wanting to reduce their race fee.
It will follow the British Grand Prix at Silverstone, which is scheduled for 14 July.
Eleven of the 21 races are in Europe, five in Asia, four in the Americas and one in Australia.
The 1,000th grand prix since F1's inception will take place in China on 14 April, the third race of the season.
Sean Bratches, managing director of F1 commercial operations, said: "The renewal of the Japanese Grand Prix and the confirmation of the German Grand Prix are both examples of our direction to place fans at the heart of Formula 1, a vision shared with all our promoters."
2019 F1 draft calendar
17 March, Australia
31 March, Bahrain
14 April, China
28 April, Azerbaijan
12 May, Spain
26 May, Monaco
9 June, Canada
23 June, France
30 June, Austria
14 July, Great Britain
28 July, Germany
4 August, Hungary
1 September, Belgium
8 September, Italy
22 September, Singapore
29 September, Russia
13 October, Japan
27 October, Mexico
3 November, USA
17 November, Brazil
1 December, Abu Dhabi