Fernando Alonso: 'I'd stay if I was winning, but I'll have more fun away from F1'

By Andrew Benson
Chief F1 writer at Monza
Last updated on .From the section Formula 1206
Fernando Alonso says he would be staying in Formula 1 if he had a winning car - but would not enjoy it as much as racing in another series.
The two-time world champion also, in an exclusive interview with BBC Sport, renewed his criticism of the "too predictable" sport in which "only two teams can win".
Alonso said: "I read I am stopping because I am not competitive, which is partly true.
"If I was winning all the races, I would continue. But it's also true I would not be having the same fun as I am elsewhere."
In a wide-ranging interview before the Italian Grand Prix, Alonso discussed:
How he feels about being considered to have had less success than his talent deserves

The difficulties of racing an uncompetitive car for the last five years

His feelings about modern F1

His view of Ferrari's current success in the context of his five years with the team

His fascination with the Indianapolis 500

Highlights of his illustrious career

His emotions about leaving F1 after 17 years
On his career results
Alonso's 32 Grand Prix victories put him sixth on the all-time list of winners, but last week Lewis Hamilton said the Spaniard was the best driver he had ever raced against and that it was a "shame" he had not had as much success as his talent deserved.
Alonso said: "Probably I don't take the second part of what people have in their minds. I feel extremely lucky and privileged to have my achievements.
"I feel F1 and the sport gave me a lot and I don't think too much on the downside of how many more championships I could have.
"It is true - maybe with five or seven points more I could be five times world champion. But on the other hand I could have zero world championships, and zero wins or zero podiums because F1 is an extremely competitive environment. So I just take the positives and I am happy with my achievements."
On five years of no success
Alonso has not won a race since May 2013 and has been saddled with uncompetitive cars for the last five and half years.
He said it had been "tough" to face this situation, but added: "There is nothing you can do. You obviously believe in your team and their performance and their projects.
"Even if you have a difficult season, you still believe the following year will be better and a good one. It didn't happen. It didn't happen in Ferrari in the last years and it didn't happen in McLaren the last four seasons.
"But even with that, or despite that, we still showed probably some commitment and determination to keep fighting, whatever the result was that particular weekend.
"And at the same time, thanks to this lack of performance, I explored different categories outside F1 and I discovered a beautiful thing with the Indy 500, or this year I am lucky to win the 24 Hours of Le Mans.
"It is true I am eighth in the world championship and I will not fight for this year's title. But right now in September, on the F1 grid I am the most successful driver because I won the Le Mans 24 Hours and even the title contenders now, they won nothing now.
"In November one of them will be world champion. The second one it will be a worse season than Fernando had. So maybe only one man will be happier than me in November. And I am happy for that."
His feeling about modern F1
Alonso criticises F1 for being "too predictable". He is referring to the domination of Mercedes and Ferrari, and those teams' focus on Hamilton and Sebastian Vettel, when he says that "only two teams or two drivers will win the Monza Grand Prix or Singapore or Abu Dhabi. The other [drivers] will just follow the recommendations of the engineers."
But he also says the cars, the way the sport is structured politically, and even the length of the calendar are less than ideal.
"These cars are made to drive in a very efficient way, that you need to control the batteries and tyres and everything they need to tell you from the garage," Alonso said.
"We see there are also a lot of B teams that don't get in the way of the A team to don't disturb too much and have all the benefits. That's one thing.
"The calendar is tough - 21 races, most of them outside Europe. When I joined F1 I was 19 years old, full of energy. You had 16 grands prix and most of them in Europe. It was a demanding, tough life but now it is just total commitment and dedication to F1.
"Now at 37 years old and having already achieved some good results, it is time for me to finish F1 with a good feeling and good performance and taking my own decisions."
Ferrari's current success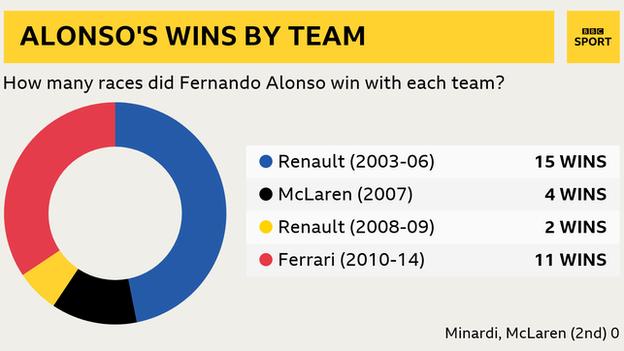 Alonso left Ferrari at the end of 2014, despite their initial desire to extend his contract, because he believed that the team would never produce a competitive car in the time he had remaining in F1.
This year, Ferrari are fighting for wins with Mercedes, and Sebastian Vettel, who replaced Alonso, has a good chance of becoming world champion.
But asked whether he ever thought it should be him in the Ferrari, Alonso said: "I am not thinking about it, to be honest. If I was this year in that Ferrari, maybe I was fighting for the world championship and feeling competitive.
"But at the same time, if you look back and are honest, Mercedes was world champion in 2014, 2015, 2016 and 2017, and in 2018 Mercedes is leading the championship.
"So how could I have been in 2018 still not winning a championship with Ferrari if already after five years I felt a lot of pressure and a lot of things were not going perfectly?
"Because if you are not winning with Ferrari, there are a lot of things going on. And already with five years I think it was enough. If this was my eighth year in F1 with Ferrari not winning, it is difficult to imagine."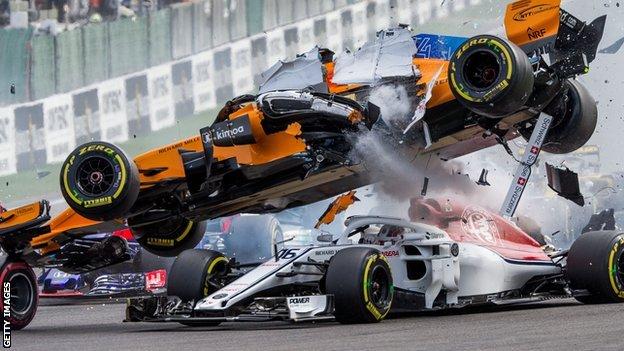 Passion for the Indy 500
Alonso has not confirmed what he is doing next year, but he has been open about his desire to win the Indianapolis 500 and become only the second man in history after Graham Hill to complete motorsport's unofficial 'triple crown' of F1 world title, Le Mans and Indy.
Alonso raced at Indy in 2017 and led 27 of the 200 laps before his engine failed in the closing stages while he was contending for victory.
Alonso said: "It is a race that [people] consider one of the biggest in motorsport. One of three biggest - Le Mans, Indy and Monte Carlo. So just for that reason it makes quite a special challenge.
"Second thing is the way I discovered last year the approach to the race, the way of driving those cars, the way of anticipating the tows, the overtaking manoeuvres. Everything is quite different to what we have in F1.
"And going out of that comfort zone we have here, [where] you have learnt probably everything you have to learn, and starting from zero, it was quite fascinating.
"I liked that feeling. And I am happy to work in the new categories and challenges that give you a sense of being alive again and start from zero."
Alonso said he had not expected the explosion of global interest in his decision to race at Indy.
"It was a surprise from day one," he said. "When we tested the car three weeks before the race and we had two million viewers on YouTube just one car running alone; that was the first surprise.
"And then we confirmed that feeling on the race weekend. From that moment, I think I realised I could have different things in my life, away from F1, and still have a huge impact on myself first as a person but also on the sport in general."
Emotions about leaving F1
Alonso's last grand prix will be in Abu Dhabi at the end of November. He said he had not thought how he would feel that weekend, but that he had already noticed his decision to leave had changed his attitude.
"It is going to be emotional because, so far, from the moment I decided to stop, all the parade laps, all the last couple of laps, the formation lap, everything about the weekend has been different, more emotional.
"I was taking care of everything, more details. I realised I was filming with my telephone the drivers' parade in Spa. And when I saw the video at night, I was, 'Why did I film seven minutes of drivers' parade?'
"And I did it because I want to have that in my memory, and in Abu Dhabi it is going to be something like that, but huge."
Highlights of his career
Who was his toughest rival?
"Michael [Schumacher]. Winning the two titles means a lot when Michael is on track but, apart from that, Michael was unstoppable.
"He was a man who fighting with him was tough because on a good day with a good car, he was unbeatable. With a bad day and a bad car, he was still there. He was special."
Most difficult team-mate?
"Probably Lewis [Hamilton] in 2007. We only shared the team one year but he was quick, tough and difficult to beat."
Best race?
"Maybe Korea 2010, or Malaysia 2012, or Valencia 2012. All in those moments."
Because of the intensity?
"Intensity, yes. Normally wet conditions, wet to dry, dry to damp, all this when you are fighting for a world championship there is no room for mistakes, and if you win that race it is an explosion of adrenaline and emotions."
Best overtaking move?
"On television, 130R against Michael in Suzuka in 2005. But from the inside it was not that difficult, or it didn't feel that difficult."
Even though you overtook him around the outside at 207mph?
"Yes. It looks spectacular on TV, but the difficulty I would put more on the starts, like in Barcelona into Turn One. The level of difficulty in those manoeuvres was higher than 130R."