'The message is clear to Lewis Hamilton after Belgian GP - Ferrari are fastest'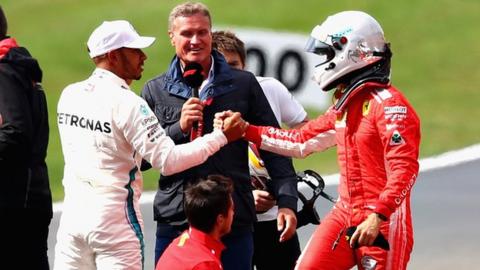 "Concern" was the word Lewis Hamilton used to describe his feelings about the rest of the season after his title rival Sebastian Vettel's dominant victory in the Belgian Grand Prix.
Vettel did in his Ferrari what he should already have done in the previous two races in Germany and Hungary, but let slip through his fingers.
Although Hamilton took a superb pole position in wet conditions, the pre-race fears of Mercedes came true within 25 seconds of the start. Vettel used his car's superior traction out of the slow first corner and greater straight-line speed to drag past on the straight.
After a brief fright when it looked like Force India's Esteban Ocon might try a move down the inside into the Les Combes chicane as four cars headed side-by-side towards the corner, Vettel swept into the lead. And like that, he was gone.
Hamilton still leads the championship by 17 points but the message from the classic Spa-Francorchamps track was loud and clear - Ferrari have the fastest car in Formula 1.
The size of Mercedes' task
"They've had the upper hand on us for some time," Hamilton pointed out afterwards.
The 33-year-old Briton won the last two races before the summer break but those wins came against the run of form.
Vettel crashed out of the lead in a late-race rain shower at Hockenheim, and rain again came to the rescue in Hungary. Ferrari had been the faster car all weekend but in a downpour in qualifying, Hamilton excelled as usual. Vettel was only fourth and finished the race second.
Hamilton spent summer jetting around Europe, America and the Caribbean, and Vettel spent the break at home in Switzerland, and when they reconvened in Belgium, little had changed about the competitive picture, despite both teams introducing engine upgrades.
But again there was rain, and again Hamilton took a stunning pole - by more than 0.7secs from Vettel, whose Ferrari team had a kind of collective meltdown in the chaos brought on the by the weather.
The rain came as all the drivers took to the track at the start of final qualifying. The front-runners all returned to the pits for treaded tyres, but Ferrari were not ready. There were no tyres. Vettel was left sitting in the pit-lane as mechanics ran around in a flap, and he swore at the team over the radio as they tried to wheel him back into the garage, warning them not to damage the car.
"We had a wobble, obviously," Vettel said afterwards.
Not on Sunday this time, though.
The race went exactly to plan for Vettel. Once past Hamilton, a safety car for the massive first-corner pile-up gave him some fresh concerns but he handled the re-start well, helped by what Hamilton said was his car's biggest deficit in Spa - poor traction.
That meant Hamilton could not stay close enough to Vettel at the re-start to do what the German had done to him earlier, and the Ferrari disappeared into the distance.
Its advantage was not huge - Vettel had pulled a gap of just under four seconds before Hamilton came back at him a little before the first stops - but it was more than enough to control the race.
Vettel described it as "a great weekend". On the championship, his mantra all season has been that Ferrari simply need to focus on keeping up in the development race and improving the car. "The key will be to be fast, to have the speed," he says.
How big a worry is it for Hamilton?
Spa raises genuine concerns for Mercedes. It is a power track and Ferrari were the quickest team. The next race, Ferrari's home event in Monza, is also a power track. And while the one after that, Singapore, is not, it is something of a bete noir for Mercedes, and they are already expecting a difficult weekend there.
Mercedes F1 boss Toto Wolff said he saw "many deficits that are obvious, which caused us not to perform as we expect".
Asked what these were, he pointed to traction and Mercedes' over-use of their tyres, the latter something of an occasionally recurring theme for the team.
Ferrari's apparent engine advantage was also a subject for discussion.
Hamilton referred to it afterwards, saying: "He drove past me like I wasn't even there on the straights", adding that Ferrari had "a few trick things going on in the car".
Inevitably this was leapt on as a potential implication that he thought Ferrari might be doing something underhand - not least because governing body the FIA was asking questions about the same thing back in May, only to eventually give the all-clear.
But Hamilton said that was not what he meant.
"We all have trick things on our cars," he said. "Trick is just a word for something special, I guess.
"I'm not saying that there's anything illegal on it. I'm just saying we all have something trick. Trick is just something that helps you bring that extra bit of performance. That's all I mean.
"I don't mean anything to it so please don't read into it and please don't twist my words and say that I say they're doing anything illegal because they're not.
"They just outperformed us today and we've got to work harder, but there are things that they have on the car that we might not have on the car and vice versa and we've got to try and find out what and improve on that. That's it."
Do Ferrari actually have an engine advantage?
There is no doubt that Ferrari were quicker on the straights. But that is not necessarily down to an engine advantage.
Mercedes were running more downforce on their car. They were marginally quicker in the middle sector of the lap, where the majority of the corners are, through practice and qualifying.
The downforce would help with tyre usage - but also slows the car on the straights. Poor traction out of slow corners also affects straight-line speed.
Wolff insisted that the Ferrari engine also had an advantage.
"They have a power advantage," he said. "We have seen that yesterday in qualifying. It is at various parts of the straight, even if the exits are worse than ours, they keep pulling."
But he also mentioned poor traction - and Hamilton said that coming out of the two slow corners at Bus Stop and La Source was "where we lose a lot of time, most of our time to be honest".
Hamilton also returned to the issue of over-use of tyres. "He didn't have to do any management, he was flat chat on the tyres, but I did."
If Mercedes' biggest loss in Spa was out of the slow corners, it gives Hamilton some hope for Monza this weekend.
"Luckily, there, apart from Turn One, it is not that slow, the chicanes," he said." So I am hoping the traction loss we are having in these super-slow corners won't be as bad there."
Last year, Hamilton won in Spa, but only after fending off Vettel's faster car all race. But a week later Mercedes dominated at Monza.
Wolff said: "Spa was always a bit of a tricky one for us in the past as well. Monza was a good one, so I am very curious to see how it is going to go in Monza.
"Last year we were very much in control of the whole weekend. Ferrari had their worst weekend of the whole season performance-wise.
"I am not worried. I think we should still address the opportunities that exist within our car where we need to optimise and only that will make us win the championship."
Hamilton said: "I truly trust and believe in my guys but these next string of races are going to be really telling. The next two or three races will show if they are going to sustain this high performance or it is going to be more tooth and nail.
"This is definitely the hardest season and it is going to continue to get harder and harder throughout. It is going to take the whole package being 100% to out-perform them. Sebastian did a great job today and didn't make any mistakes. We just have to keep applying the pressure to him."