Belgian Grand Prix: All you need to know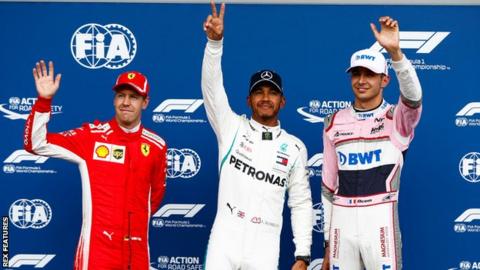 Lewis Hamilton says he is not favourite for victory in the Belgian Grand Prix despite taking a brilliant pole position in the wet on Saturday.
Despite his well-known expertise in the rain, the world champion said he was actually hoping for a dry qualifying because he felt he might have been able to make up what he believed was a very slight advantage held by Ferrari this weekend at the magnificent Spa-Francorchamps circuit.
Hamilton is concerned by a number of factors leading into the race - chiefly the chance of title rival Sebastian Vettel slipstreaming past him up the long run to the Les Combes chicane on the first lap, and the Ferrari's apparently superior race pace.
This could be almost a mirror image of last year's race at Spa. Hamilton took pole - narrowly held off a slipstream attack on the first lap from Vettel, and defended against the German all race despite the Ferrari being quicker.
Hamilton said: "They were favourite today and they will be favourite tomorrow but that doesn't necessarily mean they will win. They have been favourites for quite a few races but we have managed to turn it on its head.
"Sebastian's long runs were fantastic (in Friday practice). I don't know if I can find that pace. We will find out. It is always a tough race down to Turn Five and these guys are incredibly quick on the straights. We'll see."
Vettel was disappointed with his qualifying session - understandably so, given the Ferraris had looked capable of locking out the front row but will start second and sixth.
Team-mate Kimi Raikkonen, the form man of the weekend, was briefly fastest in the chaotic wet climax to qualifying but had to pit because he did not have enough fuel to finish the session and Ferrari ran out of time to send him out for a final lap.
"Scrappy" was Vettel's description for his and Ferrari's performance. The same could be said of their previous two races in Germany and Hungary, both of which Hamilton won against the run of form.
Vettel is 24 points adrift of Hamilton and if he wants to have a hope of winning the title this season, he needs to start taking advantage of his car's pace advantage soon.
Ocon's skills and the madness of his situation
Hamilton's pole lap was typically superb but the stars of qualifying were the Force Indias of Esteban Ocon and Sergio Perez, who locked out the second row, separated by just 0.043 seconds.
This was something of a fairytale for a team that went into administration during the Hungarian Grand Prix weekend four weeks ago, and were rescued during the summer break when their assets were bought by a consortium of businessmen led by Canadian billionaire Lawrence Stroll, father of Williams driver Lance.
The identity of the purchaser means Stroll Jr is expected to end up in that team sooner or later - perhaps this season, certainly by the start of next. And the man set to lose out is Ocon, as Perez's sponsorship from his Mexican backers is valuable.
A month ago, Ocon looked set for a move to Renault next year, but when Daniel Ricciardo made his surprise decision to leave Red Bull, the Frenchman was left in the lurch.
He now has limited options - potential openings at McLaren, Williams and Sauber. For a 21-year-old Mercedes-contracted driver who on track is doing everything to justify being given a seat at the factory team in the future, this is clearly not a great situation.
After qualifying, Hamilton and Vettel spoke for everyone when they said they hoped this highly promising talent found a drive for 2019.
Hamilton said: "I've always been a supporter of Esteban. How he conducts himself and performs on track is exceptional.
"Unfortunately, we're in a weird place in Formula 1 where you've got some teams that, rather than take a new up-and-coming kid, they'll take whoever's got the money, which means the structure of the sport is probably wrong, and how the funds are distributed, or whatever it is.
"He needs to be in a great car because he's one of the top drivers here, so I hope that opportunity is there for him."
Vettel added: "It's very good for him to get this qualifying session under his belt and get the car in P3 where it doesn't belong. I think that shows enough. So, well done. That should also be considered by someone signing him next year."
Ocon said: "It is awesome to hear that. Of course I want to be racing next year and I am doing everything for it.
"I am managed by Mercedes and they have been making great decisions for me in the past. I hope it will be the same in the future and it will be sorted out."
Politics entwining the sport as ever
Whether Ocon gets into a McLaren or a Williams may not depend solely on his obvious ability, as each finds themselves on the opposite side from Mercedes in the latest political dispute in F1.
At the start of August, both were among the three teams - the other being Renault - making life awkward for Force India and Stroll by refusing to agree to the transfer of rights and prize money from the old entity to the new.
A solution of sorts was found to enable Force India to reconstitute themselves and race as a new entry - and it looks like they will be able to change their name to something else next season should they so wish.
But the prize money is another matter. A number of teams have questions about the way the Force India situation was resolved, more than one using the phrase "cooked up" to describe what went on between Stroll, the Force India management, governing body the FIA and commercial rights holder the F1 group.
They are asking questions as to what exactly has been agreed and how, and what it means for the future, not least as finishing in the top 10 in two of the previous three years is a requirement for one of the three tranches of prize money teams receive, which amounts to more than $30m.
This locks into prior concerns about the likelihood of the new Force India becoming a de facto Mercedes B team, a situation Ferrari are effectively already in with Haas and Sauber.
Mercedes F1 boss Toto Wolff says this is not the case, but admits that co-operating with other teams and benefiting from the resultant economies of scale "can make sense" and will be "evaluated".
McLaren and Williams fear their business model will become unviable in this scenario. So it is an existential question for them.
Choose your top three drivers from the list below
Meanwhile, questions continue to be asked about new owner Liberty Media's running of the sport.
The teams' income - derived from race fees, TV income and sponsorship - has now gone down for the third quarter in a row. Plans to introduce a cheaper, simpler engine have been postponed - probably until at least 2023. And some of the teams feel Liberty's bosses been played by the car manufacturers.
Plans to introduce a budget cap and cost control are ongoing, but the biggest driver for the performance disparity between the top three and the rest is arguably the inequitable way the prize money is divided, and how this will be changed in the future.
It would be Ocon's misfortune to have his career caught up in all this. And losing such an obviously promising talent because of money would not be a great look for F1 either.
Alonso on Indy and Red Bull
Fernando Alonso has qualified only 17th on one of McLaren's worst weekends of the year but remains, as ever, at the heart of things.
One question revolves around his future: will he do a full Indycar season next year as he bids to win the Indy 500?
The risks of doing so were made plain last weekend by the horrific accident at Pocono that left Canadian Robert Wickens with as yet unspecified spinal injuries.
Does Alonso need to do this, after everything he has achieved, and all the money he has earned?
Alonso said: "I don't know exactly what I will do next year. I am aware of the risks but probably the biggest one is the Indy 500, because you are faster than any other race in the world there.
"Anything can happen in motorsport. It is also here or in rally or anywhere. We saw Stoffel (Vandoorne) today, spinning at 300km/h. Everything was fine. But one day maybe it is not fine and it is still Formula 1.
"The speed, the higher it goes, the more risk it is. If you commit for the full championship, it is not, let's say, any extra risk compared to the Indy 500."
The other issue with Alonso at the centre was his tit-for-tat dispute with Red Bull about him saying they had offered him contracts a number of times in his career, including for 2019. Red Bull deny this.
He was asked why, assuming the offers were made, he had turned them down, at the various times in question - which Alonso says were 2007 (which Red Bull admit), 2009, 2011 and 2013, especially as on those latter three occasions they were very competitive.
Alonso said: "In 2007, I had a tough decision to make after McLaren. I had Red Bull, Toyota and Renault coming back. I chose Renault just because they were family to me at that time and Red Bull in 2007 were not very competitive and Toyota were also struggling.
"Then in 2009, it was a little bit of a stressful times. I had four days to decide and I was talking quite seriously with Ferrari and I thought Ferrari was the safest thing and the best choice for the future and I am still proud to have made that decision.
"If you had a crystal ball, maybe you change opinion, but if not you would not say no to Ferrari in 2009.
"Then, 2011, it was more about (Mark) Webber being always in doubt at this part of the year. Always around Spa we had normally the meetings and, man, I was happy in Ferrari.
"We were maybe not winning the championship. But at the same time, it seems at Ferrari we were not competitive and it seems a long time we were not winning but we were three times second in the world championship.
"In 2012, we lost the championship here (in Belgium when he was hit by Romain Grosjean Lotus) at the start without being it anywhere in our hands.
"In all the offers I had after that, it was still Ferrari in my heart, and I believed the following year would be the good one."
Hulkenberg's chance to prove his talent
Nico Hulkenberg was once the coming man and a candidate for a Ferrari drive, but so far in his career the opportunities at top teams have not come his way. And despite endorsements from the likes of Alonso, he is rarely mentioned as one of the elite drivers in the sport.
So the arrival of Ricciardo from Red Bull next year as his team-mate at Renault gives him an opportunity to underline that's what he is. Was he licking his lips at this, he was asked on Saturday?
"I'm not licking my lips but you point it out rightly," the German said. "It's an opportunity for me and people will understand when I look good against him the magnitude of driver I am.
"I don't feel I have to prove that much but of course it is a good opportunity for me with the arrival of Daniel to show what I have been doing the last few years and the way I was driving."