Fernando Alonso wants Red Bull apology over denial of his claim they tried to sign him

By Andrew Benson
Chief F1 writer at Spa-Francorchamps
Last updated on .From the section Formula 1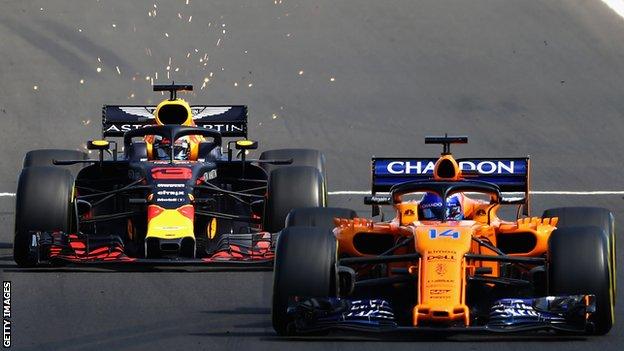 Fernando Alonso wants Red Bull to apologise after they denied his claim they offered him a drive for 2019.
The 37-year-old said Red Bull approached him about the seat being vacated by Daniel Ricciardo, who is joining Renault.
But two-time world champion Alonso has since said he would be leaving Formula 1 at the end of the season, with Pierre Gasly moving to Red Bull instead.
"It was not the case for me to join this adventure," said Alonso.
Red Bull team boss Christian Horner said the team "offered Fernando a contract in the past but that was back in 2007".
Earlier this week, Red Bull motorsport boss Helmut Marko said Alonso "doesn't fit with us" and told Red Bull's Servus TV station: "We were negotiating with him in 2007 or 2008. His demands were very tedious back then.
"If you look at his history, in McLaren and Ferrari, it was always a one-man show."
However, Alonso later claimed he had offers from Red Bull six times in his career.
"I had a couple of offers from Red Bull," Alonso told Sky F1. "In fact I had one in 2007, in 2009, in 2011, 2013, and two this year, one in Monaco, and one in August.
"The comments of Christian Horner this summer and Mr Marko are completely out of context, surprise comments about me creating chaos and being a difficult man to work with.
"One, they never worked with me, and secondly they've been chasing me for five or six occasions in the last seven years, and now they say that, that they are loyal to their programme and their commitments and their junior drivers.
"It has been weird, it has been unfair to me. I wrote to Christian after his comments this summer, he apologised by email, and hopefully he'll apologise again this weekend."
But Horner, speaking on Friday, again insisted no offer had been made to the Spaniard for 2019.
"To be totally clear, there was no offer to Fernando Alonso for next year," said Horner.
"He is a fantastic driver and a great talent, he has chosen his path. We had an inquiry from Flavio Briatore and from Liberty Media but the position within Red Bull has always been very clear.
"We invest in youth and have a talent pool through the Red Bull junior programme and as has been the case with Sebastian Vettel, (Daniil) Kvyat, (Daniel) Ricciardo and Max Verstappen, we were always going to draw on the talent we have."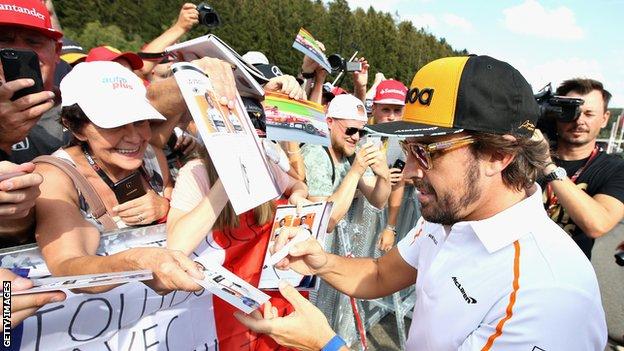 Alonso is looking at other categories of motorsport as he seeks to complete the unofficial "triple crown".
This is widely regarded to be victories in the Monaco Grand Prix, the Le Mans 24 Hours and the Indy 500, although some say the F1 world title rather than Monaco. Either way, only Graham Hill has ever achieved the feat.
Alonso added victory in the Le Mans 24 Hours this year with Toyota, for whom he is leading the World Endurance Championship this season in addition to his F1 commitments with McLaren, and led 27 of the 200 laps on a one-off attempt at the Indy 500 last year before retiring in the closing stages with engine failure.
Alonso did not confirm he would race in IndyCar next year, but said: "The triple crown is something I have been saying for a couple of years now.
"To be the best driver in the world there are two possibilities: winning eight world championships - quite unlikely now for me - and the second is to taste different series and different cars.
"In sports cars I am doing OK. On the Indy 500, I felt competitive last year and there are other series that can put you in a different level in motorsport."
Alonso said he did not expect to return to F1.
"Right now, I am thinking it is goodbye," he said. "Life changes very quickly. I don't have a crystal ball to know what will happen. For me, it is bye-bye, but who knows in the future?"
But he said he might have stayed in F1 had he had a winning car.
"The possibilities for next year, there have been few, or a lot - depends on how you look at it," Alonso added. "I did not stay because there are only two teams that can win and they continue with their drivers for the following years.
"And the F1 we see now is not the F1 I dreamed of when I was a kid or when I started in 2001.
"When you come to the same place for so many years and repeat the same thing, it is easier to be not so emotional about the challenges and that is the reason now."
The second Ferrari seat alongside Sebastian Vettel is the only place at the top two teams that has not been announced at this stage but Alonso's remarks seem to confirm the increasing impression in F1 that Kimi Raikkonen will be retained.
Ferrari had been planning before the sudden death of former president Sergio Marchionne last month to promote Monegasque Charles Leclerc from Sauber, but the new management is said to have had a rethink.
Tribute from Hamilton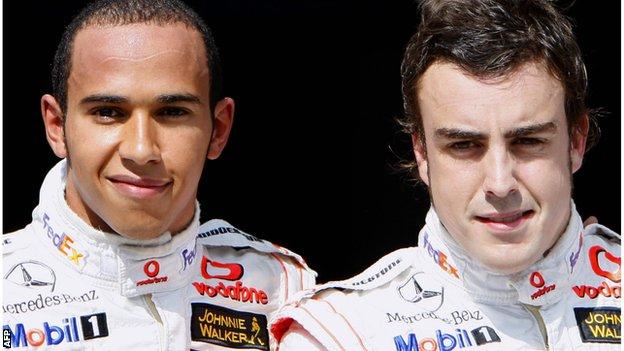 Lewis Hamilton paid tribute to Alonso as "one of the best drivers ever" in Formula 1, following the Spaniard's decision to retire.
Alonso, twice a world champion and sixth in the all-time win list with 32 victories, announced last week that he would leave Formula 1 at the end of the season.
Speaking before this weekend's Belgian Grand Prix, Hamilton said: "It is a shame he is not as decorated as his ability [deserves].
"But sport is not just about being a good driver, it's how you play the game, how you position yourself."
Alonso has famously made a series of poor career decisions, including turning down a chance to join Red Bull in time for their domination of the early 2010s, and leaving Ferrari at the end of 2014 believing they would never produce a competitive car.
Hamilton, who was Alonso's team-mate at McLaren in 2007 when they tied on points and number of wins, added: "He has been arguably the best driver I have ever driven against and I wish him all the best."
Why Ricciardo went to Renault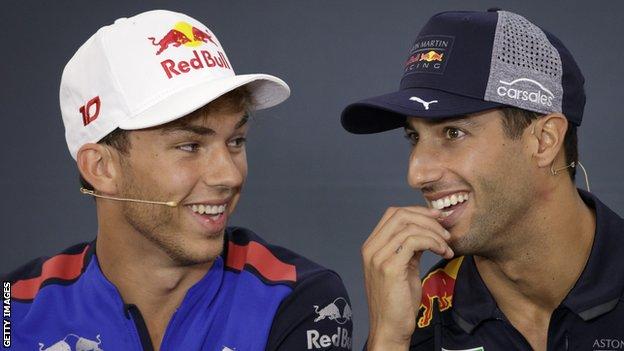 Alonso's decision was one of a series of driver moves announced over the summer break, which ends with the Belgian Grand Prix this weekend.
The other big news was Ricciardo's decision to leave Red Bull at the end of the season and join Renault.
He said: "It was by no means an easy decision. It got to a point when I felt I was ready for a change and a new challenge, just some fresh motivation.
"It sounds easy saying it like that but it wasn't easy. There were a few sleepless nights but once I made the decision I feel comfortable with it."
Ricciardo admitted that Renault, who are fourth this season after 12 races but a long way off Red Bull's pace, would not be in a position to win next year but said he was confident in their ability to do so in the future.
"Their short to medium-term plan is encouraging," the Australian said. "What they're doing with their finances and the way they are doing it showed me they want to win.
"I saw some really good signs with what they showed me in their presentation, and also their honesty - not telling me they are going to win in Melbourne [the first race next year]. It is a process but one going forward pretty rapidly."
How to follow on BBC Sport
BBC Sport has live coverage of all the season's races on BBC Radio 5 live and BBC Radio 5 live sports extra, plus live online commentary on the BBC Sport website and mobile app - including audience interaction, expert analysis, debate, voting, features, interviews and video content.
All times BST and are subject to change at short notice.
Belgian Grand Prix coverage details

Date

Session

Time

Radio coverage

Online text commentary

Thursday, 23 August

Preview & podcast

20:00-21:00

BBC Radio 5 live

Friday, 24 August

First practice

09:55-11:35

BBC Radio 5 live sports extra

From 09:30

Second practice

13:55-15:35

BBC Sport online

From 13:30

Saturday, 25 August

Third practice

10:55-12:05

BBC Radio 5 live sports extra

From 10:30 (continuous)

Qualifying

13:55-15:05

BBC Sport online

Podcast

5 live online

Sunday, 26 August

Race

14:10-16:00

BBC Radio 5 live

From 12:30

Review podcast

5 live online