Belgian Grand Prix: Lewis Hamilton 'welcomes' title pressure from Sebastian Vettel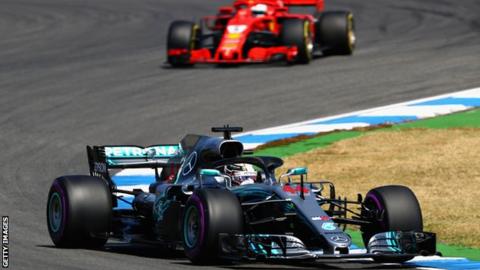 Lewis Hamilton says he welcomes the pressure of his intense title fight with Ferrari's Sebastian Vettel.
The Mercedes driver is 24 points ahead of the German as the Formula 1 season restarts this weekend in Belgium.
There are nine races of the season left as Hamilton aims for his fifth title.
"I can't tell you how Sebastian feels with the pressure. I can only tell you the pressure on me. It's as great as it can be. But I wouldn't want it any other way," he said.
"As humans, pressure leads us to try to do extraordinary things, to evolve, to push the envelope, to be better in all areas."
Hamilton won the last two races in Hungary and Germany against the run of form and he says Mercedes need to capitalise on the next two races in Belgium and Italy before the race in Singapore in mid-September, where they have traditionally done poorly.
"We have had two great results which have been fortunate for us," he said. "I look at these next two high-speed circuits and we need to hammer hard to come away with great points before Singapore, where we struggle.
"I don't know how we are going to fare around some of those other circuits and these two I feel like we have a better chance compared to the last two races and we need to make sure we deliver what we did the last race and capitalise on the positives."
But he said he expected a close fight with Ferrari at the classic Spa-Francorchamps track, where he narrowly beat Vettel last year.
"If you saw last year how close it was last year between us and Ferrari, this year they seem to have quite a big step-up in power," the Briton said.
"This is a power circuit and I don't know how we will fare compared to them power-wise, but car performance-wise I think we will be close."
Hamilton said he believed Mercedes had done a better job than Ferrari over the first part of the season.
"Maybe we weren't the best in all elements but we did a solid job to come away with the points we did," he said.
"We know the areas we need to improve but we know we have things to come.
"The second half is exciting. You don't know what will happen but what normally happens is you go from strength to strength through the good and the bad, and we have lots of positives to take into the second half of the season and there is more juice to come."
Both teams are expected to have upgraded engines this weekend, although this has not been officially confirmed.
Hamilton said he was looking forward to the challenge of the high-speed sweeps of the famous track, especially the downhill double left-hander called Pouhon.
"It is still a great track to drive and it is exciting to think that this year Pouhon might be flat, which is awesome," he said.
"Your imagination of how that might be, times it by 1,000 and you still probably wouldn't be there."
Vettel said: "The key will be to be fast, to have the speed. Points-wise we are a little bit behind but I don't think it is something we cannot do. For myself, it has been looking worse in past years but we still managed to turn it around by having the speed.
"Our car has been quite strong on circuits that are similar to here but the key will be to be fast everywhere and that's what we try to do. We have some new bits for this weekend and we see how we get on."
Vettel, also seeking a fifth world title, played down the significance of the points he has lost by crashing out of the lead in Germany two races ago, and a first-corner collision with Hamilton's team-mate Valtteri Bottas in France.
"We had races where we were stronger and didn't win, and we had races where they were stronger and didn't win for one reason or another," Vettel said.
"In this regard it has been fairly equal. Just before the summer started, Mercedes were stronger than everyone but before the break we were able to catch them again. In Hungary we were a little bit ahead in dry conditions. The key is for it to be close towards the end."
How to follow on BBC Sport
BBC Sport has live coverage of all the season's races on BBC Radio 5 live and BBC Radio 5 live sports extra, plus live online commentary on the BBC Sport website and mobile app - including audience interaction, expert analysis, debate, voting, features, interviews and video content.
All times BST and are subject to change at short notice.
Belgian Grand Prix coverage details
Date
Session
Time
Radio coverage
Online text commentary
Thursday, 23 August
Preview & podcast
20:00-21:00
BBC Radio 5 live
Friday, 24 August
First practice
09:55-11:35
BBC Radio 5 live sports extra
From 09:30
Second practice
13:55-15:35
BBC Sport online
From 13:30
Saturday, 25 August
Third practice
10:55-12:05
BBC Radio 5 live sports extra
From 10:30 (continuous)
Qualifying
13:55-15:05
BBC Sport online
Podcast
5 live online
Sunday, 26 August
Race
14:10-16:00
BBC Radio 5 live
From 12:30
Review podcast
5 live online