Formula 1: All you need to know about F1's return after the summer break

By Andrew Benson
Chief F1 writer
Last updated on .From the section Formula 1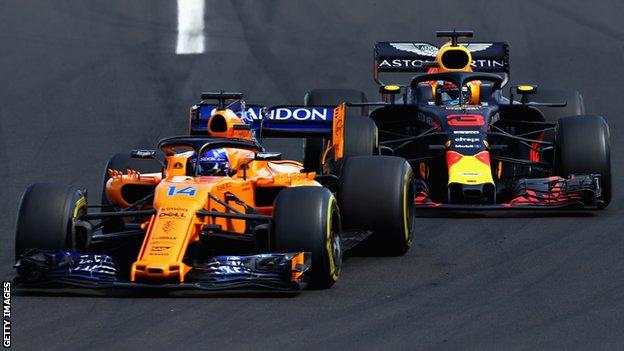 Formula 1 was supposed to spend much of the last three and a half weeks since the Hungarian Grand Prix on a summer break, but the teams and drivers seem not to have got the message.
The normally quiet August period instead ended up witnessing a series of major news stories, including on the future of one of the sport's biggest icons.
Here is a handy catch-up guide on everything you need to know as F1 returns for the decisive second part of the season, starting at this weekend's Belgian Grand Prix on the classic Spa-Francorchamps circuit.
Alonso's leaving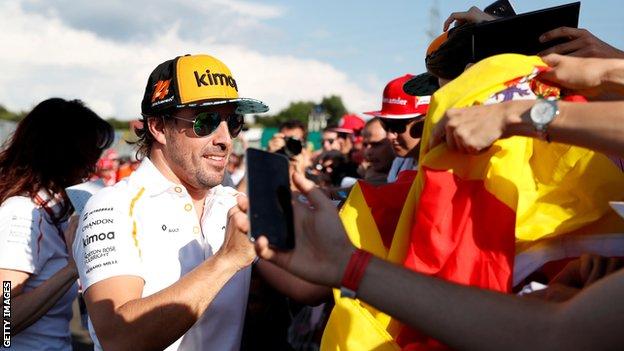 Undoubtedly the biggest story of the summer break was Fernando Alonso's announcement that he is to leave F1 at the end of this season.
The 37-year-old Spaniard is still at the top of his game - which makes him with Lewis Hamilton arguably the best driver in the sport - but he says he can find "bigger challenges" than F1 can offer elsewhere.
What that really means is that none of the top teams want to sign him, and he does not believe his McLaren team, after a season in which just how far they have fallen has been laid bare, can become competitive in the near future.
Alonso is likely to move to a full-time Indycar programme, with the aim of winning the Indianapolis 500 and becoming only the second man in history to win motorsport's unofficial 'triple crown' of Monaco Grand Prix (or F1 title, depending on how you swing), Le Mans and Indy.
That means F1 fans likely have only nine more races to enjoy Alonso's unique abilities, fascinating personality and charisma. Many will be hoping that somehow his McLaren will allow him to find a way to go out on a high, unlikely as that may seem.
Ricciardo's moving - and so are many others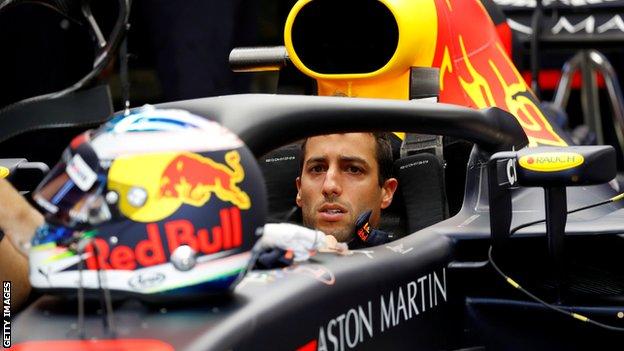 Alonso's announcement was actually the second big driver news of the summer, following a week or so after Daniel Ricciardo announced his decision to move from Red Bull to Renault for 2019.
It was known that the likeable Australian was vacillating over signing his Red Bull contract - he had it in his briefcase over the Hungarian Grand Prix weekend - but even so, the move came as something of a shock to most in F1.
That's because of the obvious performance difference between Red Bull and Renault. They might be F1's third and fourth best teams at the moment, but the gap between them is so big that the Renaults have been lapped by the Red Bulls at some races this season.
Ricciardo explained on Thursday in Belgium that it was "by no means an easy decision" but that he felt he was becoming a bit stale at Red Bull and wanted some fresh motivation.
He said he was impressed by the presentation made to him on how Renault plan to move up to compete for wins and world titles in the next few years.
Ricciardo's decision has set in motion a whole load of other moves.
He will be replaced at Red Bull by Frenchman Pierre Gasly, whose F1 career only started this season, and Spaniard Carlos Sainz has been released from his Red Bull contract to join McLaren.
Many other driver moves hang in the balance, not least mystery over whom Toro Rosso will fill both their cars with next season. There is also speculation over who Sainz's team-mate at McLaren will be - either incumbent Stoffel Vandoorne, their reserve Lando Norris or Force India's Esteban Ocon - and the line-ups at both Williams and Force India.
Which brings us on to…
Force India have been saved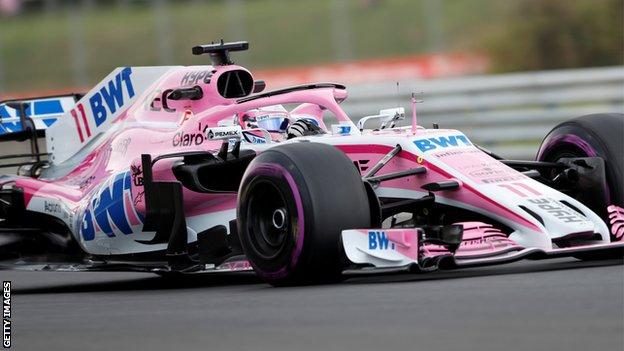 Force India went into the summer break in administration but were quickly saved by a consortium of businessman led by Canadian billionaire Lawrence Stroll, the father of Williams driver Lance.
That has led to the rather odd situation whereby Stroll owns one team but his son drives for another. The conclusion to that is obvious - Lance moves to Force India. That will almost certainly happen for 2019, but there remains a possibility it could happen before then.
After that, who will be Stroll's team-mate in 2019 out of Force India's current pairing, Ocon and Sergio Perez?
The obvious conclusion is Perez, as he triggered the administration process having taken advice from the team's management, and his Mexican backing is worth more financially than the benefits of having Mercedes-backed Ocon.
The Frenchman is also proving marginally superior this year - so if Perez stayed, that could make the not-so-far hugely impressive Stroll Jr look better against his team-mate.
Not only that, but Mercedes F1 boss Toto Wolff is trying to persuade McLaren to take Ocon - and the 21-year-old is a tempting opportunity as a known and highly rated quantity to put alongside Sainz.
Vandoorne, on the other hand, has looked unconvincing alongside Alonso since he made his debut in 2017, and Norris is obviously talented but still very raw, and would arguably be better served with a second season in Formula Two in 2019.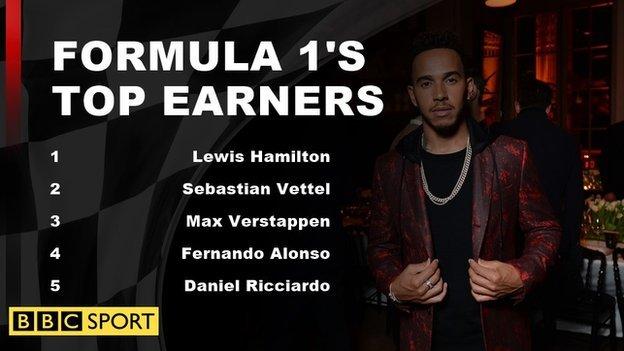 However, while Force India have not yet fundamentally changed their name, legally they are a new entity, and that means they need permission from all other teams for their rights to prize money to be transferred.
McLaren, Williams and Renault are holding out on that permission because they fear Force India is now effectively a Mercedes B team, an arrangement they fear will competitively disadvantage them.
Whether they continue to hold out remains to be seen - negotiations are ongoing on the subject of guarantees that they will operate as an independent entity.
And if Force India (or whatever they end up being called) are a Mercedes B team, wouldn't it make sense for them to have a Mercedes-contracted driver - ie Ocon?
Additionally, McLaren are making a stand against Force India (and by extension Mercedes), and therefore are not likely to be that keen to take on a Mercedes driver.
Stroll's move - whenever that is - frees up a seat at Williams alongside Russian novice Sergey Sirotkin. They also use Mercedes engines, so perhaps Ocon could get that. But then relations between Mercedes and Williams have cooled as a result of the prize-money transfer thing.
Could that open the door for a fairytale race return for reserve driver Robert Kubica, nearly eight years after his career was curtailed by the horrendous injuries he received in a rally crash in February 2011? Don't rule it out.
Look out, by the way, for Norris' first appearance on track on a grand prix weekend, when he runs in Alonso's car in first practice.
The title fight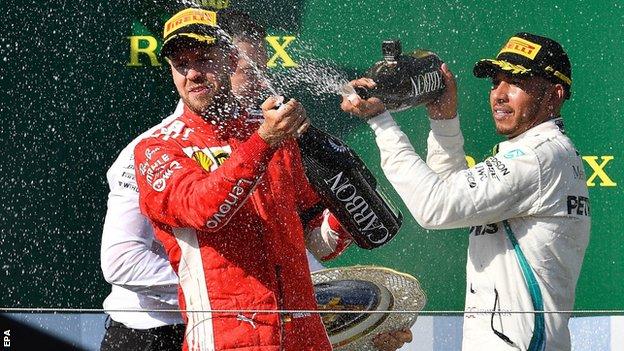 That's most of the off-track stuff, what about on the track?
Mercedes driver Lewis Hamilton goes into the final part of the season in an apparently strong position, 24 points clear of Ferrari's Sebastian Vettel after winning the last two races.
But Hamilton's victories came against the run of form - on pure competitiveness, Vettel should have won both races.
The German threw away victory in his home event when he crashed out in a late-race rain shower, perhaps partly because he knew how quickly Hamilton was catching him.
And the Ferrari was the fastest car in Hungary, but Vettel was scuppered by Ferrari's lack of pace in the rain in qualifying, when he could line up only fourth, and Hamilton took pole.
Vettel finished second, but might still have challenged Hamilton for the win had Ferrari's strategists not made some obvious mistakes.
Can Ferrari carry on that form at Spa, a track whose long, fast corners might be expected to favour the more efficient aerodynamics of the Mercedes? If they can, it would be a worrying sign for Hamilton.
At the same time, both Mercedes and Ferrari are expected to be introducing their third specification of engine either at this race or the one a week later in Italy. Ferrari currently have a power advantage. If either makes a decisive step forward, it too could shift the balance in the title race.
Raikkonen set for yet another chance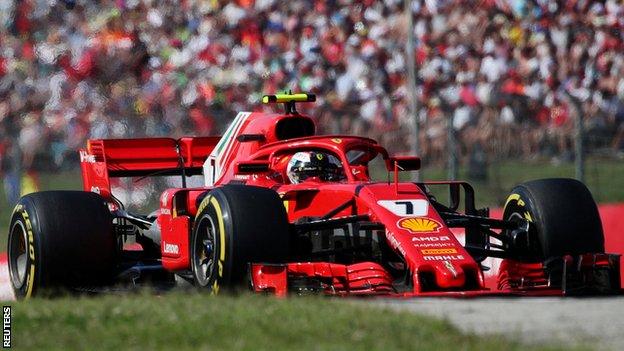 Talking of Ferrari, they are the only major team yet to reveal their driver line-up for 2019. Sebastian Vettel is under contract but will Kimi Raikkonen get another year?
Before the sudden death of former president Sergio Marchionne last month, a decision had been made to promote Sauber driver Charles Leclerc from Sauber to replace Raikkonen.
However, the mood music on that has now changed.
Vettel has made it pretty clear he would like to keep Raikkonen, saying at the German GP: "I like Kimi. As I said, I'd be happy to continue like that, but it's not for me to mention, to decide.
"Charles, one way or the other, will have a great career. He's a great guy, he's fast, he's got everything, so definitely, he has no rush."
Now the word is that the new management of Ferrari have gone back on the Leclerc decision and decided to persist with Raikkonen for another year.
If that happens, it is presumably in the interests of stability and because they worry the Monegasque might still be a bit too raw and inexperienced for the unique demands of being a Ferrari driver in only the second year of his F1 career.
If he does not get the Ferrari drive this year, Leclerc is expected to be moved from Sauber to Ferrari's other satellite team, the more competitive Haas, where he is tipped to replace Romain Grosjean, the Frenchman who has had an incident-strewn season.
For those who see great potential in Leclerc - and that is many - it is a disappointment, even if his last two races in Germany and Hungary were not up to the extremely high standard he set from the fourth race in Baku until Silverstone.
But given Raikkonen's experience and willingness to kowtow to the team's demands when they want to favour Vettel, it is understandable.
There was, though, another driver potentially available.
And what it says about the priorities and decision-making at Ferrari that Raikkonen can retain a top-level drive in F1 while Alonso - who crushed him when they were team-mates in 2014 - is apparently not of interest, the reader can decide for themselves.