Spa leads the way, London misses out & little love for Sochi - your F1 calendar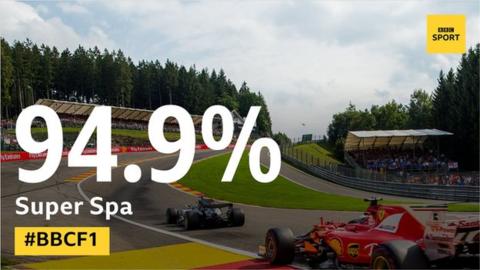 Before the summer break BBC Sport asked readers to list their preferred F1 calendar, based on the season being reduced to 16 races.
Thousands of you duly obliged by using our selector, and the results make interesting reading.
A record-equalling 21 races in 2018 has led to a call for an "aggressive" cull of the calendar from Renault F1 boss Cyril Abiteboul, who does not want to see grand prix weekends become "routine".
Combining this season's races with four wildcards, readers had a long list of 25 grands prix to whittle down to a final 16.
None of the wildcards made the cut, with San Marino falling just short with 55.3% of the vote. Malaysia (49%) also missed out on a return to the calendar, while there was only lukewarm support for the prospect of races in London (26%) and Miami (25.1%).
Current races that failed to make the cut were Mexico, Azerbaijan, Abu Dhabi, Bahrain and Russia, which came a distant last after being included in only 23% of all calendars selected.
There were few surprises among the final 16 selected, with classic events in Belgium and Italy included on most calendars.
Canada perhaps surprisingly pipped the British Grand Prix to third place, while Brazil, Australia and Japan also made the top seven.
Also of note is the relatively lowly position of the Monaco GP.
So often referred to as the jewel in F1's crown, the race has attracted growing numbers of detractors after some processional races in recent seasons and that is reflected in the statistics, with nearly 23% of all calendars selected excluding it entirely.
Your 16-race F1 calendar
Others: 17. San Marino 55.3%; 18. Mexico 54.9%; 19. Azerbaijan 53.1%; 20. Abu Dhabi 51.3%; 21 Malaysia 49%; 22. Bahrain 37.9%; 23. Great Britain (London) 26%; 24. United States (Miami) 25.1%; 25. Russia 23%
1. Belgium - 94.9%
9. Monaco - 77.1%
2. Italy - 93.5%
10. Spain - 71.3%
3. Canada - 90.7%
11. Singapore - 64%
4. Great Britain (Silverstone) - 90.3%
12. United States (Austin) - 63.9%
5. Brazil - 88.8%
13. France - 59.7%
6. Australia - 88.6%
14. Austria - 57.1%
7. Japan - 85.3%
15. Hungary - 56.3%
8. Germany - 82.5%
16. China - 56%