Fernando Alonso: McLaren's Spanish driver to retire from Formula 1 at end of season
Last updated on .From the section Formula 1624
Spanish two-time world champion Fernando Alonso has announced he is to retire from Formula 1 at the end of the season.
The McLaren driver will end a career that began with a debut for Minardi at the Australian Grand Prix of 2001.
Alonso, 37, who is competing in his 17th F1 season, won the 2005 and 2006 championships when racing for Renault.
"After 17 wonderful years in this amazing sport it's time for me to make a change and move on," he said.
"I made this decision some months ago and it was a firm one. There are still several grands prix to go this season, and I will take part in them with more commitment and passion than ever," he added.
"Let's see what the future brings; new exciting challenges are around the corner. I'm having one of the happiest times ever in my life but I need to go on exploring new adventures."
Alonso has in recent years branched out into other series and in June he won the Le Mans 24 Hours sportscar race at his first attempt.
He joined Toyota's World Endurance Championship (WEC) programme this season with the aim of winning Le Mans, and has dovetailed it with F1.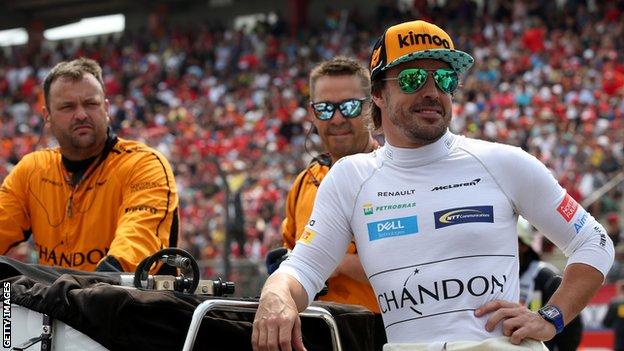 That victory provided him with the second part of motorsport's 'triple crown'. Twice a Monaco Grand Prix winner, he is only missing Indianapolis 500 success.
He competed in the Indy 500 for the only time to date in May 2017, retiring towards the end of the race with engine failure, having run strongly throughout and led for a total of 27 laps.
Only Englishman Graham Hill has won all three classic races in the history of motorsport.
Alonso ended Michael Schumacher's five-year dominance of the drivers' championship when he won the first of his titles in 2005.
At the time, he became the youngster ever driver to win the title.
He has also finished championship runner-up three times, and to date has achieved 32 wins, 22 pole positions and 97 podium finishes.
In his statement confirming he would retire at the end of this season, he suggested there may be a chance of him one day returning.
"I want to thank everyone at McLaren," he said. "My heart is with the team forever.
"I know they will come back stronger and better in the future and it could be the right moment for me to be back in the series; that would make me really happy."
'Thank you, for being my life'
Alonso tweeted a video 'letter' to F1 in which he said:
You were not expecting me and I wasn't sure I wanted to get to know you.
When I barely knew how to walk, I ran towards your noise, your circuits, without knowing anything about you,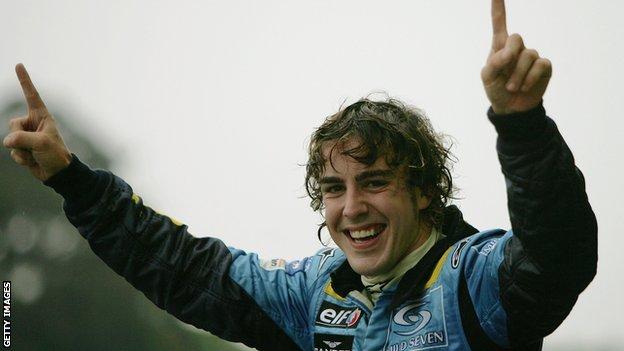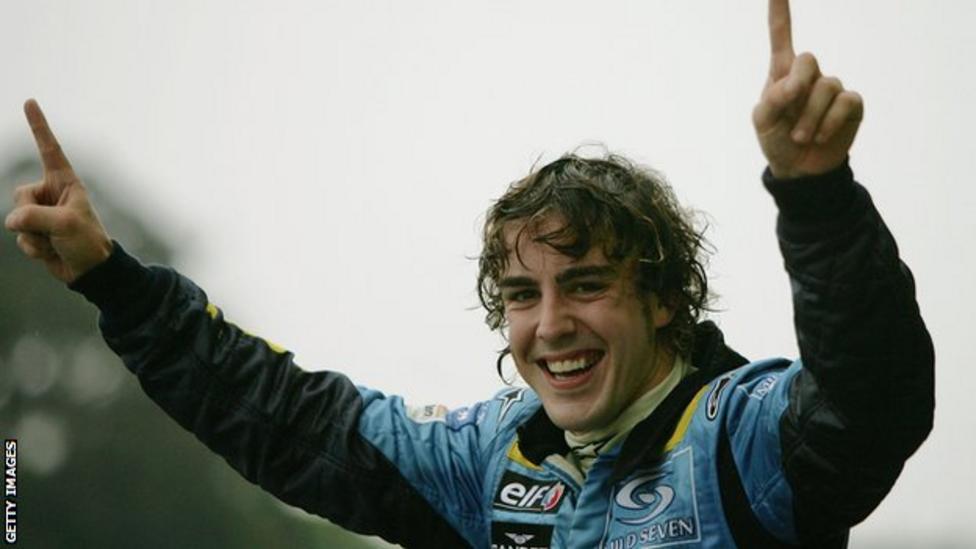 We had very good times, some unforgettable, others really bad. We have played together, against incredible rivals. You played with me, and I learned how to play with you too.
I have seen you changing, sometimes for good, sometimes in my opinion for bad. Every time i close the visor of my helmet I feel your warm embrace, your energy, there is nothing like it.
But today I have some other bigger challenges than those you can offer me. And this year, while I am still driving at my best, is how I want to remember you.
I can only be grateful to you and to the people that are part of you, for having introduced to me so many cultures, traditions, languages, wonderful people, for having been my life.
I know you love me, be certain that I love you too.