F1 gossip: Stroll, Renault, Sainz, Ricciardo, Schumacher
Last updated on .From the section Formula 1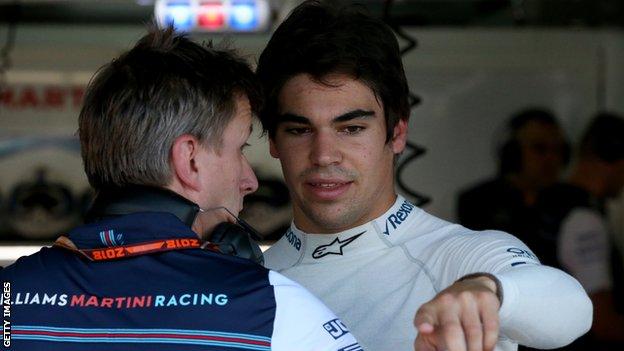 Sunday, 12 August
Williams driver Lance Stroll has said his lacklustre results so far in 2018 are down to his "love-hate relationship" with Formula 1. (Motorsport)
Renault have admitted initial "concern" over the Ferrari engine upgrade but now it is widely regarded as the best engine on the grid. (Planet F1)
Michael Schumacher's son Mick is targeting a future in Formula 1 after winning his first race in Formula 3. (ESPN)
Renault driver Carlos Sainz has said his position in the Championship does not reflect the whole picture of his season. (F1.co.uk)
Saturday, 11 August
Daniel Ricciardo's decision to leave Red Bull is because he does not want to play the support role to Max Verstappen, claims team boss Christian Horner. (Planet F1)
Felipe Massa is "upset" after ex-Williams team-mate Lance Stroll said he did not receive guidance from the Brazilian. (Motorsport)
Formula 1 would need permission if it wanted to go fully electric within the next decade, says Formula E CEO Alejandro Agag. (Autosport)
Pierre Gasly has emerged as the man most likely to replace Daniel Ricciardo at Red Bull. (F1i.com)
Friday, 10 August
Fernando Alonso has defended under-pressure McLaren team-mate Stoffel Vandoorne saying his previous team-mates have been "a lot further behind" him than the Belgian. (Formula 1)
Ferrari test driver Antonio Giovinazzi wants to prove he is worthy of a spot on the Formula 1 grid. (PlanetF1)
Frenchman Pierre Gasly says he is not thinking about the possibility of joining Red Bull, despite being linked with the team after Daniel Ricciardo announced he will be joining Renault next season. (F1 Today)
Force India driver Sergio Perez says he has "a couple of options" for the 2019 season but will wait to make a decision on his future. (PlanetF1)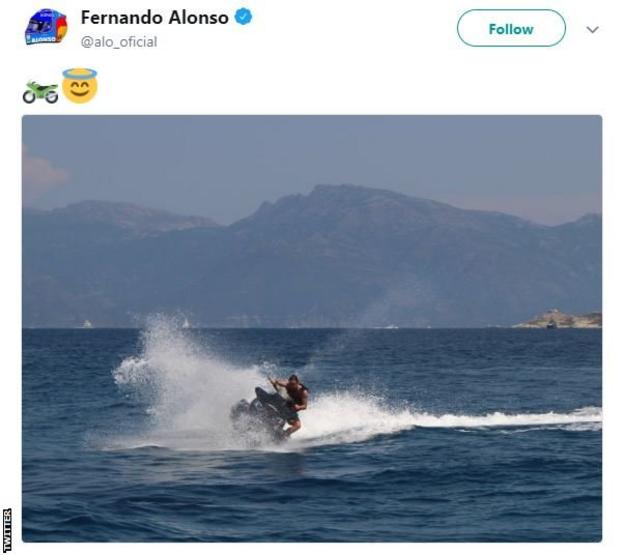 Thursday, 9 August
Red Bull team principal Christian Horner has ruled out Fernando Alonso replacing Daniel Ricciardo next year as it would not be the "healthiest thing". Horner also said Ricciardo's move to Renault is a "big risk" for the Australian. (Beyond The Grid podcast)
Teams are on track to receive $45m (£35m) less prize money this year than before Liberty Media took over. (Forbes)
F1 chief executive Chase Carey believes that the key elements of the sport's 2021 regulatory and commercial package can be finalised "in the coming months". (Motorsport.com)
Wednesday, 8 August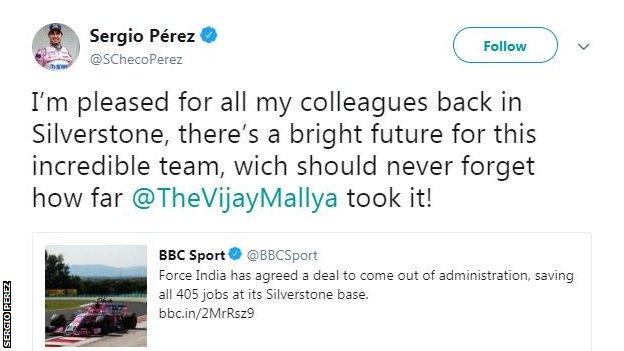 Driver Sergio Perez says there is a "bright future" for his Force India team after they agreed a deal to come out of administration. (Twitter)
Doctors say Niki Lauda was only days from death, before his lung transplant last month. (Motorsport.com)
Haas driver Romain Grosjean believes he has a long-term future in F1. (ESPN)
McLaren boss Zak Brown says Fernando Alonso has yet to commit his future to Formula 1 or IndyCar. (PlanetF1)
Tuesday, 7 August
Lewis Hamilton has posted a video saying he spent nearly two hours helping to clear up a load of discarded rubbish, including plastic bottles and wood, from an undisclosed seaside location in "one of the most beautiful parts of the world". (Twitter)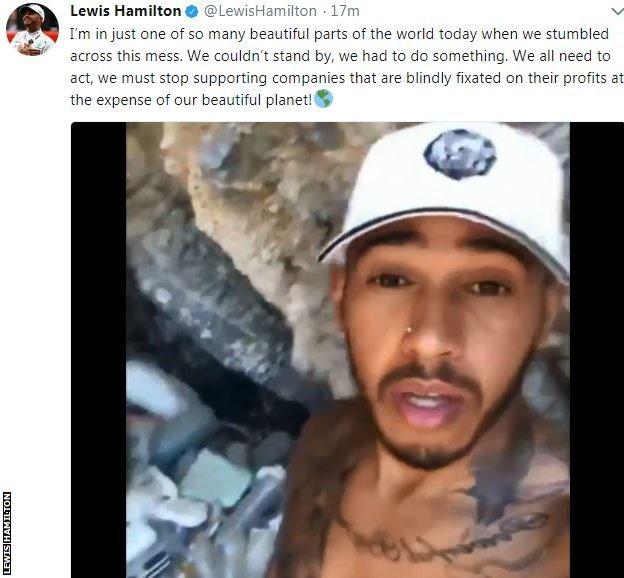 Meanwhile, back to the actual F1 action, Hamilton says Mercedes have performed better as a team compared to Ferrari in the first half of the season. (ESPN)
Mansour Ojjeh has unexpectedly resigned after more than 30 years on the McLaren Formula 1 team's board. (Independent)
However, McLaren say the report is "entirely misleading" and that Ojjeh remains as a director of the parent company, McLaren Group. (racefans.net)
Red Bull driver Max Verstappen wants to keep on topping the podium after winning last month's Austrian Grand Prix, with the 20-year-old saying he aims to win "50 or 60 races". (F1.co.uk)
Hamilton's Mercedes team-mate Valtteri Bottas is not treating the summer break as a holiday - he's been training at Monaco's Stade Louis II...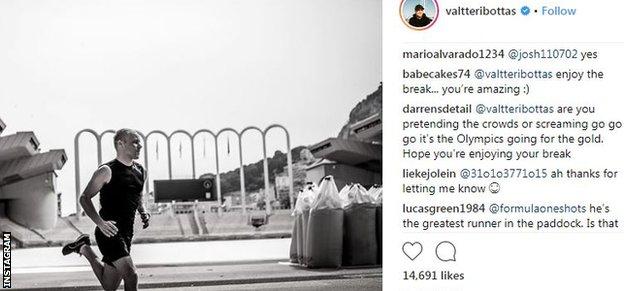 Monday, 6 August
Formula 1 Group chief Chase Carey says it would be a "great story" for 19-year-old Mick Schumacher to follow in his father Michael's footsteps.(F1.co.uk)
Max Verstappen feels like his Red Bull team have been "two races behind" on engine updates this season. (motorsport.com)
McLaren came "pretty close" to signing Daniel Ricciardo for the 2019 season, says boss Zak Brown. (RACER Magazine, via PlanetF1)
GP3 racer Tatiana Calderon is determined to break into F1 and end a four-decade absence of women on the Grand Prix grid. (formula1.com)
Haas F1 driver Romain Grosjean is enjoying the summer break...