Hungarian GP: Lewis Hamilton to 'turn up heat' in second half of season

By Andrew Benson
Chief F1 writer at the Hungaroring
Last updated on .From the section Formula 1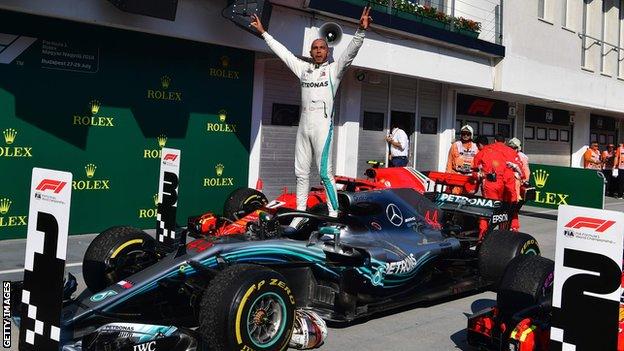 Lewis Hamilton plans to "turn up the heat" in the second half of the season after establishing a 24-point lead over Sebastian Vettel in the title race.
The Mercedes driver claimed his second victory in a week in Sunday's Hungarian Grand Prix and now has nearly a clear win's advantage over his Ferrari rival.
He said: "The second half of the season is always intense but it is usually when it gets a bit better on our side.
"So we will go away and prepare and make sure we come back stronger."
F1 takes a four-week break before an intense period of nine races in three months, starting in Belgium on 24-26 August, brings the season to a conclusion.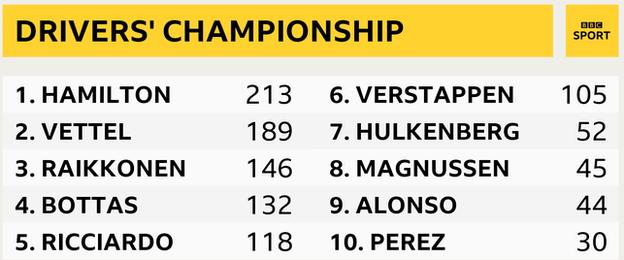 Hamilton's victory in Hungary came against the run of play, as Ferrari had the faster car, but a superb pole in wet conditions gave him a chance that he and Mercedes grasped with both hands.
It was his fifth win of the year, compared to Vettel's four, but he warned that the German's Ferrari team had taken a decisive step forward in performance in the last couple of races and now clearly had the fastest car.
He said the first 12 races of the season had been "epic".
"It's been trying - physically, mentally and emotionally demanding - but a period I am really proud of and look where we are standing," he added.
"We have won five races, we are ahead of the Ferraris which eight-nine races in really turned up the heat, and to come away with two wins [in a row] is a great show of strength in depth.
"We need to apply more pressure in the second half. This is where we need to turn up the heat."
But he dismissed any thoughts that he was already closing in on his fifth world title.
"Absolutely not," he said. "It is far too early. You have seen the ups and downs we have had. [We've] been ahead, then behind, then ahead. I don't believe there is ever a moment you have got your hands on the trophy."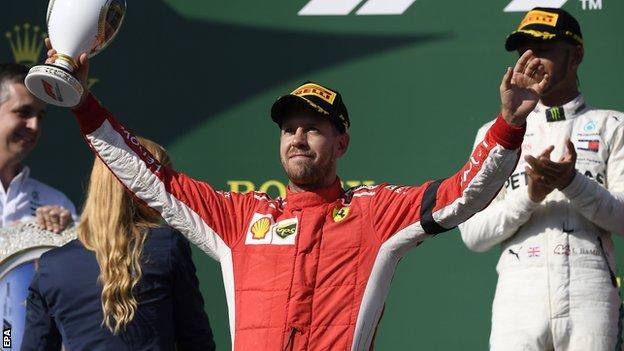 Vettel said he was confident Ferrari would be able to mount a serious challenge to Mercedes in the remaining races, but made an oblique reference to the damage he caused by crashing out of the lead in Germany a week ago.
"We know if it is like this consistency is the key, scoring points," Vettel said. "I did not do myself a favour last week but it is part of racing, so stuff happens."
He said Ferrari had lost out in 2017 not because of their widely publicised technical failures but because their car had not kept up with Mercedes on development
"Last year, we lost the championship because our car was not quick enough to be a match in the final part of the season, despite what happened with the DNFs.
"I think this year showed so far our car is more efficient and stronger and still has a lot of potential to unleash.
"So I am quite confident with what is sitting in the pipeline we can improve and it should be an exciting second half of the year."