Hungarian GP: Force India asked me to start proceedings, says Sergio Perez

By Andrew Benson
Chief F1 writer at the Hungaroring
Last updated on .From the section Formula 1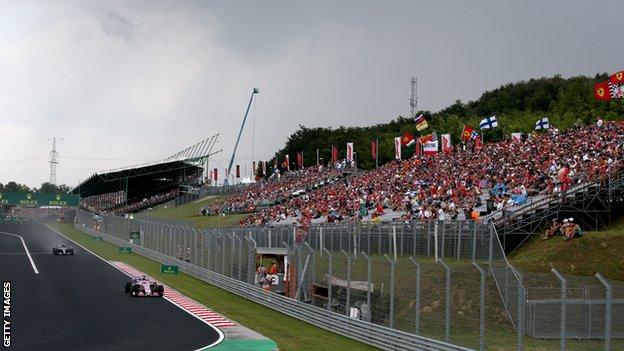 Force India driver Sergio Perez says he started administration proceedings against the team to fend off a winding-up petition from another creditor.
The Mexican told BBC Sport: "The team asked me to do it. Otherwise, it would have been very bad."
Force India were put in administration by the High Court on Friday evening and are the subject of interest from several potential buyers.
Perez said he wanted to help protect the future of the team.
The 28-year-old, who has driven for Force India since 2014, was owed unpaid salary of several million pounds.
His Mexican backers sponsor the team, and from that income the driver is meant to be paid his retainer.
Perez said he started the legal proceedings "to look after the 400 people who work in the team".
He added: "It was very tricky and difficult. Every day really counted and I was told to help the team, to secure those jobs and that is the main reason behind it.
"It was a very difficult decision for me because I am in the middle of it, but the picture will look bigger in the near future."
Speaking in a news conference, he added: "The bottom line is that we did it, or the team goes bust. Emotionally and mentally it has been really tough. I haven't been able to focus on being a racing driver."
On Friday, former co-owner Vijay Mallya sent a message to friends, seen by BBC Sport, that said the team's operating company was the largest creditor, with debts owing of more than £159m.
The largest external creditor is Mercedes, who are owed in the region of £10m in unpaid engine bills.
Force India's problems arise from the legal issues of Mallya, who is fighting extradition to India on fraud charges, which he denies.
Perez added: "I love Vijay, and my heart is really broken because I know this is not ideal in the short term for him, but the big picture is really different.
"He's going through a very difficult time, not just legally but also financially. The last month or so has been extremely difficult. I don't think many racing drivers could have gone through this."
Geoff Rowley, of administrators FRP Advisory, said he would be "engaging with key stakeholders on an urgent basis to secure the best outcome for creditors".
In the meantime, the team will continue to operate as normal.
There are said to be at least three potential buyers - two US consortiums and one Russian bid.
An attempt by energy drink company Rich Energy to keep the team afloat under Mallya with a £30m sponsorship offer was rejected by the judge.