Hungarian Grand Prix: Force India to compete in Hungary despite administration

By Andrew Benson
Chief F1 writer at the Hungaroring
Last updated on .From the section Formula 179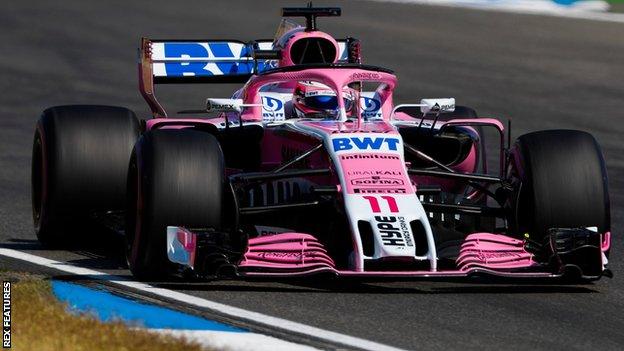 Force India will compete in the remainder of the Hungarian Grand Prix weekend after being placed into administration on Friday.
In a note addressed to "friends", and seen by BBC Sport, team co-owner Vijay Mallya said court action was instigated by Force India driver Sergio Perez.
Mallya said the team's operating company was the largest creditor, with debts owing of more than £159m.
He said he would work to secure the team's future with the administrator.
This could mean selling the team to new owners. There are said to be at least three potential buyers considering a purchase of the Silverstone-based outfit.
Mallya wrote in his note: "Our holding company will work with the administrator to take the team out of administration or sell the team at the best possible price."
He added that both he and deputy team principal Bob Fernley remained in their positions.
Joint Administrator Geoff Rowley, from FRP Advisory LLP, said: "The team will continue to operate as normal, including racing in Hungary this weekend. Our aim is for business as usual while we assess options to secure the future of the team."
The largest external creditor is Mercedes, with about £10m worth of engine bills unpaid. Perez's action is about unpaid salary. The Mexican's sponsors contribute several millions in sponsorship to the team, out of which the driver is paid.
Mallya's note added that title sponsor BWT, an Austrian water company, had "jumped in and claimed that their sponsorship amounts were loans, which is ridiculous as our entire car is pink with BWT branding".
On Friday, Force India admitted they faced a "critical period" as financial problems threatened the team.
Before the team was put into administration, chief operating officer Otmar Szafnauer said he believed fresh investment in the team was "imminent", and added he is confident if the team went into administration it would come out of it and survive.
Force India's problems arise from the legal issues of Mallya, who is fighting extradition to India on fraud charges, which he denies. He cannot travel from his base in the UK as a result but Fernley is expected to be at Hungaroring.
Meanwhile, team driver Esteban Ocon is on the verge of securing a deal to move to Renault for next season as a replacement for Spaniard Carlos Sainz alongside German Nico Hulkenberg.
Sources have told BBC Sport a deal for the Frenchman to make the switch is agreed and simply needs finalising.
Ocon is effectively on loan to Force India from Mercedes, who own his contract.
Szafnauer said: "It's fine for him to go but we have to agree to that. If it's mutually beneficial [to Force India and Mercedes], that's what we are going to do. We won't stand in his way."