Hungarian GP: Lewis Hamilton would not improve our performance - Williams

By Andrew Benson
Chief F1 writer at the Hungaroring
Last updated on .From the section Formula 1260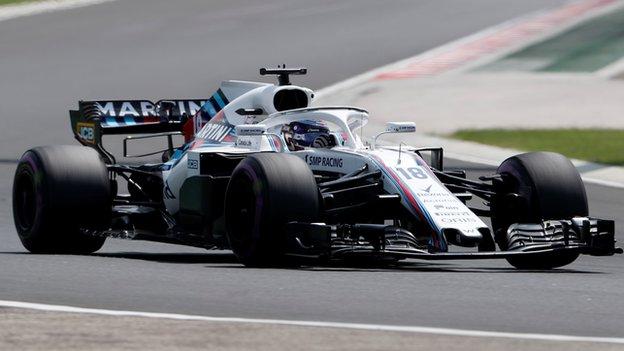 Williams boss Claire Williams says not even Lewis Hamilton could have significantly improved the team's performances this year.
Williams have been criticised for signing two inexperienced drivers who bring money to the team in Lance Stroll and Sergey Sirotkin.
But Williams said: "Put Lewis in our car, and I'm not sure he could have made a huge amount of difference.
"I feel sorry for Lance and Sergey. The car just doesn't have the performance."
Williams' claim was questioned by BBC F1 analyst Jolyon Palmer.
The former Renault driver, who was on the grid last year, pointed out that Stroll was 0.8secs on average slower in qualifying than former team-mate Felipe Massa in the second half of last season, and that the Brazilian was not as fast as four-time world champion Hamilton.
Williams have the slowest car this year on average qualifying pace, 0.4secs behind Sauber, 0.5secs off Toro Rosso and 0.7secs off McLaren. The McLaren's benchmark lap times are set by double world champion Fernando Alonso, who is regarded by many as on a similar level to Hamilton.
Williams said she had no regrets about choosing Stroll and Sirotkin.
"Lance and Sergey are young but there is often criticism of teams for not nurturing young talent," she said. "They have had an enormous amount of criticism levelled at them, and that is somewhat unfair.
"They have not been able to show the talent they do have and we wouldn't put drivers in the car if we didn't think they had some talent. I don't think any driver could have made that much difference to our performance."
Williams have finished third twice and fifth twice in the last four seasons and had hoped a fundamental change in design philosophy would help them secure fourth place this year in the constructors' championship.
Instead, they are last after half the season with only four points and are steeling themselves for finishing there.
Williams have split with two leading engineers since the start of the season - chief designer Ed Wood and head of aerodynamics Dirk De Beer.
Williams, talking in an exclusive interview with BBC Radio 5 live, pointed out that the car had fundamental problems related to its aerodynamic performance. These have made it unpredictable and difficult to drive.
"You don't go from P5 to P10 without a number of issues in play," she said. "It is obvious our aerodynamics are not where we need them to be. That was one of the key areas we went aggressive and we got it wrong.
"But we have confidence in the team we have that they can deliver what we need them to do over the next few months this season and next year we have changing aero regulations which will hopefully reset things and provide a baseline platform we can take advantage of.
"There are other issues at play but airing your dirty laundry in public is not something we do here.
"We have a job of work to do to make sure we have the right people and processes in place and the right resources.
"The situation has given us the opportunity to dive deep and make adjustments where we need to and come out stronger in the future."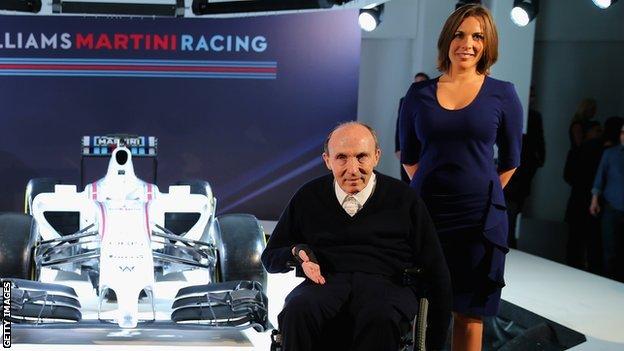 Williams, who is effectively team boss although father Sir Frank Williams is still the nominal head of the team, said coping with this season had been "more difficult than anyone could possibly imagine".
"We have held our hands up and said we have got it badly wrong," she said.
"But that happens in sport. We have been through this scenario many times and we have got out of it many times. We won't give up. We are fighters and we won't stop fighting until we get back to where we need to be.
"Everyone is very much focused on getting us back to the top of the midfield again. It is heart breaking and soul-destroying for everyone in this team. Everyone feels the pain, not just me."
Stroll has been linked with a possible move to Force India next season, but Williams said the loss of his financial input would not put the team in jeopardy.
"We aren't reliant on either of our drivers for their money in its entirety," Williams said. "If that were the decision... we would be absolutely fine and it wouldn't have a hugely negative impact.
"It is always financial management but we have some other cards up our sleeves."