Belgium Grand Prix: Who will top the podium at Spa?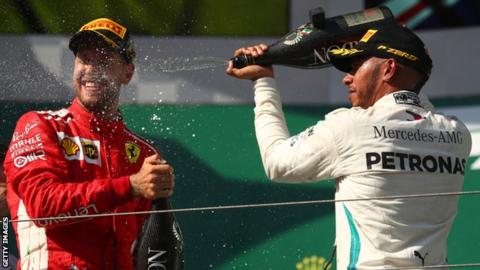 Switch off the jet-ski and pack away the suntan lotion. The small matter of a world championship needs to be decided.
Nine races in three months remain in a season that has already been packed with drama, an ever-changing top two and drivers pledging their futures elsewhere.
Rewind four weeks ago, and the Hungarian Grand Prix provided Lewis Hamilton with his fifth win of the season and a 24-point lead in the title race.
Sebastian Vettel won't want to see the words: "Ferrari appeared to blow their best chance to challenge the Mercedes driver" being written in another race report, as the Scuderia's delayed pit stop cost the German a chance to challenge for victory.
Hungary was also a race to forget for Red Bull's Max Verstappen and Mercedes' Valtteri Bottas. Verstappen's latest engine failure led to a sweary radio rant fit for the hall of shame. The Dutchman later apologised for the words he used in the "heat of the moment".
A qualifying spot on the front row for Bottas ended in a fifth-place finish following clumsy bumps with Vettel and Daniel Ricciardo. The Finn, however, was upbeat on Twitter about his prospects for the second half of the calendar: "This year hasn't been great for me so far, but I believe the good times will come. Will never give up."
Belgium is up next and in 2017 it was Hamilton who managed to close the gap on championship leader Vettel with a tense win at Spa.
Three victories on the bounce followed after the summer break for the Mercedes man, with the dream of a fifth title for Vettel put on hold for another year.
Choose your top three drivers from the list below