German Grand Prix: Sebastian Vettel bemoans throwing away home victory

By Andrew Benson
Chief F1 writer
Last updated on .From the section Formula 1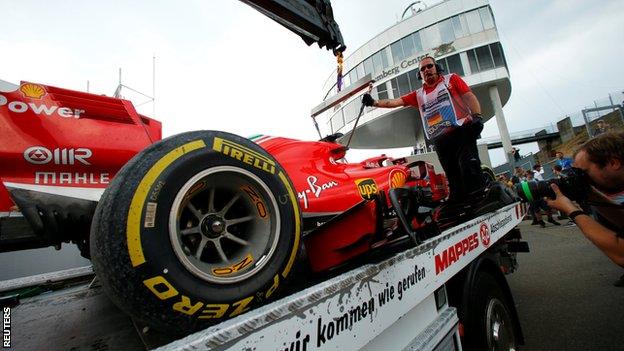 Ferrari's Sebastian Vettel admitted he "threw away" victory in the German Grand Prix with what he said was a "small mistake" in the rain.
"It was a small mistake but a big impact on the race," the German said.
"We had the pace, controlled most of the race - just sad it ended in the sand pit. It's disappointing because up to then everything was sweet."
The German swore repeatedly on the team radio as he sat in the car in the barriers and apologised to the team both then and after the race.
He had gone into the race eight points clear of Hamilton at the top of the drivers' standings and was poised to leave with a large advantage before the rain turned the race on its head.
As Hamilton, in fourth place and on fresher tyres, began to close his deficit to Vettel, the Ferrari skated off the track at the Sachs Kurve hairpin.
"It's not like tonight I will have difficulties falling asleep because of what I have done wrong," Vettel said. "I was just a tiny bit too late on the brakes, locked the front then locked the rears and couldn't turn in.
"It is something I have done wrong and I should have done better but it wasn't the biggest mistake I have done. It was probably one of the most costly ones but that's how it goes sometimes."
Vettel was also embroiled in a discussion about team strategy with Ferrari during the race, when he questioned their decision to leave team-mate Kimi Raikkonen in front of him after the Finn emerged ahead on a different strategy.
After Vettel was held up for eight laps, and complained repeatedly about it, Ferrari ordered Raikkonen to let him past.
"We were just on different strategies," Vettel said. "I was getting stuck and I didn't understand what we wanted to do. It was a bit unnecessary but in the end it didn't matter."
Vettel said Ferrari, who appear to have made a decisive step forward in engine performance in the last two races, should still be confident about their title chances over the remainder of the year, starting in Hungary next weekend.
"We have a strong car so we can be as confident as… more than anybody else," he said. "It was a very positive weekend, it was just one of those moments, my mistake.
"Apologies to the team, they did everything right, I had it in my hands, small mistake, big disappointment.
"We go to Hungary and we try to do what we can and then we see. We have showed enough times. Everyone knows what we can do, so [I'm] confident looking forward to Hungary."