British GP: Lewis Hamilton says title fight with Sebastian Vettel 'weighs heavy'

By Andrew Benson
Chief F1 writer at Silverstone
Last updated on .From the section Formula 1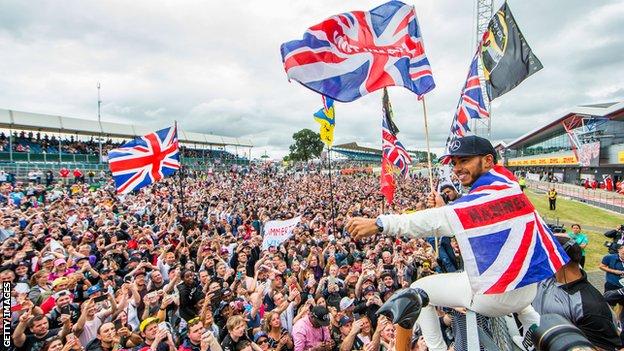 Mercedes' Lewis Hamilton says his fight with Ferrari in this year's world championship "weighs heavy" on him.
He is battling with Sebastian Vettel to be the first driver of their generation to win five world titles.
"I am surprised, having as much success as I've had, to be even more invested than I have ever been," Hamilton said.
"I am really enjoying driving. It's a difficult season. It has been up and down, but I understand that whole character-building thing more."
Hamilton is one point behind the Ferrari driver after last weekend's Austrian Grand Prix, where Mercedes made a strategy error that cost the 33-year-old the lead, and then he retired with a fuel-pump failure while Vettel finished third.
Hamilton has taken three wins, two of them dominant in Spain and France, but has also had some off weekends on which he has been out-performed by team-mate Valtteri Bottas.
"I cannot really explain it," he said. "Part of it is tyres, part to if it is that it is a much more competitive year, fighting with two teams, closer, more pressure on.
"You are squeezing more out of the car and out of the drivers as well, so it is not a bad thing."
But he said that despite occasional missteps from both himself and his team, he was confident in his and Mercedes' ability to deliver.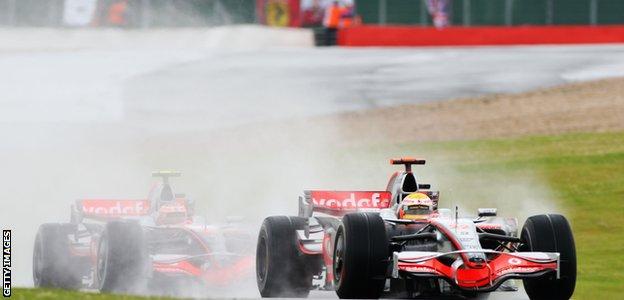 "It is up and down from track to track but I still feel we are the best team."
He said he was targeting taking the championship lead back with what would be a record victory in his home race - he is tied with legends Jim Clark and Alain Prost on five wins in Britain.
"It would be great," he said. "Just taking the lead in general would be good.
"Coming into the weekend, there is talk of historic number of wins. It has been a really incredible journey. I am really grateful to be able to fight for a win here for a sixth time, and I am privileged in that respect.
"The atmosphere here is incredible, particularly when the weather is good. the hope is you can deliver and arrive on good form and that is what I am going to try to do."
However, he said the record did not mean as much to him as enjoying the weekend in front of the British fans, who provide intense and vocal support for Hamilton every year.
"The whole record thing, it's not that it's better than Jim Clark. It's just a different time," he said in a BBC Sport interview.
"The record holds no weight for me. It is nothing. It is the experience I've had with the fans.
"The memories I've had here with the fans have been incredible and it has been growing every year. Of course it's a privilege to have the wins and even embark on a record but it is not even in the back of my mind. I have never been that kind of person.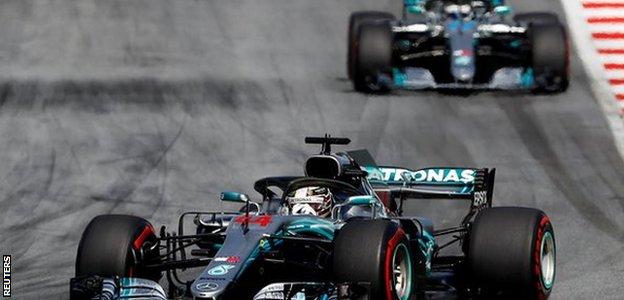 "I am not taking it for granted I am in the record region. I am going to be racing for some time still so I am gonna break that record. If it is not this weekend, it will be next year, whenever. I will break it at some point.
"When I arrive here and receive this energy… the fans know it, so I am just gassing them up, but there is nothing like it.
"From what I have experienced - of course I am biased as well - there is so much passion in the British fans, all sports, crazy fans, there's so much passion.
"I don't know where it comes from but it's awesome and I feel so privileged to come to this grand prix and be on the other end of it.
"I can't express to you how special it is. It is uplifting in more ways than you can think of.
"If there is anything I miss when I leave F1, it will be that, [as well as] probably working with a group of guys I get to work with, driving a car, for sure.
"But that electrifying energy you feel at this race, it makes me emotional to think that one day I am not going to have that."