Daniel Ricciardo: Red Bull driver close to signing new contract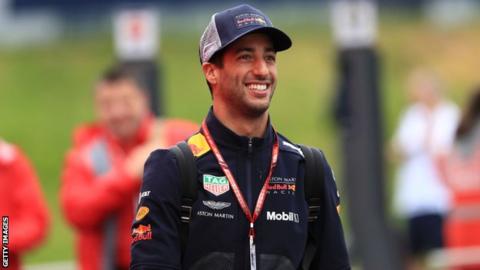 Daniel Ricciardo is close to signing a new contract to stay at Red Bull beyond this season, team boss Christian Horner has said.
The Australian is out of contract this season and has been linked to Mercedes and Ferrari, while McLaren and Renault have held talks with him.
But Horner said neither of the top two teams had shown serious interest.
"We've now got to the point where there is a desire from both sides to continue the relationship," Horner said.
"So it's just a matter of now really going through the detail and coming to a conclusion which will certainly be done prior to the summer break."
Mercedes have both Lewis Hamilton and Valtteri Bottas out of contract at the end of this year but the world champion and his team have each said it is only a matter of time before they reach agreement.
Bottas is expected to continue as the Briton's team-mate after a strong first part of the season.
At Ferrari, Sebastian Vettel has a contract until the end of 2020. His team-mate Kimi Raikkonen is out of contract but the team have reached an agreement to promote Sauber's Charles Leclerc to replace the Finn in 2019, as BBC Sport reported last week.
Horner said: "I think that had Mercedes put a serious offer on the table, or an offer, he [Ricciardo] would have been potentially interested.
"He's impatient to try and challenge for a world title so I think he would have had his head turned in the event of a Mercedes or a Ferrari offer but I think those two teams look pretty set where they are."
Ricciardo angling for significant pay rise
One issue giving Ricciardo pause at Red Bull is his knowledge that team-mate Max Verstappen was given a lucrative new contract last autumn.
It made the 20-year-old the third best-paid driver in F1, behind Hamilton and Vettel, earning more than the $25m salary McLaren pay to two-time world champion Fernando Alonso.
Ricciardo has finished ahead of Verstappen in both their seasons as team-mates and is again ahead this year and is believed to be angling for a significant rise.
Asked whether the 29-year-old would get equal money to Verstappen, Horner said each had their own value.
"Obviously, one of the things he was waiting to understand was where we were going with engines as well. He's seen and understood the decision making behind where we've gone," said Horner, referring to Red Bull's decision to switch from Renault to Honda engines next season.
"Hopefully, the rest of it becomes a formality, unless Lewis announces his retirement at the British Grand Prix this weekend."