Lewis Hamilton looks to British GP at Silverstone to heal wounds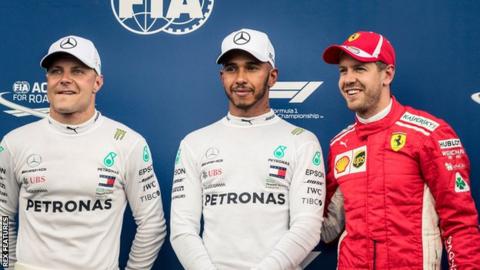 A week is a long time in politics, they say. You can add Formula 1 to that saying, too.
Seven days ago, the focus after the French Grand Prix was on Ferrari driver Sebastian Vettel, and whether his small but crucial driving errors would prove costly in his title fight with Mercedes' Lewis Hamilton.
Following Sunday's Austrian Grand Prix, the spotlight is very much on Mercedes, after one of the team's worst races in memory, a cocktail of poor reliability, a dreadful strategy error, and excessive tyre wear.
From being in a position where it looked as if Hamilton might be about to start running away with this very close championship, the Briton finds himself trailing Vettel again, by a single point, as he heads into his home race this weekend.
Hamilton has tended to find Silverstone a place to heal wounds - he has won there for the past four years and Mercedes will be tough to beat there this year again.
But whereas it had looked for a while as if he might race there with a commanding championship lead, Hamilton will now be looking for home comforts to help recover lost ground.
Where did it all go wrong?
It had all looked so comfortable for Mercedes. Following the introduction of an upgraded engine in France, a major aerodynamic upgrade followed at the Red Bull Ring, and the cars were dominant throughout practice and qualifying.
Valtteri Bottas took a brilliant pole position, just pipping Hamilton, and they were more than 0.3 seconds clear of Vettel in third place - a huge margin around a short lap with only seven real corners.
Kimi Raikkonen made life briefly difficult for them at the start, jumping between Hamilton and Bottas as the world champion took the lead into the first corner. But then the Finn helpfully ran wide at the second corner, and Bottas was able to reclaim second place.
Mercedes looked to be cruising to an easy one-two.
But then their race began to unravel. Bottas pulled off. He swore as a reaction to yet another piece of bad luck, but worse was unfolding on the Mercedes gantry in the pits.
The virtual safety car was introduced while Bottas' car was removed from its dangerous position. Ferrari and Red Bull reacted as expected - by taking the opportunity it provided for a pit stop less costly in time than under racing conditions. But, bafflingly, Mercedes did not.
Team boss Toto Wolff said afterwards: "We made a mistake. What I think happened is we were running one and two and controlling the race and suddenly you see Valtteri stopping with a hydraulic leak. The VSC came out and we had half a lap to react and we didn't. Fact. And this is where we lost the race."
Mercedes, he said, had spent too long thinking through the potential complications of stopping.
"At that stage of the race with the VSC, pitting is probably the 80% thing you need to do," Wolff said.
"With one car out there, against two others, the thinking process that happened was, 'What would happen if the others split the cars? If we pit Lewis, we would come out behind Kimi if they leave Kimi out, and behind Max (Verstappen if Red Bull did the same). What would that mean for the race? And that whole thinking loop, we spent too much time on that."
It meant that Hamilton was still in the lead, but with Verstappen in second only 13 seconds behind - nowhere near enough time to pit and stay ahead.
Hamilton realised immediately what had happened. He was asked to make up the time on track, and told the team he could not. Chief strategist James Vowles came on the radio and said it was his mistake.
When Hamilton had pitted, and rejoined fourth, he said: "I'm not going to be able to pass these guys. We have thrown away a win."
Vowles retorted: "I have thrown away the win. But we have the potential to get back."
Not the first Mercedes strategy error
This is the fourth race in nine this year in which it appears Mercedes have made significant strategy errors.
Hamilton lost the win in Australia because of a miscalculation as to how much of a gap he needed over Vettel to retain the lead if a VSC was called. One was, Ferrari pitted, and Vettel came back out in front.
At the next race in Bahrain, they took far too long to realise that Vettel was not going to make a second stop after Mercedes tried to snooker them on strategy in the way Ferrari had Mercedes in Australia. That meant the order for Bottas to go after Vettel came too late.
The race after that, in China, they did not stop Hamilton under a safety car, while Red Bull's decision to do so led directly to Daniel Ricciardo's victory. In this case, Mercedes argue that circumstances meant stopping would have been no advantage, and possibly would have made things worse.
And now this.
Effectively, Mercedes had over-thought it, spent too much time worrying about data and not realised soon enough that, in this scenario, it did not matter if Hamilton pitted and came out behind someone who had not stopped, because they would drop back when they had to stop anyway.
Instead, by not pitting, Mercedes had forced Hamilton to try to pass three cars when everyone knows overtaking is perhaps as hard this year as ever before in F1.
One experienced observer felt after the race that this was "pure engineer thinking - looking at models and squiggly lines without having a feel for how hard it is in dirty air".
How critical was this error?
Sandwiched between the Ferraris, Raikkonen ahead, Vettel behind, Hamilton set about trying to salvage his race. He tried to challenge the Finn, who was himself pushing Ricciardo.
But he could not. After 10 laps of pressure, his tyres were starting to fade, and Vettel began to close in, passing the Mercedes shortly after half-distance. And then blisters started to appear on Hamilton's left rear tyre and it soon became apparent that Hamilton would have to stop again for tyres, and all hope of a win was gone.
Wolff said the strategy decision, not the tyre wear, was what cost Mercedes, and that had Hamilton retained track position, he would have been able to manage the tyres more effectively - just as Verstappen did in the lead.
"The damage to the tyre happens when you push it," Wolff said. "When you are able to control your pace, the tyre lasts very long."
Wolff made it clear that Vowles, who has been in his role since the team was Honda in the last decade, had his full support.
"We don't need to make changes," Wolff said. "The most important is to understand why an error happens and to go back into the situation and analyse. I don't think we would make an error twice. It's just the situation is very difficult, very complex, we are fighting six cars and that is just a tough situation.
"For me, James is one of the best ever. And it needs guts, to save the best possible result, to go out there in front of millions of people and say: 'That was my mistake.'"
The decision to say that to Hamilton over the radio, Wolff said, was about making the driver focus on what he could control, not be distracted by what he could not.
"It was about extracting what we had left on performance," Wolff said. "Helping him out of the mind loop of 'how can this possibly have happened?' By admitting the mistake, it is easier to get him to step out of that spiral."
In the end, it did not matter. Hamilton's car stopped with eight laps to go, and what he described as "the worst weekend I can remember for a long, long time" was done.
Does the new Mercedes engine have a problem?
Was the new engine, introduced in France, to blame for Mercedes' failures? No, Wolff said.
"None of the issues today on the cars had something to do with the reliability of the engine as far as we can see," he said. "We had a hydraulic leak that was linked to the steering on Valtteri. And we had a drop in fuel pressure on Lewis' car which was linked to the fuel system. This is the current understanding. So no regrets on introducing the engine."
As for the problems, Wolff described the race as "a major wake-up call" - a phrase he had also used after the team's defeat in Canada three weeks ago. And he said it was "the most painful day in my years at Mercedes, worse than Barcelona" in 2016, when Hamilton and team-mate Nico Rosberg collided on the opening lap.
"I had plenty of people coming to see me before the race saying this is going to be a walk in the park, one and two, you have the quickest car," Wolff said. "And I said we'll talk in two hours. This is exactly how motorsport can go. It can be very, very cruel. We had all the cruelty go against us today. It got us brutally."
Verstappen puts errors behind him
While Mercedes toiled, Red Bull's strategists once again showed the intuitive racing feel for which they have become famous.
And Verstappen, after a shaky, error-strewn start to the season, is again looking like the brilliant talent everyone knows he is.
The Dutchman has now driven three flawless race weekends in a row, and this win was class from start to finish. He drove aggressively and clearly on the opening lap, and then managed his tyres with precision as they began to blister in the closing stages.
He effectively won the race with the improvisational pass he made on Raikkonen in the very fast Turn Seven - very much not a usual overtaking place - on the first lap.
Verstappen has spent much of the last few weeks insisting he has not changed his approach, despite his team bosses saying he has done exactly that, by rowing back just a little bit on his willingness to take risks. But after his win, for the first time, Verstappen seemed to finally allow that he had been working on it.
"It's just racing, you know?" he said. "Sometimes you have difficult moments and then you try to work hard and you keep working hard even when it's difficult and you overcome the situation. Yeah, it's as simple as that. It's racing."
Hamilton's difficulties have been different, but his mindset on Sunday was very much the same.
"We have the car to be quick in Silverstone," he said. "We have to work out where we have gone wrong but we have to take the positives. We were quickest and we should have won. We will keep working hard."
Nine races down, and that is now three wins each for the top three teams. Hamilton and Mercedes remain the favourites. But winning this year will not be easy. For anyone.