Lewis Hamilton: Austrian GP was the worst race I can remember

By Andrew Benson
Chief F1 writer
Last updated on .From the section Formula 1170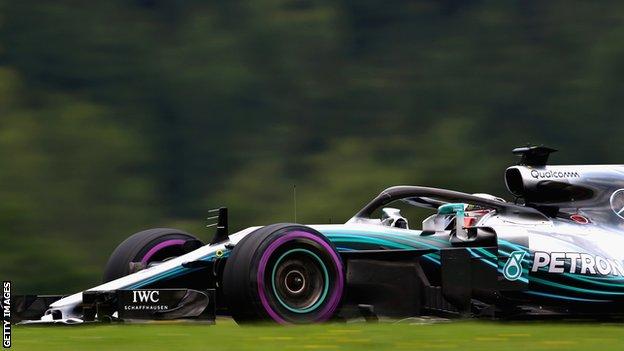 Lewis Hamilton said his problem-strewn Austrian GP was "the worst race I can remember for a very, very long time".
The Mercedes driver looked to be cruising to victory but retired from the race with a loss of fuel pressure, after suffering tyre problems and a major strategy error.
His title rival Sebastian Vettel of Ferrari reclaimed the championship lead by a point after finishing third.
"We can't throw away points. It's not a great feeling," Hamilton said.
The Briton was leading the race in the early laps, but Mercedes failed to pit him during a virtual safety car period, which meant he lost the lead when he did eventually stop under racing conditions.
Hamilton said over the radio that the team had thrown away a win and Mercedes chief strategist James Vowles responded that it was his fault.
But the strategy error ultimately made no difference, as Hamilton ran into tyre problems that forced an extra pit stop and then retired with eight laps to go.
His team-mate Valtteri Bottas also retired with a loss of hydraulic pressure after 13 laps when running second.
Hamilton said: "An unfortunate day. Everyone is going to be feeling the pain. We have had such great reliability for so many years and as painful as it is, we have to take the rough with the smooth. But I have every confidence in my team that we will be able to bounce back."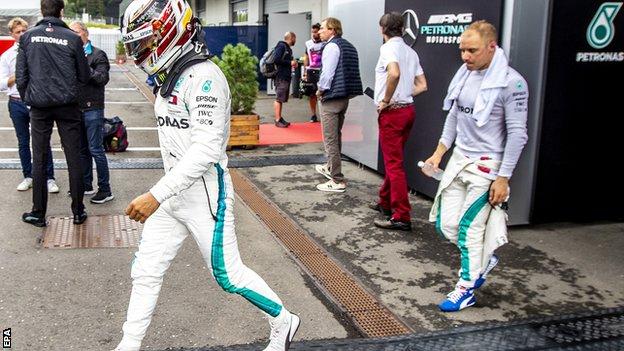 "All areas we are going to have to work on. The car has been great all weekend and then to have two different faults on both cars is very unusual.
"We have to find a bullet-proof method to move forward with strategy."
He added: "I don't really understand. We have a lot of strategists, and how we can make these kinds of errors… but James put his hand up and said it was his call.
"We will try and analyse and figure out how we can improve. We have lost a lot of points this year through bad calls and reliability."
Hamilton said he "had a hug" with Vowles in the garage after the race, adding: "He is always brutally honest with himself and everyone.
"We could all have done a better job this weekend. It is very rare we have these DNFs, and incredibly unusual to have two on one weekend. It's a real shame because we had s great car and we were looking very strong but we will live to fight another day."
Hamilton was also critical of tyre supplier Pirelli, which took its standard tyres to Austria rather than the thinner-treaded ones that were used in Spain in May and France last weekend to avoid the blistering that affected Mercedes, Red Bull and some other teams in Austria.
Hamilton said: "These tyres aren't good enough for us to really race. It is a shame the tyres are not good enough that you can stay in the battle. We had blistering. They should have brought the other tyre here, the same tyres we had in the last race. When you make the wrong call, that's what happens."