Formula 1: Sauber's Charles Leclerc poised to join Ferrari

By Andrew Benson
Chief F1 writer
Last updated on .From the section Formula 1310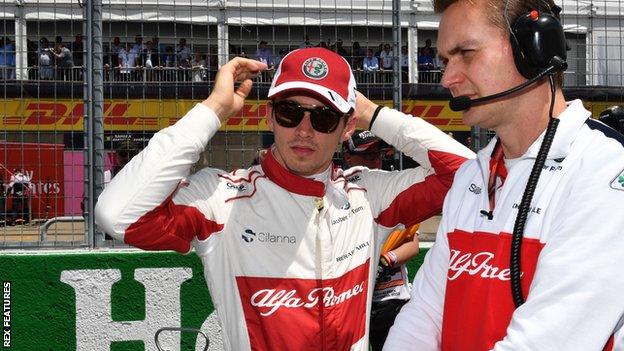 Sauber's Charles Leclerc is poised to move to Ferrari next season.
The 20-year-old has agreed, but not signed, a two-year deal to be Sebastian Vettel's team-mate until 2020, according to a source close to Ferrari.
The move comes after an impressive start to Leclerc's F1 career this year with Sauber, including points finishes in four of the last five races.
If the deal is confirmed, it would mean the end of 2007 champion Kimi Raikkonen's five-year stay at Ferrari.
The team said it declined to comment on what it described as "media speculation".
Leclerc, who comes from Monaco and is a member of the Ferrari driver academy, is the reigning Formula Two champion and was given his Sauber seat this year with the intention of blooding him for a future at Ferrari.
The plan was to promote Leclerc after one season as long as he delivered on his obvious potential, and he has done exactly that.
After a shaky start to the season with mistakes in the first three races, Leclerc took a step forward at the Azerbaijan Grand Prix in April, where he took the unfancied Sauber to sixth place.
Since then, he has finished 10th at the Spanish, Canadian and French Grands Prix, and demonstrated impressive race-craft, including holding off two-time champion Fernando Alonso's McLaren for half the race in Barcelona.
Leclerc - the godson of former F1 driver Jules Bianchi, who died in 2015 from injuries sustained in the 2014 Japanese Grand Prix - told BBC Sport at last month's Monaco Grand Prix: "It is a dream since [I was] a child to drive for the red cars so hopefully this will happen one day.
"I will give everything for it to happen next year but the decision is not in my hands and the only thing I can do is give the best of myself on track and then hopefully it will be enough to consider me for the seat next year."
Assuming the Leclerc deal is finalised, Raikkonen's career is in danger of being over.
There have been reports this week linking the 38-year-old Finn with a move to McLaren, but their priority is to keep Fernando Alonso as their lead driver.
The Spaniard won Le Mans this year and is two-thirds of the way towards completing his ambition of winning motorsport's unofficial 'triple crown' of the Monaco Grand Prix, which Alonso has won twice, Le Mans and the Indianapolis 500.
Alonso is weighing up between two main options: staying in F1 with McLaren but taking part in the Indy 500; or moving full time to Indycars in 2019.
On Thursday, the two-time champion said: "To win the Indy 500 you have only one chance each year. Even if you do the whole championship, you have only one race and 200 laps to do it."
If Alonso chooses to leave F1, McLaren's second option is Red Bull's Daniel Ricciardo, although the Australian is tipped to stay where he is.