Lewis Hamilton heads Mercedes one-two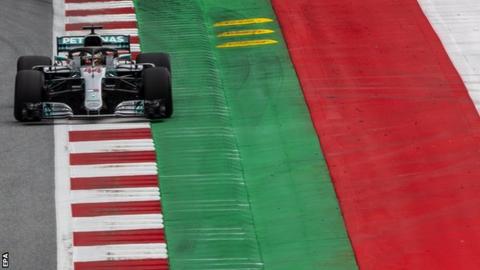 Lewis Hamilton led a Mercedes one-two in both practice sessions on Friday at the Austrian Grand Prix.
Hamilton headed team-mate Valtteri Bottas by 0.176 seconds in the second session, despite setting his time on the hardest type of tyre.
Ferrari's Sebastian Vettel, 14 points behind Hamilton in the championship, was 0.236secs back in third place.
Red Bull's Daniel Ricciardo was fourth, ahead of team-mate Max Verstappen and Ferrari's Kimi Raikkonen.
Just 0.686secs separated the top six cars on a day when there was minimal difference between the three available tyre compounds.
Hamilton failed to improve on the theoretically fastest ultra-soft tyre after using the soft tyre on his first run early in the session. And Ricciardo's fastest time was set on the super-soft, the middle of the three tyres.
Bottas, Vettel and Raikkonen did improve on the ultra-soft, but only after a number of attempts and by a fraction - 0.023secs in the German's case.
Mercedes have introduced a significant aerodynamic upgrade in Austria, with a new shaping to the bodywork on the side-pods beside the driver and the airflow-shaping vanes in front of them.
Hamilton said: "It's been a good day so far - pretty straightforward with no real issues.
"There are not many corners here in Austria. It's a very fast track and it's very close between all the tyres. The harder tyre seems to be the better for me.
"It's really great to see the updates; the guys at the factory have been working so hard to bring quality components. The car feels better in certain areas around the track, which is already a step forward from last week."
Vettel said his car had been "quite good", adding: "Usually we have a good step from Friday to Saturday.
"It is quite close, Mercedes had the upper hand today. They looked very quick in all conditions, but it was a tricky Friday and we should be well prepared for tomorrow and Sunday."
Haas driver Romain Grosjean was best of the rest in seventh from team-mate Kevin Magnussen. Pierre Gasly's Toro Rosso was ninth, despite the Frenchman breaking his left front suspension over a kerb at Turn Nine.
McLaren's Stoffel Vandoorne was 10th while team-mate Fernando Alonso had a bitty day, damaging his floor at Turn Nine and then failing to set a representative time, ending up 19th fastest.
Choose your top three drivers from the list below
Leclerc's Ferrari deal done
Off track, it is looking increasingly likely that Sauber's Charles Leclerc will move to Ferrari next year in place of Kimi Raikkonen.
A source close to the team has told BBC Sport that the deal to promote the driver, from Monaco, after his debut season has been done, but not yet signed.
Leclerc, who has impressed greatly since scoring his first points with sixth place at the Azerbaijan Grand Prix at the end of April, is emerging as a potential major future star. He ended the day 12th, with team-mate Marcus Ericsson 14th.