Austrian GP: Lewis Hamilton defends Sebastian Vettel after crash in France

By Andrew Benson
Chief F1 writer
Last updated on .From the section Formula 1125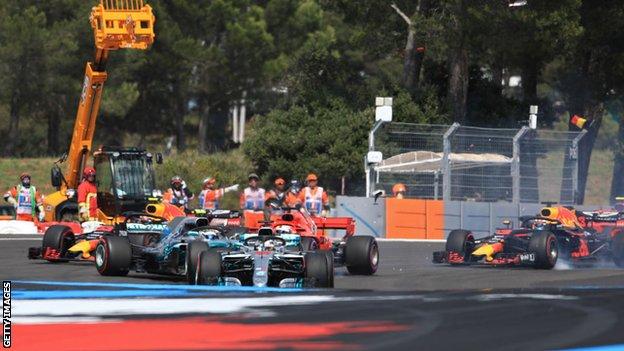 Lewis Hamilton says title rival Sebastian Vettel should not be condemned for causing a crash at the start of Sunday's French Grand Prix.
Hamilton leads the championship by 14 points from the Ferrari driver, who collided with Valtteri Bottas' Mercedes and finished fifth.
"I don't feel like Sebastian needs criticising," Hamilton said.
"He is a four-time world champion and has won more than most. Everyone jumps at one single fault from any of us."
Vettel's error - which he admitted - was the second small mistake that has proved costly for the 30-year-old German this season, after misjudging an overtaking move at the Azerbaijan Grand Prix dropped him from second to fourth.
Hamilton, who won in France, appeared to criticise the five-second penalty Vettel received for the incident as too lenient after the race, because Bottas finished two places behind the Ferrari.
"You shouldn't really be able to finish ahead of him if you took him out of the race," Hamilton said on Sunday.
But at Thursday's media day for this weekend's Austrian Grand Prix, Hamilton said: "People jump on the bandwagon and love to talk negative about someone.
"It is a strange scenario when a split-second decision can have a result as it did, yet a penalty of five seconds doesn't appear to be significant enough.
"But that is the rules and it is a penalty nonetheless and he served it and moved on.
"It is a penalty already when you get hit at Turn One and you have to trundle around and do a pit stop and work your way from the back. The stewards have a difficult job. It is done and dusted and we move forwards and hope there are no more moving forwards."
Vettel, who started in third on the grid in France, put his first-lap mistake down to "racing".
"There are some errors you shouldn't do, some errors that happen. It depends on the type of error," Vettel said.
"I've had a lot of races. It happens, unfortunately, at times. I try to minimise it, but I'm not worried. I don't think there is something fundamentally wrong.
"I think we know what we are doing - I hope I know what I'm doing most of the time, so I should be fine."
Ricciardo 'still in the fight'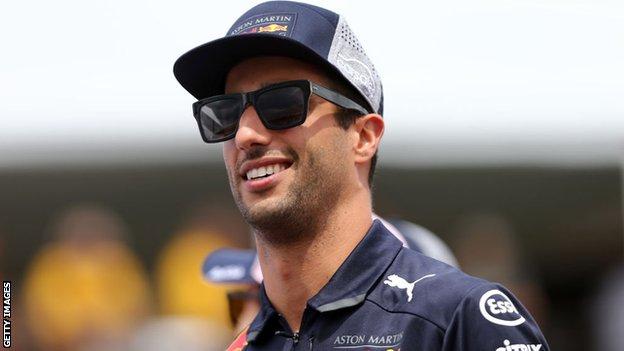 The Austrian Grand Prix is held on Red Bull's own track in Spielberg, and their driver Daniel Ricciardo insisted he was still in the title fight, despite being 49 points behind Hamilton in third place - a gap of almost two clear wins.
"I still feel we're in it, to be honest," the Australian said. "For sure, we're still a little bit a long way from it, from a points perspective. But I feel we're more in it than we have been the years I've had with the team.
"We're going to circuits that we didn't think we'd be on the podium, and we're getting a podium, or having the pace for it."
He said he would be getting a grid penalty at one race in the near future for using too many engine parts, but added: "I feel on performance alone, we're closer than we ever have been.
"If we got a win and the top guys had a bad weekend all of a sudden, we're the talk of the town again. It's still too early to count us out."
Ricciardo said he believed he and team-mate Max Verstappen would be contenders for a podium finish at the Red Bull Ring.