F1 gossip: Villeneuve, Leclerc, Hamilton, Verstappen, Gasly
Last updated on .From the section Formula 1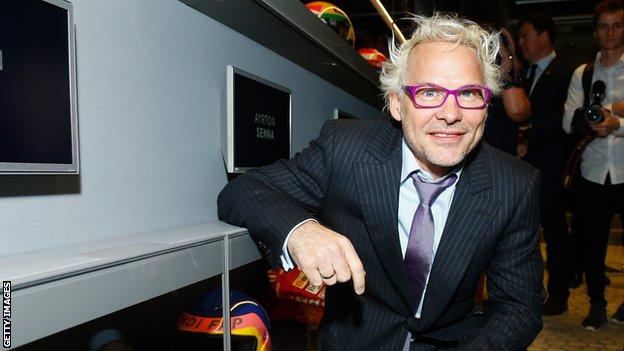 Sunday, 1 July
Ferrari are wrong to sign up Charles Leclerc for next season, says 1997 world champion Jacques Villeneuve. (Auto Bild, Austria, via f1i.com)
Lewis Hamilton is "a young man both blessed with good intentions and cursed with a severe lack of guidance", according to the journalist who interviewed him for the latest edition of GQ magazine. (GQ)
Austrian Grand Prix winner Max Verstappen believes he can be a title contender if Red Bull find some more engine power. (Sky Sports)
Red Bull turned down Verstappen's engine during the race in Austria to avoid him suffering the same problems that caused team-mate Daniel Ricciardo to retire. (Motorsport.com)
Toro Rosso's Pierre Gasly said the Austrian Grand Prix was like a rallycross race, claiming he almost went off the track 20 times. (Motorsport Week)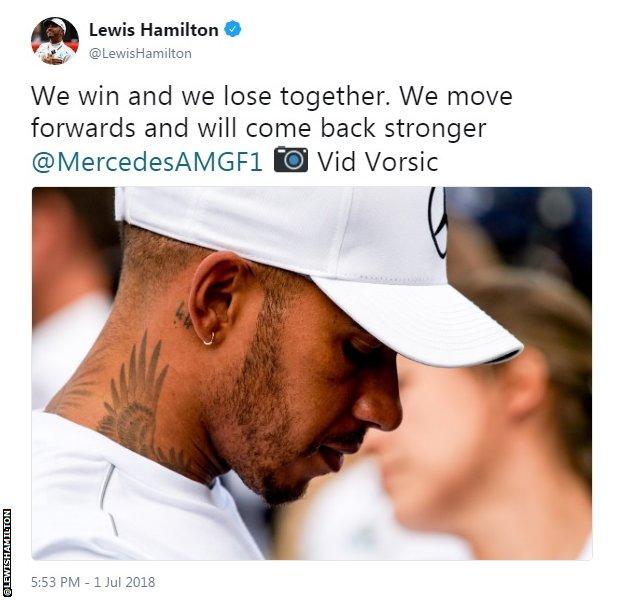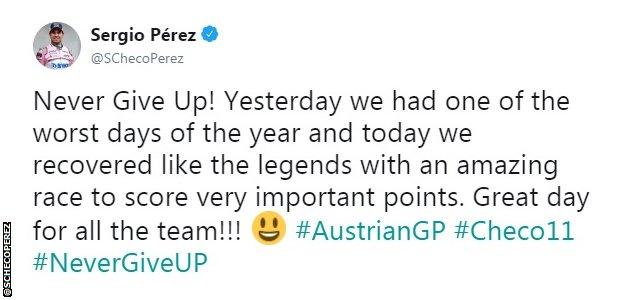 Saturday, 30 June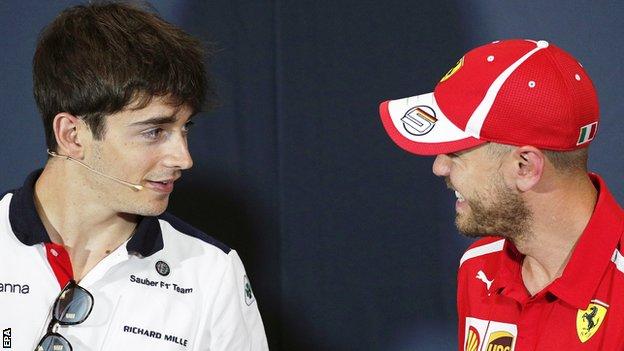 Sauber boss Frederic Vasseur has denied that there have been talks about a mid-season driver swap between Charles Leclerc and Ferrari's Kimi Raikkonen. Leclerc is to join Ferrari from next season. (F1i.com)
Toro Rosso driver Pierre Gasly says F1 race director Charlie Whiting told the teams to make stronger wings if they wanted to run the kerbs in Austria. (Planet F1)
Whiting also says "discussions" are taking place about introducing penalties that take into account the consequences of a driver's actions. (Autosport)
World champion Lewis Hamilton has posed on the cover of British GQ magazine in a kilt to "make amends" for shaming his nephew for wearing a princess dress. (Metro)
Friday, 29 June
Max Verstappen believes there is a "very big chance" team-mate Daniel Ricciardo will commit his future to Red Bull. (Formula1.com)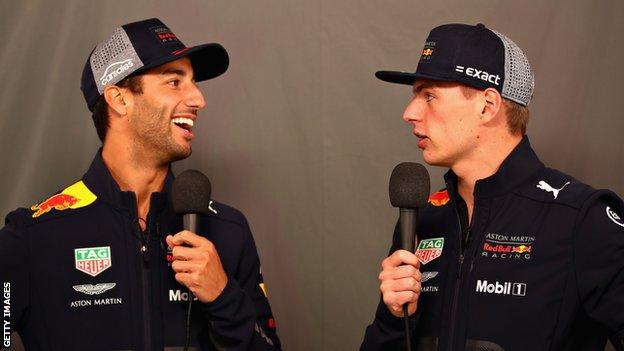 Meanwhile, Ricciardo has joked his ideal team-mate would be either Kimi Raikkonen or Valtteri Bottas. (F1 on Twitter)
Lewis Hamilton says Mercedes will be even stronger this weekend as they bring more car upgrades to the Austrian Grand Prix. (Express)
Monegasque driver Charles Leclerc says it would be a "dream" to drive for Ferrari amid rumours he will replace Kimi Raikkonen in 2019. (Sky Sports)
Sebastian Vettel says he is not worried by his numerous errors this season. (Sky Sports)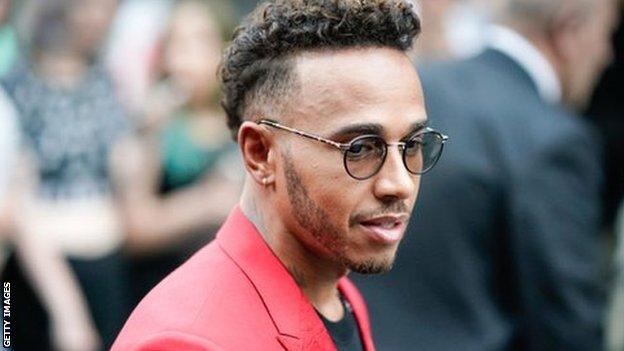 Thursday, 28 June
Lewis Hamilton has made his singing debut under the pseudonym XNDA on pop star Christina Aguilera's new album. (Mirror)
McLaren would consider signing Ferrari's Kimi Raikkonen if Fernando Alonso does not drive for the team in 2019. (Sky Sports)
Sauber's Charles Leclerc has admitted that he has "heard the rumours" about his future after being tipped to replace Kimi Raikkonen at Ferrari next season. (F1 Today)
Daniel Ricciardo has hinted that his future depends on where he feels most "valued". The Australian, who is in the final year of his contract at Red Bull, has been linked with McLaren. (Express)
Force India's chief operating officer Otmar Szafnauer says that reported plans to ban virtual garages during race weekends are "ridiculous". (F1i)
Sauber's Swedish driver Marcus Ericsson has been lamenting his travel schedule after missing a very important football match...

Wednesday, 27 June
Formula 1 sporting boss Ross Brawn says the new aerodynamic regulations for 2019 have finally been agreed by the teams and are expected to be signed off in July. (Motorsport)
Red Bull's Max Verstappen thinks the Austrian Grand Prix will provide a 'fun lap', despite Lewis Hamilton's view that it is too difficult to overtake at the track. (Express)
Fernando Alonso has clarified his criticism of the McLaren team after their disappointing performance at the French Grand Prix, saying he felt some of the instructions he was receiving were a little 'overexcited' given his position at the back, or close to the back, for most of the race. (PlanetF1)
Force India deputy team principal Bob Fernley now believes there is no realistic chance his drivers can catch Renault in the Formula 1 constructors' standings, after suffering a double retirement in France. (Autosport)
Tuesday, 26 June
Ferrari driver Sebastian Vettel has been criticised by the Italian media after his "amateur error" in crashing into Valtteri Bottas at the French Grand Prix.(F1i.com)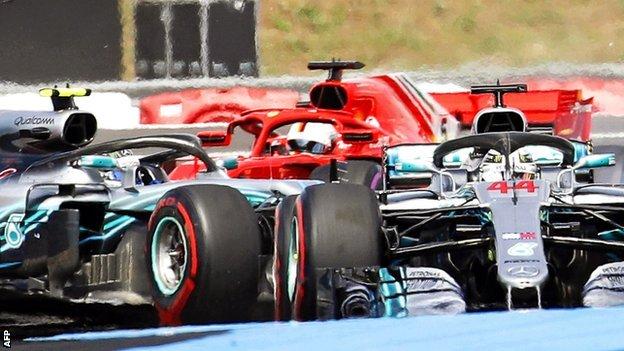 After suggestions Vettel should have been punished with more than a five-second penalty, FIA race director Charlie Whiting said it was "consistent with other incidents of that sort". (Planet F1)
Lewis Hamilton's new deal with Mercedes - set to be worth £45m - is close to being announced. (Sydney Morning Herald)
The FIA is set to release the definitive 2021 Formula 1 engine regulations to manufacturers this week. (Autosport)
Monday, 25 June
Fernando Alonso wants his McLaren team to "raise their game" at next weekend's Austrian Grand Prix after failing to finish in France on Sunday. (Mail)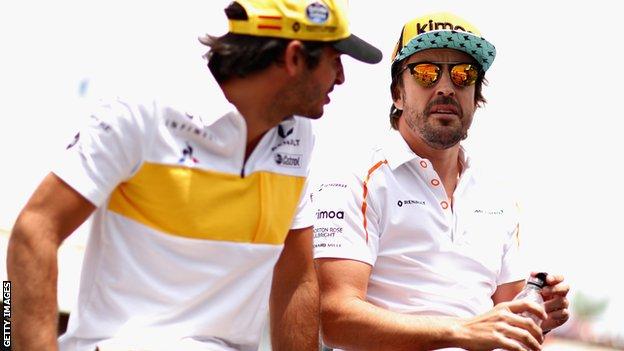 Mercedes driver Lewis Hamilton says he is "blown away" by Michael Schumacher's achievements after breaking the German's record for most race wins at different circuits following victory at Sunday's French Grand Prix. (Express)
Red Bull's Max Verstappen jokingly suggested Sebastian Vettel should change his style after the Ferrari driver's first-lap collision on Sunday. (Reuters)
Ferrari's Kimi Raikkonen says he had "a lot more fun" on Sunday than in his previous two outings. (PlanetF1)
Red Bull's Daniel Ricciardo says his hopes of a podium finish at Paul Ricard were dashed after his car was "wounded" by damage sustained to his front wing.(Motorsport.com)
Force India's Sergio Perez is determined to not be too downhearted about his retirement in France...