Lewis Hamilton is once again benefitting from Sebastian Vettel marginal errors

By Andrew Benson
Chief F1 writer
Last updated on .From the section Formula 1340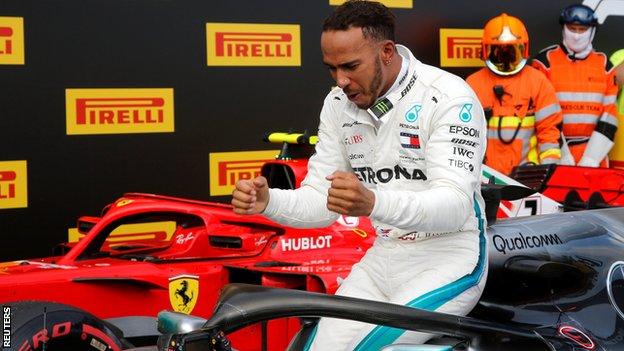 Was the French Grand Prix the race at which the 2018 Formula 1 drivers' championship took a decisive turn?
Lewis Hamilton left the Circuit Paul Ricard on Sunday - doubtless finding some way to avoid the traffic jams that blighted the track's return to the calendar for the first time in 28 years - with a 14-point championship lead, and after about as dominant a performance as has been seen in this incredibly close season.
The title battle between the Mercedes driver and Ferrari's Sebastian Vettel will, as Mercedes F1 boss Toto Wolff said after the race, presumably continue to swing as the season develops.
But in such a tight fight, drivers have to maximise their results as much as possible. And Vettel was guilty in France - not for the first time this year, or last - of giving points away needlessly. Will it come back to haunt him by the end of the year?
Vettel's critical error
Vettel was always likely to lose points to Hamilton at this race; the Mercedes was just too quick to expect anything else, especially once the Briton had put it on pole.
But Vettel still would have finished on the podium had it not been for the incident on the first lap that defined the race.
The German, as so often, got a great start from third on the grid, and was quickly tucked up right behind Hamilton, and alongside the sister Mercedes of Valtteri Bottas, on the run to the first corner. And then it all went wrong.
Although in a strong position, and briefly into second ahead of Bottas, Vettel realised that he was trapped, and tried to back out of it. But he lost control and spun into the Finn's car, damaging both, forcing them into the pits and consigning them to a fight back through the field.
"It was my mistake," Vettel said. "I tried to brake early and get out of it because I had nowhere to go, but I had no room. When you are so close to a car ahead and also the car next to you, you lose… it felt like all the grip.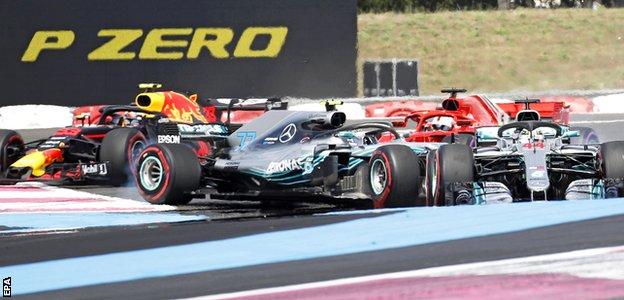 "With hindsight, I would like to have had a worse start because then it is clear for Turn One. But I was a bit squeezed, couldn't really go anywhere, lost the car, it snapped and I had to make contact with Valtteri, which is a shame for him, he did nothing wrong.
"It was a chain reaction. At least we both could continue but it was not the race we wanted."
Vettel produced a stirring fightback drive and, despite a five-second penalty for causing a collision, still managed to finish ahead of Bottas, who clawed his way back to seventh in a car with a badly damaged diffuser, affecting grip and balance.
At Mercedes, they felt the penalty was not enough, considering the effect Vettel had on Bottas' race.
Hamilton, watching the incident in the green room after the race, said: "Oh, man, that's crazy."
Later, he added: "You shouldn't be able to take someone out and then finish ahead of them and kind of get away with it. If it was me, if I was Sebastian, I would feel: 'Jeez, I got away with that.' And if I was Valtteri, I would be very unhappy right now."
Bottas was unhappy - he really is not having the rub of the green so far this season.
As for Hamilton, perhaps his comments were coloured by last year's Azerbaijan Grand Prix, when Vettel had his infamous 'red-mist' moment and deliberately drove into Hamilton in response to erroneously thinking the Briton had 'brake-tested' him.
Vettel was given a 10-second stop-and-go penalty for that. Hamilton should have won, but because his headrest came loose and he had to pit to have it secured, he ended up a place behind Vettel.
The small things matter
That Baku incident was one of two last year in which misjudgements cost Vettel dearly - the second being his over-aggressive defensive move at the start in Singapore.
It's questionable whether they cost him the championship - because the two engine problems that hit him in Malaysia and Japan were also enormously damaging. But they certainly didn't help, and now he has made two this year, as well.
The first was, again, in Azerbaijan - like France, a small error, but with large consequences.
In Baku, Vettel locked up, damaged a front tyre and ran wide trying to pass Bottas for the lead at a re-start after a safety car period. Had he not, he would probably have won - Bottas retired with a puncture caused by running over debris shortly afterwards - and would certainly have gained points on Hamilton.
As it was, he lost ground to Hamilton, who had been behind Vettel at the re-start, but passed him after his error, and then went on to win while the Ferrari dropped down to fourth.
So, too, in France, what would likely have been second or third turned into fifth.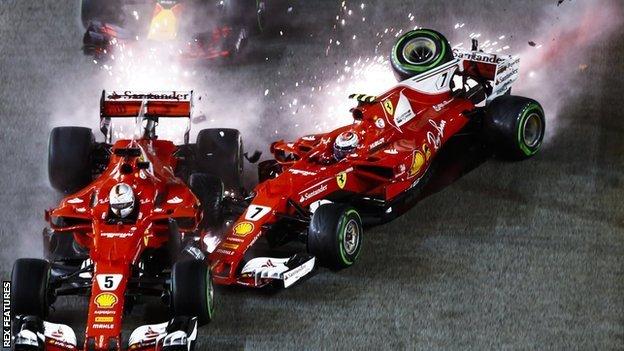 In the past, Hamilton has not been shy about pointing out the errors Vettel sometimes makes under pressure. This time, though, he was not about to rub it in.
"It is really a racing incident in Turn One and those things can happen," he said. "We're all going into that first corner at great speeds, it's not always easy to… I mean I went deep and wide because I saw them really close to me so I thought I was going to get rear-ended, to be honest, so I went quite deep.
"No, I don't feel that he's particularly made more mistakes than (others). We're all on the edge, we're fighting for the world championships. We're not pootling around. We're out there putting our lives on the line.
"We're out there putting the cars as far beyond the edge as we can in the safest manner. It's not like a train track, you don't just stay on the rails. Sometimes you can go off. We're only human."
He has a point. But, as Hamilton knows only too well, championships are sometimes as much about making fewer mistakes than your rival as they are about winning the most races. And Vettel has already used up his fair share.
Verstappen back to his best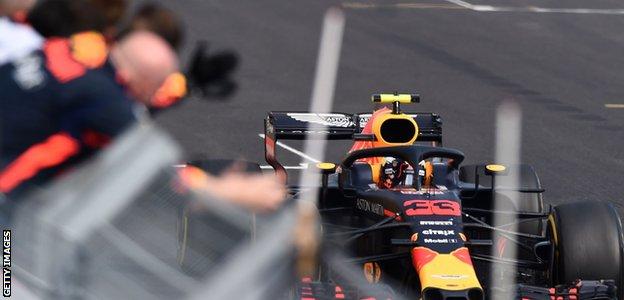 The conversation in the post-race news conference about Vettel's error brought a pointed response from Red Bull's Max Verstappen, who finished second behind Hamilton and has now produced two flawless race weekends to end the run of errors that blighted his start to the season.
"Next time you see Seb you should ask him to change his style, y'know?" Verstappen said, in a sarcastic reference to many of the questions that have been directed at him this season. "Because, honestly, it's not acceptable.
"That's what they said to me at the beginning of the season, so I think they should do the same! And then, of course, Seb shouldn't do anything, and just drive again and learn from this and go on. That's my advice to everyone in this room."
His point was clear, and it is not hard to understand where he was coming from, or why he would say it. But the fact remains that at least one incident every single race for six weekends in a row is something a driver needs to attend to, even if he does not like to admit it.
He also seems to be conveniently forgetting that both his team bosses said he needed to make changes to cut the errors out.
As was always likely to be the case sooner or later, Verstappen is now producing the sorts of races everyone always knew he was capable of, and looks to have put the errors behind him. But, if he has a bad patch like that, it's naive to think he is not going to get asked about it. Whether he likes to be reminded of it, or felt his treatment was fair, or not.
Mercedes form - a blip or a trend?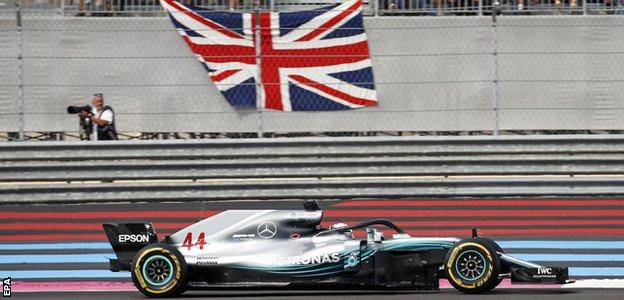 Another feature of the weekend in France was the return to form of Mercedes, after two slightly off-colour weekends in Monaco and Canada.
Hamilton's dominant performance in France was not dissimilar to that in Spain at the beginning of May, and it raised some interesting questions about the causes of it.
The Circuit Paul Ricard has exactly the same asphalt as the Circuit de Catalunya, and as a result, Pirelli took to France the thinner-gauge tyres which were also used in Barcelona, to avoid problems with overheating and blistering. Do these suit the Mercedes more than the Ferrari, people wonder?
But Mercedes also introduced an upgraded engine in France, after reliability concerns delayed its scheduled debut in Canada, where all three rival manufacturers had improvements. As it turned out, Mercedes said the two-week delay had allowed them to make the engine that eventually introduced even better than it would have been had it made its debut when intended.
Or was it the circuit characteristics? Ricard abounds with long corners, just like Spain, and perhaps the Mercedes suits those types of bends more than the shorter-radius corners on other tracks, like Monaco and Montreal.
Almost certainly, all three factors played a role. In the meantime, the result of it led to another interesting shift in the pattern of the season.
After France, Mercedes can, for the first time this year, claim to have the quickest car, when judged on an average of the fastest lap each car achieved over a weekend.
Until now, that honour had been Ferrari's - by about 0.05secs. Now, it is Mercedes. By 0.001secs. Which is an indication of just how close this title fight is, and how races - and ultimately the title - will swing on the smallest of factors.
"The fight is going to continue to the end of the season," Wolff said. "Marginal gains matter."
Marginal errors, too.