Lewis Hamilton wins French Grand Prix after Sebastian Vettel penalty

By Andrew Benson
Chief F1 writer
Last updated on .From the section Formula 1581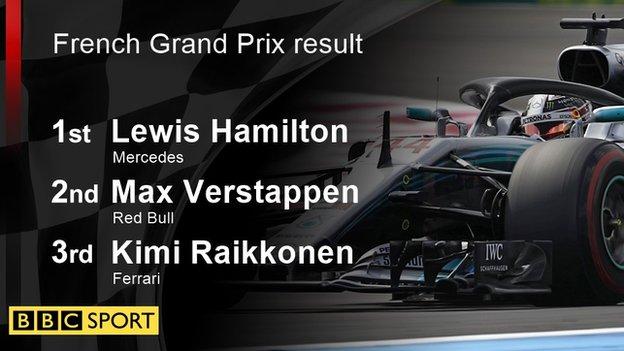 Lewis Hamilton reclaimed the world championship lead with a dominant victory in the French Grand Prix.
The Mercedes driver led from start to finish other than one lap around his pit stop to move 14 points ahead of Ferrari's Sebastian Vettel, who finished fifth.
Vettel made life difficult for himself with a collision at the first corner with Hamilton's team-mate Valtteri Bottas.
The German fought back through the field impressively but earned a five-second penalty for causing the crash, which put both to the back of the field.
It was a costly error for Vettel, who was one point ahead of Hamilton before the race, and not the first one he has made this year that has cost him ground in the championship.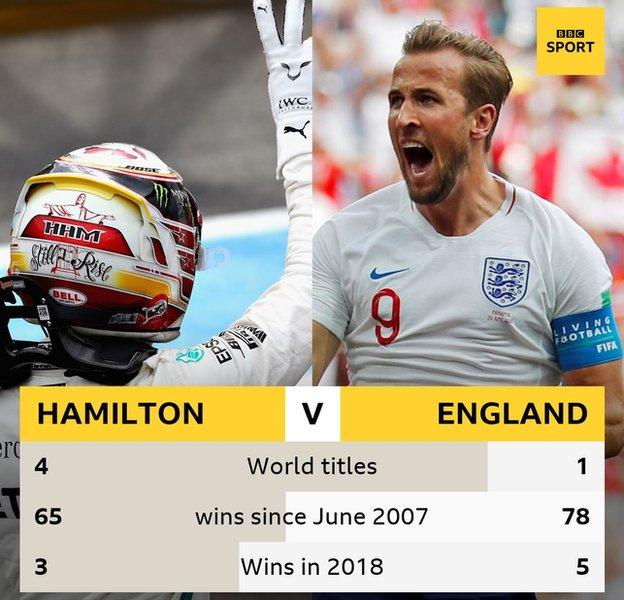 Hamilton supreme
Hamilton will welcome the gift from Vettel at the start of a crucial run of three races in three weeks, one of them the British Grand Prix in two weeks' time, and five in six before the four-week summer break in August.
The Briton made it two easy wins for his country in one day, after England's progression to the second round of the World Cup with their cruise to a 6-1 victory over Panama.
Hamilton made a good enough start to be just clear of the crash between Vettel and Bottas at the start, and after a five-lap intervention by the safety car, leapt away at the re-start and was never seen again.
Hamilton was able to build a comfortable gap to Red Bull's Max Verstappen behind him in second place for the entire race and then cruise and conserve to the finish.
"Great job, guys," Hamilton said, "and great for England, too. It's a beautiful Sunday."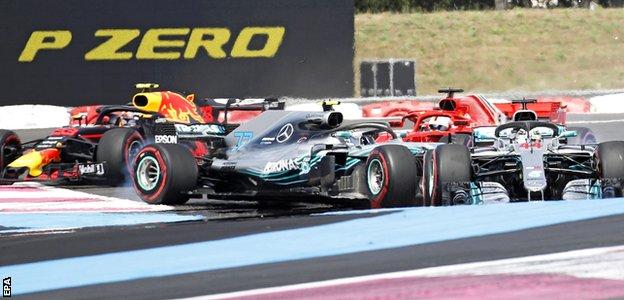 Action behind the leader
It was behind Hamilton that a race more interesting than many feared began to unfold.
Vettel, at the back after a pit stop to repair the front wing damaged in the crash with Bottas made light work of the backmarkers, starting with a light tap as he passed Fernando Alonso's McLaren at Turn Three at the re-start, which nudged the Spaniard into a spin.
Vettel was 11th by lap 10, eighth by lap 15, and fifth by lap 20, at the back of the lead group.
But there his progress stopped and he was able to make a late pit stop for fresh tyres, serving his penalty at the same time, without losing his position.
For a time it looked as if Ferrari might swap him with team-mate Kimi Raikkonen, but instead the Finn was sent after Red Bull's Daniel Ricciardo - who was struggling after a piece came off his front wing - passing him with 11 laps to go to take the final podium position from the Australian.
Haas driver Kevin Magnussen took sixth, ahead of Bottas, who was not able to make as much progress as Vettel as a result of damage to his floor which affected his downforce and handling balance.
Renault's Carlos Sainz was on course to finish sixth after a strong race, but dropped back to eighth with engine problems in the closing stages. These turned out to be a failure of the MGU-K, a part of the hybrid system, which has been a continuing problem for the Renault engine for more than two years.
The Spaniard was just ahead of team-mate Nico Hulkenberg and Charles Leclerc, after a strong race in the Sauber following his stunning eighth place in qualifying.
Dire race for McLaren
After their worst qualifying performance for more than a year, McLaren had a woeful race, Stoffel Vandoorne finishing 12th. Team-mate Fernando Alonso, delayed by the crash at the first corner, spent much of the race at the back after a first-lap pit stop and an attempt to go through the race non-stop.
Alonso was running 12th in the closing stages, ahead of Vandoorne, when he chose to pit for fresh tyres and try for the fastest lap.
But the McLaren's suspension failed on the penultimate lap and he had to retire.
On a weekend when they revealed they were struggling to fix the problems with the car because they were not showing up in the wind tunnel, it looks like a long road ahead for the team to get back to where they believe they belong.
Driver of the day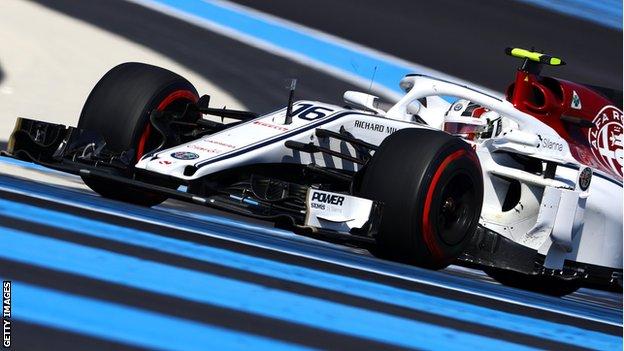 What they said
Race winner Lewis Hamilton: "I feel very grateful, grateful for a solid weekend. My guys, I have been with them for six years they are pushing the boundaries and never giving up so I want to thank them and everyone at the factory."
Max Verstappen in second: "It was good. I tried to follow Lewis. He was controlling the pace. I didn't have to work very hard for it but it's good to be in the podium."
Kimi Raikkonen on finishing third: "I got a bit blocked with all the mayhem that happened but a decent recovery. At the end we had a lot of speed and managed to get on the podium."
What happens next?
F1 moves to Austria next weekend, a power track where Ferrari and Mercedes will likely again be closely match, and picking a winner is impossible.