Daniel Ricciardo: Christian Horner would be 'surprised' if Red Bull driver left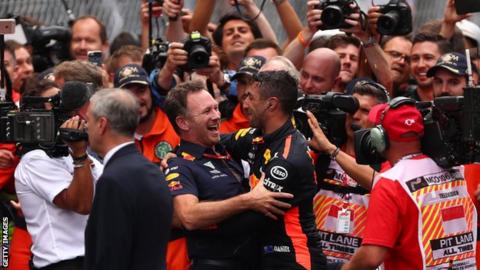 Red Bull team boss Christian Horner says he would be "surprised" if Daniel Ricciardo left Red Bull this season.
He is out of contract at the end of the year and has held talks with McLaren and Renault, while there are also seats available at Mercedes and Ferrari.
Horner said: "It would be a fairly bold decision to step out of a car that he has won two grands prix in this year as a championship contender.
"I would be surprised if he left. It is good fit between him and Red Bull."
McLaren have held talks with Ricciardo to sound out his interest in the event their lead driver Fernando Alonso left Formula 1 at the end of the season.
The two-time champion is believed to her weighing up a move to the US-based Indycar series full-time or staying in F1 with McLaren but also competing in the Indianapolis 500, the only remaining part of motorsport's triple crown that he has not won.
Alonso won the Le Mans 24 Hours with Toyota last weekend and has already won the Monaco Grand Prix twice.
Although both McLaren and Renault are a long way behind Red Bull on pace this season, Ricciardo said: "I'm not going to say 'no, it doesn't interest me at all'."
He said his desire to take his time over his decision, which will be crucial for the next stage of his career, was based on the success Lewis Hamilton has had since leaving McLaren at the end of 2012 to join Mercedes.
The decision was criticised at the time, because McLaren were more competitive than Mercedes, but has paid off handsomely as the German giant has dominated F1 and McLaren have slipped back to the midfield.
Ricciardo said: "Lewis pulled the trigger pretty well. Whether he fluked it - he says that he really knew it was going to happen, I don't know.
"I know that, if you're saying, those two teams, they're not quite in that position yet. But could they be? Maybe. The thought of that, it has some appeal.
"I wouldn't say it's probably top of my list right now, but I wouldn't dismiss it, also. Obviously McLaren and Renault aren't there [out front] today, but maybe they will be there in a year or three years' time."
Red Bull have chosen to switch from Renault to Honda engines from 2019, having decided that the Japanese company is a better long-term bet.
Horner said: "The situation with Daniel, I think that there is an intent from both sides to move forward. The first thing was to close the situation with the engine. That has now been done. Daniel understands the rationale, the engineering rationale, behind that."