Austrian Grand Prix: Load up the caravan & get ready for a big party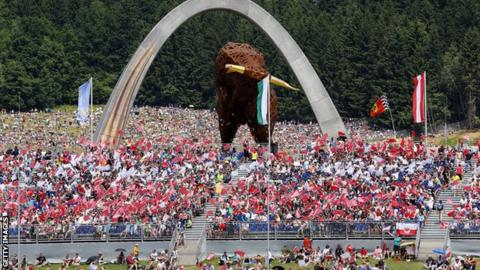 "This is old school. I like it."
Former world champion Jenson Button could have been talking about more than just the race track when asked about the Austrian Grand Prix.
Surrounded by the lush, green Styrian mountains and a two-hour drive away from the capital Vienna, this is a weekend to put the stress of modern life behind you and enjoy the great outdoors.
Or, more specifically, load up the caravan, pitch your tent with thousands of other fans and have the Formula 1 equivalent of a Glastonbury festival-style experience.
Instead of champagne filled super-yachts or Instagram-filtered VIP lounges, Spielberg offers fans a chance to take a nostalgic trip down memory lane.
Quite literally. The old Osterreichring, used in the 1970s and late 1980s, is open to walk around with a beer in one hand and a bosna - bratwurst sausage, onions and a blend of mustard or tomato ketchup with curry powder - in the other.
But what would you talk about?
Reminisce over the elation of a home win for Niki Lauda in 1984. With his gearbox slowly failing, the Austrian nursed his McLaren across the line and on the way to a third world championship.
Lauda is still the only countryman to win in Spielberg. And for now, it's a stat that won't be threatened anytime soon.
Stroll across to the spot where Nigel Mansell executed a sublime pass on Williams team-mate Nelson Piquet to take victory in 1987.
Then chuckle to yourself as you remember Murray Walker's firm examination of Mansell's bump on the head, after the Brit had smacked it on a steel girder while celebrating on the way to the podium.
If you can do all that whilst wearing a bright orange Max Verstappen T-shirt, plus a helmet adorned with giant bull horns or antlers, then you will have earned your red and white Austrian stripes.
The festival headliner
Every festival needs a headliner and what better draw then the birthday of the happiest man on the grid: Daniel Ricciardo.
Race day at the Red Bull Ring sees Ricciardo turn 29. The last year of your twenties can often feel like a time for reflection and change.
Could an announcement about the Australian's future be on the cards after talks with McLaren and Renault were held?
Probably not... but a party for the honey badger in a field full of raucous fans sounds like a race weekend to remember.
Flashback quiz
Multiple winners is the focus of our quiz this week.
Only six drivers have won the Austrian Grand Prix more than once since 1970, three being the highest number of victories.
To give you a helping hand: five are world champions; one is a championship runner-up.
The clock is set to four minutes for you to name as many as you can. Go!
Can you name all six drivers?
Previously in F1... round eight... France
The track
Back pocket facts
Austrian composer Franz Schubert was nicknamed Schwammerl (Little Mushroom) by his friends because he was just five feet tall
Hollywood's most prestigious night is catered for by an Austrian. Master chef Wolfgang Puck has fed A-list winners for 24 consecutive Oscar ceremonies and this year used 30lbs of gold dust on the food.
In 1552, a Habsburg prince brought the first elephant to Austria from Spain to be a part of the king's menagerie. Unfortunately, Suleiman the elephant only survived a year in the cold climate of Vienna.
The Austrian flag is one of the oldest national flags in the world. It dates from 1191, when Duke Leopold V fought in the Battle of Acre during the Third Crusade.
Drivers' social
Coverage
Austrian Grand Prix coverage details
Date
Session
Time
Radio coverage
Online text commentary
Friday, 29 June
First practice
09:55-11:35
BBC Radio 5 live sports extra
From 09:30
Second practice
13:55-15:05
BBC Radio 5 live sports extra
From 13:30
Race preview & podcast
21:00-21:30
BBC Radio 5 live
Saturday 30, June
Third practice
10:55-12:05
BBC Sport online
From 10:30
Qualifying
13:55-15:05
BBC Sport online
Post-qualifying podcast
5 live website
Sunday, 1 July
Race
14:00-16:30
BBC Radio 5 live sports extra
From 12:30
Monday 2, July
Race review & podcast
04:30
BBC Radio 5 live