Red Bull to switch from Renault to Honda from 2019 season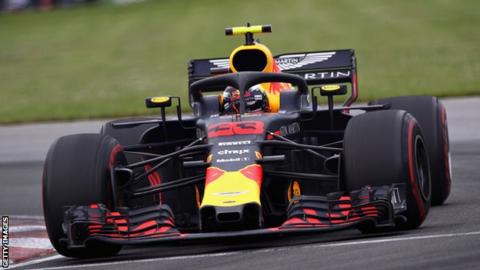 Red Bull will split with Renault at the end of this season and use Honda engines for the next two years.
The move ends a 12-year relationship during which Red Bull and Renault won four consecutive world title doubles from 2010 to 2013.
The relationship has frayed since turbo hybrid engines were introduced into Formula 1 in 2014 and Renault has found itself behind Mercedes and Ferrari.
Red Bull believe Honda will be more competitive than Renault for 2019-20.
Team principal Christian Horner said: "This multi-year agreement with Honda signals the start of an exciting new phase in Red Bull Racing's efforts to compete not just for grand prix wins but for what is always our goal - championship titles.
"We have always taken decisions such as this dispassionately and with only one criteria in mind - do we believe the outcome will allow us to compete at a higher level? After careful consideration and evaluation, we are certain this partnership with Honda is the right direction for the team."
Honda will supply engines to both Red Bull teams from next year, after starting a supply deal with junior team Toro Rosso this season.
Honda president Takahiro Hachigo said: "Having two teams means we can access twice as much data as previously.
"We believe that working with both Toro Rosso and Red Bull Racing will allow us to get closer to our goal of winning races and championships, building two strong partnerships.
"Discussions proceeded very quickly, thanks to Red Bull's open and respectful attitude towards Honda, leading to a deal that is fair and equitable for all parties."
'Honda a better long-term bet'
The move comes nine months after McLaren decided to end its factory partnership with Honda, believing the Japanese company's engines were holding the team back.
McLaren decided instead to buy customer engines from Renault, an approximate $100m net loss when taking into account Honda's total financial contribution to the team, and the cost of the new engines.
But McLaren's decision has been widely questioned after their performance has failed to improve into this season.
Their car has been well over a second a lap slower than the Red Bull despite using the same engine, and despite McLaren's claims last season that their car was among the best on the grid.
Red Bull discovered from the start of this season that the performance disparity between the Renault and Honda engines was nothing like as big as McLaren had said.
And after both engines were upgraded at the Canadian Grand Prix just over a week ago, it is believed they are now of comparable performance.
Red Bull believed Renault's continuing struggles with reliability, allied to Honda's progress, meant the Japanese company was a better long-term bet.
Honda said its initial ambition with Red Bull for 2019 was to ensure the team's performance does not "drop below its current level", but added: "Our target is to go further and do better than they are doing at the moment."
'We have sometimes had our differences'
Red Bull are frustrated that five years into the hybrid formula, they are still facing many more grid penalties for excessive engine usage than teams using Mercedes or Ferrari engines. Daniel Ricciardo, who is third in the championship behind Ferrari's Sebastian Vettel and Lewis Hamilton of Mercedes is facing grid penalties in the near future for this reason.
And Renault have still not been able to introduce a new MGU-K - the hybrid recovery device on the rear axle - to replace the one being currently used, which was designed for the 2016 season and is still prone to breaking. A new MGU-K has been designed but has not yet proven to be reliable enough to race.
Horner said: "We have sometimes had our differences but Renault has always worked tirelessly and to the best of its ability to provide us with a competitive power unit.
"That is still the case today and we would like to thank the Renault team, and particularly the guys in our garage at every race, for their unstinting commitment and we look forward to ending our partnership on a high come the end of this season.
"Our focus for the rest of this year is still very much on delivering the best results possible in the 2018 championship."
Renault said in a statement they were "proud" of their results with Red Bull and considered their split "a natural evolution for both Renault and Red Bull Racing in view of their respective aspirations".
Renault are trying to build up their own factory team into title contenders - they are fourth in this year's championship after seven races - and said they are "continuing to foster the fresh relationship with McLaren".