Max Verstappen: Red Bull driver raced in Montreal without family & manager present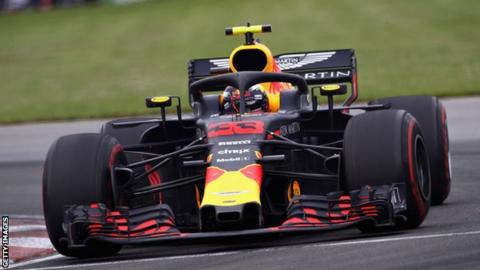 Max Verstappen's third place for Red Bull in the Canadian Grand Prix came after he attended a race without a support group for the first time.
The Dutchman, who had been involved in crashes or incidents in the first six races, took his second podium this season in Montreal.
Red Bull team-mate Daniel Ricciardo, meanwhile, has two wins in 2018 so far.
"His approach has been slightly different. He's just been here on his own," team boss Christian Horner said.
"It's just something different. Whether it contributed is impossible to say."
Verstappen usually travels with a varying combination of father Jos Verstappen, a former Formula 1 driver, manager Raymond Vermeulen and occasionally his mother and sister.
Horner said the decision for Verstappen to travel to Montreal without his manager or any members of his family had been a collective one by driver and team.
"It's something that was discussed with him, so it was something agreed between him and the team," Horner said.
He added that it would not necessarily continue in the future.
"We just wanted to try it this weekend," Horner said. "I am not saying it has contributed in any way, it was just something a little bit different.
"He has been very immersed in everything the team's been doing this weekend. And he has done a super job, so all credit to him for putting together a very strong weekend."
Verstappen started the weekend in controversial manner by reacting to questions about his series of errors by saying: "I get really tired of all the questions, so… yeah… I think if I get a few more I'll head-butt someone."
But he drove cleanly throughout the weekend on the demanding Circuit Gilles Villeneuve, where walls close to the track often lead to drivers making mistakes and crashing, and was the faster Red Bull driver throughout.
And he raced hard and cleanly with Mercedes driver Valtteri Bottas at the start, the pair touching wheels lightly as they disputed second place at the first two corners.
Horner said: "You don't want to defuse that. That's part of what makes him so exciting. He had a very clean weekend. I'm sure it'll give him a bunch of confidence heading into the next batch of races."
Engine decision looming
Red Bull are on the verge of a decision about which engine to use from 2019. They have a choice between their current supplier Renault and Honda, which supplies their junior team Toro Rosso.
Red Bull were waiting until after the Canadian Grand Prix to see the performance of the upgrades introduced by both Renault and Honda.
Horner said the team now wanted to analyse the data from Canada and the next race in France before making a final decision around the time of their home Austrian Grand Prix on 29 June-1 July.
"We have a lot of information to go away and analyse from this weekend and probably take another weekend to view it over a couple of circuits," Horner said, "and I am sure around the Austrian Grand Prix we will be coming to a conclusion."
Honda are considered the more likely to be chosen - the Japanese company's upgrade for Canada was said to be worth more than double the performance improvement of Renault's, which would make the two engines pretty equal in performance.
Horner said: "From what I hear, they [Honda] have made a good step. Renault have brought what they advertised as well. now we have a bunch of GPS data to go away and analyse and look at the relative performance."
Red Bull's fractious recent history with Renault since the introduction of turbo hybrid engines in 2014, and the French company's continuing struggles with reliability, are also a factor in the decision.
But Honda are also facing reliability problems - Toro Rosso driver Pierre Gasly suffered grid penalties in Canada after Honda removed the new-spec engine fitted to his car because of concerns after practice.
Team-mate Brendon Hartley's new engine ran trouble-free until his first-lap crash with Williams driver Lance Stroll.