Canadian Grand Prix: Sebastian Vettel on pole, Lewis Hamilton fourth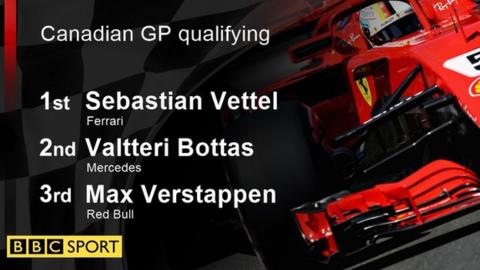 Ferrari's Sebastian Vettel won an intense battle to take pole position for the Canadian Grand Prix, with title rival Lewis Hamilton only fourth.
Vettel edged Hamilton's Mercedes team-mate Valtteri Bottas by 0.093 seconds as Red Bull's Max Verstappen sneaked ahead of Hamilton with his final lap.
Hamilton was unusually out of sorts on a track at which he has excelled so many times, and a series of mistakes left him struggling to keep up.
He was 0.232secs off the pace.
Vettel's team-mate Kimi Raikkonen was fifth, slipping down from third on the first runs after blowing his final lap with an error in running wide on the exit of Turn Two. The second Red Bull of Daniel Ricciardo was sixth.
Vettel, who is 14 points behind Hamilton in the championship and has a great chance to make up ground, said: "Yesterday we were a bit in trouble and I just couldn't get the rhythm, but today it switched on and what a day.
"The car was incredible."
Hamilton not his usual self
Hamilton was struggling throughout qualifying, despite looking strong through most of the weekend, but he surely will not have expected to end up down in fourth on a circuit at which he has taken six wins and six poles in 10 events, nor to be beaten by a team-mate for only the second time in his career here.
The world champion was third in first qualifying, fifth in second qualifying, and fourth after the first runs in the top 10 shootout.
He locked his brakes at the hairpin on both his laps in the final session, and on his first could be seen struggling for traction out of it as well, and he ended up 0.139secs slower than Bottas.
Mercedes' decision to choose the fewest number of hyper-soft tyres for this weekend out of all the teams may have contributed as neither driver had tried them until Saturday morning, but Hamilton cannot blame only that as Bottas ended up on the front row.
"We had a car today that probably could have been on pole and I didn't put it on pole. I'm not frustrated. Maybe disappointed in myself. But these things happen. You can't always get it perfect."
Sunday could be a belter
The race looks finely poised, with differing strategies among the top three teams.
Red Bull have chosen to start the race on the fastest but most fragile 'hyper-soft' tyre, while both Mercedes and Ferrari chose to go through second qualifying, which defines the race-start tyre, on the more durable ultra-soft.
Mercedes asked for so few hyper-softs because they believe it will be a poor race tyre, but Red Bull proved at the last race in Monaco that they can run it longer and more competitively than other teams, and Verstappen is confident he can challenge the Ferraris and Mercedes in the race.
The Dutchman, who has had a difficult start to the season with a series of crashes and errors, said: "I am really happy with this weekend so far. We know in qualifying we are missing top speed. Starting on the softer tyres is also a benefit here and during the race we are competitive."
Dismal day for Alonso on anniversary
McLaren have battled to be among the best of the rest in the past few races but they had a dismal time, the characteristics of the Circuit Gilles Villeneuve exposing the specific biggest weaknesses of their car - a lack of straight-line speed and poor slow-corner performance.
Fernando Alonso and Stoffel Vandoorne have ended up 14th and 15th, separated by only 0.009secs - a good result for the Belgian, if not for his team.
It was no way for Alonso to celebrate the 300th grand prix of an illustrious career as questions swirl about his future in the sport this year.
The McLarens were out-qualified by the Sauber of the increasingly impressive Charles Leclerc in 13th and the Toro Rosso of under-pressure Brendon Hartley.
The New Zealander has had to deal with questions about his future this weekend after it emerged Red Bull wanted to replace him with McLaren reserve driver Lando Norris from the Austrian Grand Prix.
But the two-time world endurance champion qualified 12th, benefiting from an upgraded Honda engine.
Team-mate Pierre Gasly was 16th, forced to use the older-spec engine after a problem was discovered after final practice. But the difference in the engines does not explain the 0.5-second gap in their times in first qualifying.
Renault's Nico Hulkenberg ended up seventh, ahead of Force India's Esteban Ocon, Renault's Carlos Sainz and Ocon's team-mate Sergio Perez.