Canadian GP: Fernando Alonso says 'I'm one of F1's best ever'

By Andrew Benson
Chief F1 writer in Montreal
Last updated on .From the section Formula 1330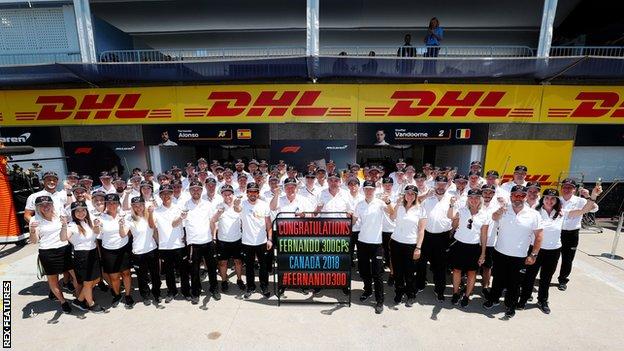 McLaren's Fernando Alonso says he is one of the best ever Formula 1 drivers, as he celebrates his 300th grand prix in Canada this weekend.
The 2005 and 2006 world champion, whose future in F1 is up in the air, was reflecting on a career that has made him one of the icons of the sport.
"I am one of the best to have raced in F1," the Spaniard said.
"I am probably not fastest in qualifying, or the wet, but I am 9.5 in all areas. I try to benefit from that."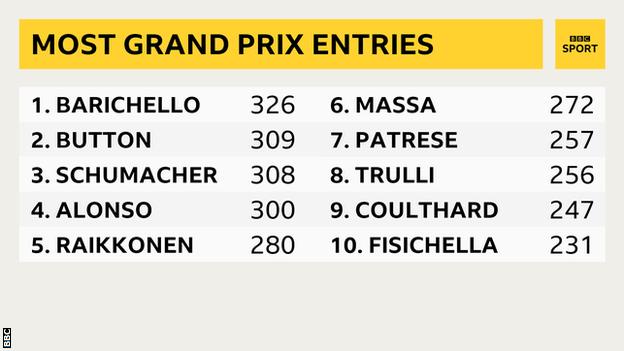 His remarks were made at an event hosted by McLaren to make his landmark race in Montreal, to which a number of other drivers and senior figures from other teams came to pay tribute to him.
Alonso won two world titles for Renault and has 32 grand prix victories, sixth in the all-time list behind Michael Schumacher, Lewis Hamilton, Alain Prost, Sebastian Vettel and Ayrton Senna.
Hamilton has paid tribute to Alonso, who he regards as the best driver other than himself in F1, saying: "He will always be one of the greatest drivers of all time. It has been a privilege to be in the sport during his time."
The 36-year-old's two world titles do not reflect how close Alonso has come to a number of other championships, nor his status within F1, where he is regarded as still, at the age of 36, a gold standard.
Alonso missed out on the 2007 title by two points, the 2010 crown by five points and 2012 by four points.
In an exclusive BBC Sport interview after Friday practice in Montreal, he said: "In a way, it is better this way. I would not be happy if I had many trophies at home and people think I don't deserve them. That would be even harder.
"So, obviously we had some opportunities missed, especially in the past three years when McLaren-Honda didn't deliver the results we wanted.
"I think right now, we are in the right direction to go back to the winning path. We see at the end of my career in F1 what we achieved and what we should have achieved. But I am happy and I feel very privileged about everything we did so far."
Alonso has not won a race since 2013 and since joining McLaren in 2015 he has been stranded in the midfield, unable to display his talent.
And this year he has repeatedly criticised F1 for being too predictable, with the top three teams a second a lap clear of the rest.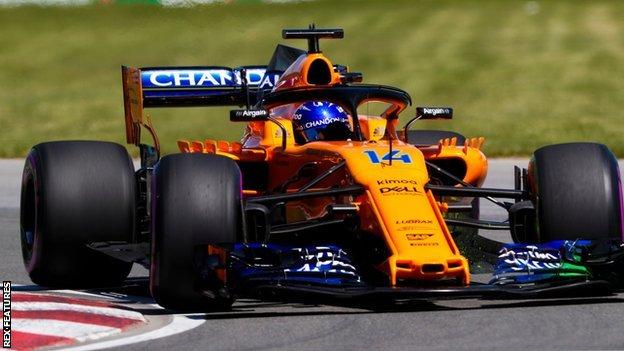 This has led to speculation this might be his last season, although Alonso has said he will not decide on his future until the summer, and McLaren are very keen to keep him for another season.
His choices effectively boil down to staying with McLaren, or switching to a full season in Indycars next year to chase his ambition to win the Indy 500, where he raced last year and competed for victory until his engine failed in the closing stages.
He is also contracted to race for Toyota in the current World Endurance championship, which ends with next year's Le Mans 24 Hours. His first attempt to win the classic sports car event is next weekend.
Alonso said in Canada he was "not bored" in F1, adding: "It's obviously the top series in motorsport, and it's where we all dream to come, but it's true that in the last years it is so predictable.
"This is race seven - there are 21 races - and we all know what is going to happen. You can play basketball, and have a magic night and score 40 points with your team-mates and win the game.
"There are favourites for the World Cup, but you can't guarantee Germany, Spain or Brazil will win, but here everyone can guarantee that Mercedes or Ferrari will win the race, and this is very sad for the sport."