Formula 1: Lando Norris approached by Toro Rosso for 2018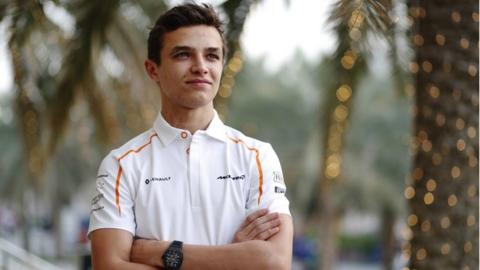 McLaren have rejected an approach for their reserve driver Lando Norris to race for Toro Rosso this season.
Red Bull had wanted the Englishman, 18, who races in Formula 2, to replace New Zealander Brendon Hartley in their junior team for the rest of this year.
But McLaren preferred to keep Norris on his current trajectory.
A McLaren spokesman said: "We are not surprised that other teams approach our drivers. They clearly believe they are as talented as we do."
Toro Rosso refused to comment.
The team, who are used as a proving ground for Red Bull's young drivers, are said to have been looking for a deal that would have potentially allowed them to keep Norris beyond the end of 2018
Norris, who is currently leading the F2 championship, is one of the brightest rising stars in motorsport and could potentially be promoted to a McLaren race seat in 2019.
Alonso holds the key
However, the team will be looking to resolve the future of their lead driver, two-time world champion Fernando Alonso, before making any further decisions.
The 36-year-old Spaniard says he has not yet decided whether to remain in Formula 1 next season.
Although there are potentially open seats at all three leading teams in F1 - Mercedes, Ferrari and Red Bull - none are believed to be interested in signing Alonso, even though he is still regarded as one of the very best drivers on the grid.
Alonso has set as his target to win motorsport's so-called 'triple crown' of the Monaco Grand Prix, which he has already won twice, the Le Mans 24 Hours and the Indianapolis 500.
McLaren are assessing whether to set up an Indycar team and one possibility is that Alonso could either do a full programme in the US-based series next year, or dovetail an F1 season with a second attempt at the Indy 500.
Alonso raced at Indy with McLaren in 2017 and was contending for victory until suffering an engine failure in the closing stages.
He is racing for Toyota in the current World Endurance Championship 'super-season', and has his first attempt at Le Mans this month. He set the fastest time in last weekend's pre-race test.
Alonso will race again for Toyota at Le Mans next year, when the classic event is the final event of the championship that started in Spa last month, where Alonso won in the car he shares with team-mates Sebastien Buemi and Kazuki Nakajima.
And the chase is not over yet
If Alonso stays in F1, there is a very real possibility Norris could be promoted as his team-mate in 2019.
But McLaren's rejection of Red Bull's initial approach does not necessarily mean the end of Toro Rosso's bid to grab Norris.
Red Bull could come back with a different offer that is more amenable to McLaren.
And one source close to the situation has told BBC Sport that McLaren have to offer Norris a full-time race seat by a date in October this year or he is free to join another team - such as Toro Rosso - for the final two races.
A McLaren spokesman said he was "not in a position to get into that detail".
However, McLaren also have to resolve the future of their other race driver this year, Stoffel Vandoorne.
The Belgian has struggled to match Alonso since becoming his team-mate last year but is regarded as highly talented and will be given more time this season to prove himself.
McLaren like change
McLaren have brought in former Indycar driver Gil De Ferran as a roving adviser, and one of the Brazilian's responsibilities is to help in the development of the team's young drivers.
De Ferran is attending grands prix for McLaren and has been charged with offering advice or opinion on any subject he considers might be worthwhile.
The team have had a disappointing start to the season, in the context of their ambition to race with Red Bull following their switch to the same Renault engine.
In fact, although their championship position is much improved over last year, when they finished second last, the car has proved to be about 1.5 seconds a lap slower than the Red Bull.
This has led to major ructions within McLaren, who have split with chief technical officer Tim Goss, and are restructuring their technical department having realised they have fallen a long way behind the best teams in design capability.
Poor old Hartley
Hartley, a two-time world endurance champion, is in his first full season in F1 having made a debut in the closing stages of last season after Spaniard Carlos Sainz moved to Renault and Red Bull dropped Russian Daniil Kvyat.
However, Red Bull have grown frustrated by a series of mistakes by the New Zealander and his future in the team is in doubt.