Canadian Grand Prix: Fernando Alonso says Montreal a 'tough circuit' for McLaren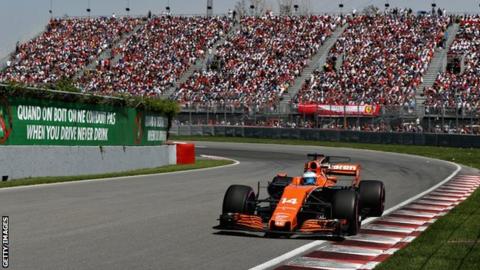 McLaren are braced for a difficult race at this weekend's Canadian Grand Prix.
The team feel the Montreal circuit, where straights and slow corners predominate, will expose their car's two biggest weaknesses, which are in those areas.
Sunday's race will be the 300th grand prix for Spain's two-time world champion Fernando Alonso.
"This will certainly be a tough circuit for us, but we're making progress race by race," said the McLaren driver, 36.
"A little bit of the drama or changeable weather we've seen in Canada so many times could offer us some opportunities."
After six races this season, McLaren are fifth in the constructors' championship and Alonso seventh in the drivers' championship.
Those positions owe a lot to Alonso's ability to turn poor qualifying positions into stronger race results - the car's lack of pace is reflected by the fact he has only managed to qualify in the top 10 twice.
Alonso has finished fifth, seventh three times and eighth in the six races, and retired from the last event in Monaco with a gearbox failure.
McLaren are undertaking a review of their technical department following their disappointing start to the season.
They expected to be able to race Red Bull in 2018 having ended their contract to use Honda engines and switched to Renault power, but instead find themselves 1.5 seconds behind the team for whom Daniel Ricciardo has won two of the six races.
Racing director Eric Boullier's position is already under pressure having claimed last year that the McLaren chassis was one of the best, only to find this season that was not the case.
He said of the Canadian race: "We know it won't be an easy weekend for us, but it's important we focus on getting ourselves in the most representative grid slots we can to be able to fight on Sunday.
"We've had a couple of difficult weekends, so hopefully in Montreal we'll be able to see further progress and bring home some points."
McLaren have split with chief technical officer Tim Goss and have brought in former IndyCar driver Gil De Ferran as an informal adviser to offer opinions on any area he feels he might be able to offer input.
De Ferran, 50, also accompanied Boullier and chief executive officer Zak Brown to the Detroit IndyCar race last weekend as part of a study into whether McLaren should branch out into the US-based championship next year.
One possibility for 2019 is that McLaren enter an IndyCar team as a satellite operation to an existing outfit, giving Alonso another shot at winning the Indy 500, where he competed last year and ran competitively until a late-race engine failure.
That could potentially be either in tandem with an F1 programme, as was the case in 2017, when he skipped the Monaco Grand Prix to race at Indy, or as a full-time IndyCar switch if Alonso decides he does not want to race in F1 any longer.