Daniel Ricciardo 'unlikely' to join Mercedes - Lewis Hamilton

By Andrew Benson
Chief F1 writer
Last updated on .From the section Formula 1386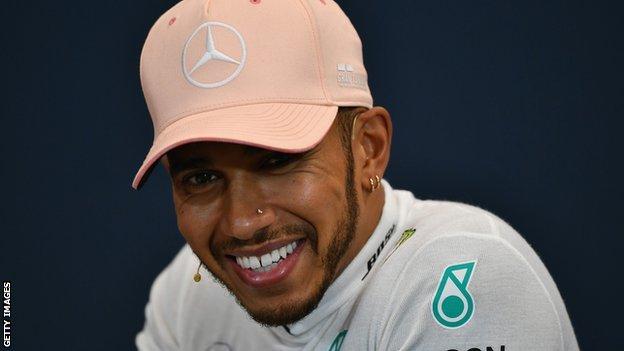 Lewis Hamilton says it is "unlikely" his Mercedes team is one of Daniel Ricciardo's options for a potential move from Red Bull.
Hamilton said he "would imagine" Ricciardo's future was at Red Bull.
"There is only Ferrari and Mercedes he could consider - but it is unlikely he is coming here," he added.
"I don't think that is going to happen."
World champion Hamilton and his Mercedes team-mate Valtteri Bottas are both out of contract this season.
Hamilton and Mercedes Formula 1 boss Toto Wolff have said it is only a matter of time before a new contract for the Briton is concluded, while Wolff has said he wants to wait until mid-summer before making a call on the second driver.
His options are to keep Bottas or go for either Ricciardo or Force India's Esteban Ocon, a Mercedes young driver.
The final decision on drivers at Mercedes is Wolff's with the car company's board, but Hamilton has often said that he is consulted on his views during the decision-making process.
Sebastian Vettel is under contract at Ferrari until the end of 2020 but team-mate Kimi Raikkonen's deal expires this season.
McLaren driver Fernando Alonso, F1's other multiple world champion alongside Hamilton and Vettel, is also free to move but is not believed to be an option at Mercedes and Ferrari because of his history with both manufacturers.
Red Bull want to keep Ricciardo but the Australian has said he will wait until the summer before making a decision.
Hamilton said: "He is one of the top drivers and so I am sure there will be offers.
"At Ferrari I would imagine Kimi is going to want to continue and why not? He is driving really well this year and he doesn't seem to be ageing. So I am sure he will go for a little longer.
"At the moment, [Ricciardo] is pretty much the lead driver in that team so it's not a bad place to be.
"If at some stage Red Bull get an engine [closer in performance to Mercedes and Ferrari], they are going to be even closer to us. They could win many more races and he just has to keep his head down and keep doing what he's doing and he should have his options ready."
Red Bull, Ricciardo and an engine conundrum
Red Bull team boss Christian Horner said the team wanted to resolve whether they would be continuing with Renault or switching to Honda engines next year before trying to secure Ricciardo.
Horner said he was waiting to see the performance of upgrades planned by both Honda and Renault for the next race in Canada, although insiders say Red Bull are all but decided on Honda from 2019.
Horner said of Ricciardo: "He is now on the same amount of victories as Lewis and Sebastian six races into the season. Bahrain - he would have been a genuine contender there [had he not retired early in the race], and we know what happened in Baku [when the Red Bull drivers crashed together while running fourth and fifth].
"He is up to third and we have a very strong car. He has been the quickest driver. He knows the quality of the team. You can see how well he fits in the team and I'm hopeful we'll be able to move things along in the next couple of months."
On the engine decision, Horner said: "We are about a month or so away. End of June is the timescale we talk about. We are waiting with great interest to see the relative performance of engines in Montreal.
"One hopes that makes it easier rather than harder. It will all depend on the data."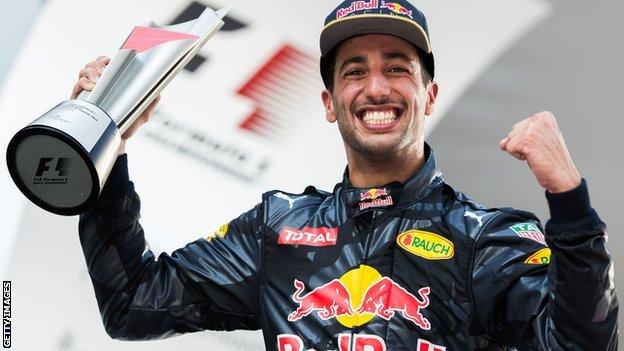 Could Ferrari take Ricciardo?
Vettel is said by sources close to Ferrari to be pushing hard for the team to retain Raikkonen for next season.
But Ferrari are taking their time and, along with Raikkonen, have the option of going for Ricciardo or promoting Monegasque Charles Leclerc, a Ferrari young driver who is impressing in his rookie season at Sauber this season.
They will be wary of disrupting the team's internal dynamic by taking Ricciardo, who comprehensively beat Vettel when they were team-mates at Red Bull in 2014.
However, they may be waiting to see how Vettel handles his title fight with Hamilton this season, after making crucial mistakes on the way to defeat last year.
Their decision on Leclerc will rest on whether they think he has both proven enough to be promoted and is ready to make the jump to the intense pressure of Ferrari after just one season.
If not, Leclerc is tipped to be promoted to the satellite Haas team, almost certainly in place of Frenchman Romain Grosjean, who has had a difficult start to this season.