Daniel Ricciardio: How does Monaco win compare to other drives with mechanical problems?
Last updated on .From the section Formula 1111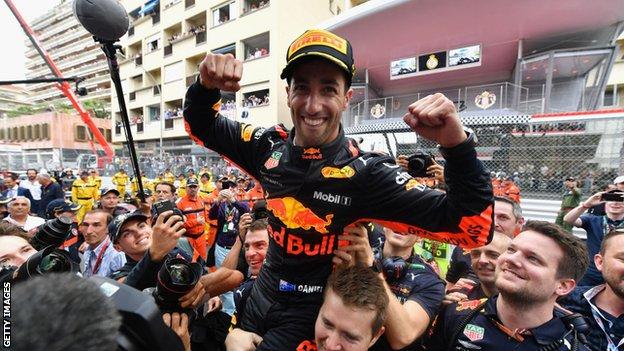 "That was right up there with Schumacher."
Ricciardo suffered an engine power problem early in the race, with even his team fearing he would have to retire within a couple of laps, but the Australian somehow held on to win F1's jewel in the crown for the first time.
Schumacher similarly battled against a mechanical problem, but are the two drives truly comparable? And how do they stack up with some other memorable moments when the driver has had to fight against a faltering machine?
We've dug out some examples but will leave it down to you to decide who did it best...
Schumacher stuck in fifth gear - 1994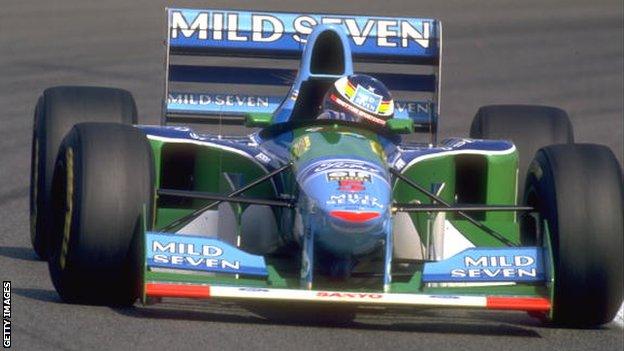 It is perhaps understandable why Horner compared Ricciardo's drive to that of Schumacher at the 1994 Spanish Grand Prix, considering it is probably the best example of a driver overcoming mechanical issues to pull off an impressive result.
Starting the race on pole position, Schumacher quickly disappeared into the distance as he started to build a dominant lead and a comfortable victory looked firmly on the cards.
However, his Benetton developed a gear selection problem during the first flurry of pit stops and before long Schumacher could not get out of fifth gear. Despite the issue, Schumacher was still setting respectable lap times and when it came to the second round of stops he somehow managed to pit without stalling the car.
Holding on to first place was a battle too far for Schumacher as Damon Hill's Williams picked off the wounded Benetton, but Schumacher still managed to take a hugely impressive second.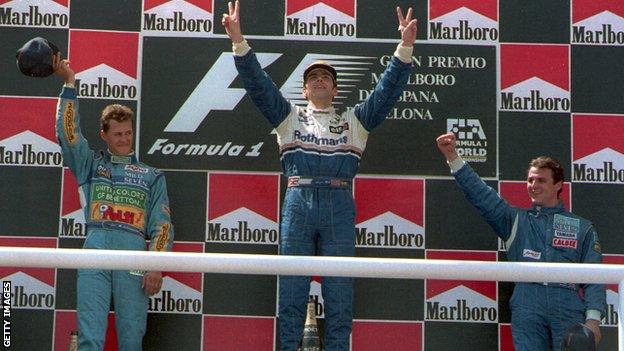 Alonso overcomes the odds - 2018
He may not have been fighting for victory, but how Fernando Alonso managed to complete this year's Azerbaijan Grand Prix almost defied science.
The McLaren driver was struck by the Williams of Sergey Sirotkin on the opening lap in Baku, forcing Alonso to limp back to the pits.
Despite huge damage to the floor of his car that would have led to many other drivers retiring from the race, Alonso returned to the track and finished a hugely impressive seventh.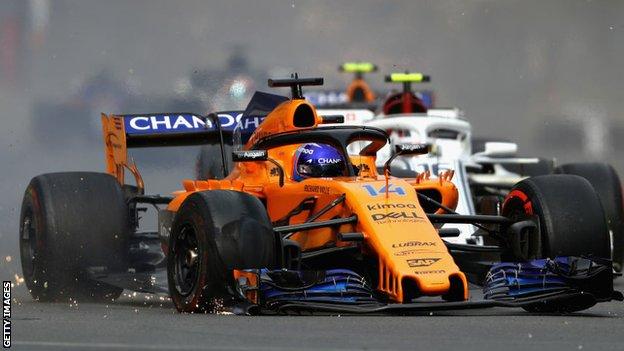 Alonso described it as "one of the best races" of his life given the issues he had to deal with, and BBC Sport's chief F1 writer Andrew Benson was able to highlight just how much damage Alonso drove with when he was given exclusive access to the Spanish driver's car a few days after the race.
"The most dramatic damage to Alonso's car was to what is called the 'tea-tray' - the part of the floor that sticks out under the drivers legs, and which helps define the airflow under and around the sides of the car," Benson wrote.
"All in all, Eric Boullier, said the damage cost '20 points of downforce, more or less - so half a second a lap'. Despite this, after changing tyres and front wing, Alonso returned to the race and lapped faster than team-mate Stoffel Vandoorne on all but a handful of laps."
Shoulder cramps and gear problem doesn't stop Senna - 1991
Ayrton Senna had to wait years to win his home grand prix, but what a victory it was.
Leading for much of the race, Senna's McLaren developed gearbox issues in the closing stages. Sensing a wounded animal, Williams' Riccardo Patrese began to close - and by the final two laps Senna was stuck in sixth gear.
Interlagos is a physically demanding circuit at the best of times, even more so when you have just the one gear, and as Senna battled hard to hold on to his lead, he developed cramp in his shoulder. Still, he fought on, and when he finally did cross the line to take victory, he stopped his car on the track and waited for medical assistance. Exhausted and in agony from the pain in his shoulders, he physically could not get himself out of the car.
When he finally made it to the podium, he could barely stand, let alone lift the trophy, but with help of a delighted and vocal home crowd, he managed it.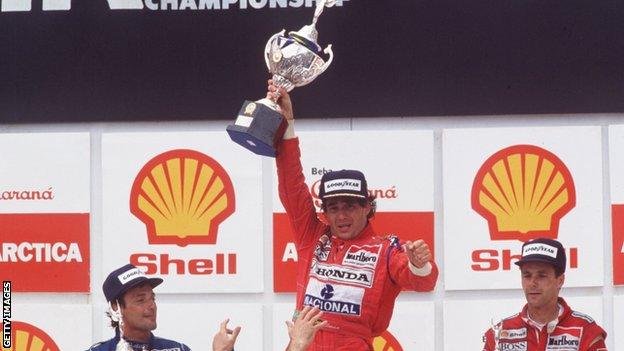 Battling Clark holds off Hill - 1965
Reliability issues were more commonplace in the early years of Formula 1, meaning skill and determination were paramount.
Jim Clark went into the 1965 British Grand Prix looking to continue his dominance of the event - he had won the three previous races and was seemingly cruising to a fourth when, after 50 laps, he led Graham Hill by 30 seconds.
But suddenly his Lotus started to misfire and was burning oil at a rapid rate. The Scot eased off to preserve his engine but that allowed Hill to close to within eight seconds with two laps to go.
Clark overcame his issues by coasting round corners in neutral and attacking the straights with the higher gears and in the end it was just enough as he edged Hill by three seconds.
"In the last two laps when my engine was showing no oil pressure at all," Clark said. "I would have been prepared to risk blowing up rather than see Graham pass me in the BRM. Fortunately it was not necessary."