Romain Grosjean needs a reset - Jolyon Palmer column
Last updated on .From the section Formula 1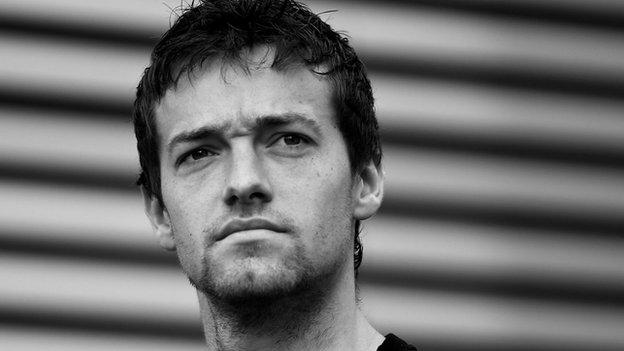 F1 driver Jolyon Palmer, who left Renault at the end of 2017, joins the BBC team this season to offer insight and analysis from the point of view of the competitors.
Romain Grosjean is going through tough times in Formula 1 and he hit a real low point with his crash on the first lap at the Spanish Grand Prix.
The Haas driver lost his car mid-pack at Turn Three, span back across the track in a cloud of tyre smoke and collected the cars of Nico Hulkenberg and Pierre Gasly.
I don't remember an incident like it and I don't think the stewards did either - which is why they have given him a three-place penalty at the Monaco Grand Prix.
It is the latest - and worst - in a series of difficult moments for Grosjean this year.
Magnussen showing Grosjean up
The Frenchman has no points after five races and that is made worse by the fact Haas have been very competitive, and team-mate Kevin Magnussen has been getting the most out of the car more often than not.
The Dane's sixth place in Barcelona puts him on 19 points for the year.
It hasn't been a lack of pace that's hurt Grosjean - Barcelona was the third time in five races that he's qualified in the top 10.
The Haas car has often been best of the rest behind the big three this year, and races without incident surely would have seen Grosjean bag some good points by now.
The problems have not all been of his own doing, either.
In Melbourne in the first race of the season, he was running in a fantastic fifth place when his wheel didn't go on at his pit stop, a problem that ended the race of both Haas cars.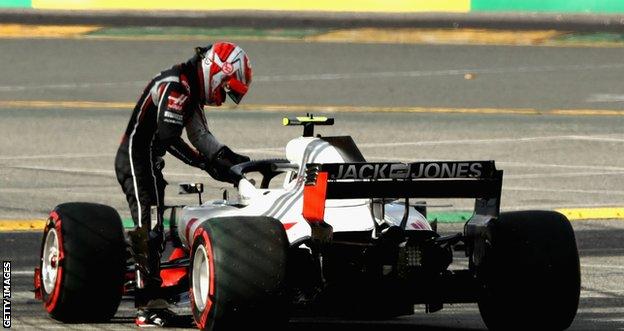 But where Magnussen has been able to get his head down and recover from that disappointment, scoring in every other race apart from the chaotic event in Azerbaijan, Grosjean has been on an unfortunate run of incidents which have put him heavily on the back foot.
Bahrain and China were quietly disappointing for Grosjean, but in Baku he had a real chance to step up and score some points.
He was forced to start at the back of the grid after an issue in qualifying, but a brilliant race saw him running up in sixth as a late safety car was called. He then lost control of his car, trying to keep temperature in his tyres under the safety car and hit the wall, ending his race.
When tyre temperatures are low, silly mistakes are much easier than they look in F1, and Grosjean isn't the first driver in recent times to lose it under the safety car. Indeed, Red Bull's Daniel Ricciardo, winner last month in China, had a spin under the virtual safety car in Barcelona.
But it will have been slightly humiliating for Grosjean nevertheless, especially because he was in such a great position beforehand and it ended his race with a big accident.
That was two weeks ago. In Barcelona, he had another chance to set the record straight after qualifying in the top 10 again.
'Dangerous and foolhardy'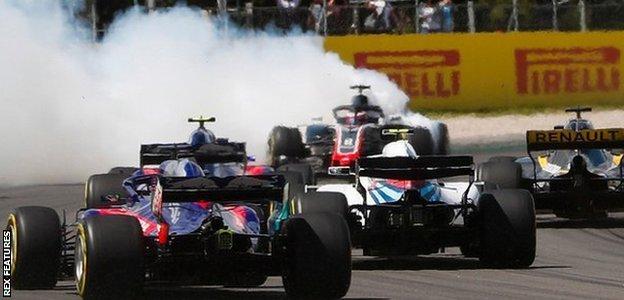 Grosjean's lap-one incident really surprised me. Not so much the incident itself - everybody was struggling for grip. Even the frontrunners with clearer air ahead and more downforce were struggling to get the power down out of Turn Two.
The spin Grosjean had was one thing. He was caught out by Magnussen's slide ahead, spun in sympathy as a result of cold tyres and plenty of dirty air. Not great, but that sort of thing happens from time to time.
What I couldn't understand was why he kept his foot planted on the throttle for so long afterwards.
The result was the car drifting right back into the middle of a field of oncoming cars, creating a huge smokescreen for them at the same time, and on one of the fastest, most difficult sections of track. It was inevitable he would be collected by someone.
I can only imagine his actions came out of frustration at spinning away a good starting position. But it was pretty dangerous and very foolhardy, as proved by the fact Gasly and Hulkenberg drove into him, unsighted by tyre smoke and with nowhere else to go.
If Grosjean had applied the brakes as he spun on the outside, as is usually the case and the natural instinct when a driver loses control, I'm sure he would have come to a stop harmlessly on the run-off and got going again afterwards.
A personal experience with Grosjean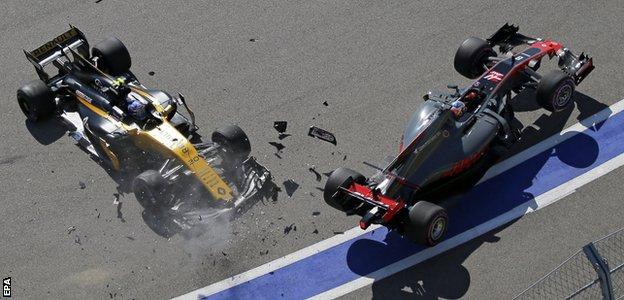 I had an incident with Grosjean in Sochi last year. He tipped me into a spin and then drove into the front of my spinning car. We ended up in the wall, putting us both out at the start of the race.
The stewards deemed it a racing incident, which seemed fair enough, even though we both disagreed, as is natural for drivers to do.
At the time Romain's biggest complaint was that I kept the throttle on as I was spinning and didn't just hit the brakes, which he saw as the reason he was collected and pitched into the wall. I distinctly remember him saying what I did that day was "dangerous".
In fact, I didn't keep my foot down. But as he hit me while I was accelerating, I naturally had some throttle still on. As soon as I was spinning I lifted…
But that's irrelevant now. What it shows is his mindset, and how in the crunch moment he wasn't able to think the same way he had managed in the stewards' room before.
Talent behind the errors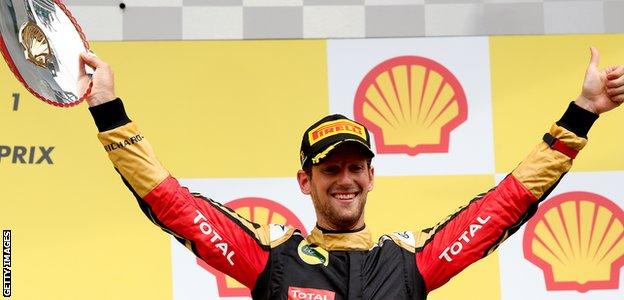 I know it's easy for me to say this from the outside now. In the midst of any race incident things happen very quickly and a driver reacts in a split second to try to best deal with it.
But I've seen first hand how good Grosjean can be. In his Lotus days alongside Kimi Raikkonen, he scored numerous podiums, nearly won at Suzuka in Japan and was often the closest man to challenge a dominant Sebastian Vettel in the Red Bull in that era.
I joined Grosjean at Lotus as third driver in 2015 and could witness his speed myself. He scored an incredible podium that year at the Belgian Grand Prix for a team so cash-strapped it had the bailiffs coming round immediately after the race.
When he switched to Haas at the end of that year with the hope of a future move to Ferrari, it seemed ambitious but not unrealistic. Now it seems impossible.
Can he get it back on track?
Grosjean has the speed to get brilliant results on his day, and there's plenty of time for him to turn it around yet.
But first I think he needs to clear his head and reset.
He did that before after receiving a race ban in 2012 for a spate of first-lap incidents.
It appeared to work then, and I think he needs to draw a line under this start to the year and treat it as a 16-race season starting at Monaco in two weeks' time.
Of course it won't help having a three-place grid drop on a track almost impossible to overtake on to kick it off. But he has to put that out of his head and move on quickly.