Spanish Grand Prix: All you need to know after Lewis Hamilton takes pole

By Andrew Benson
Chief F1 writer at Circuit de Barcelona-Catalunya
Last updated on .From the section Formula 1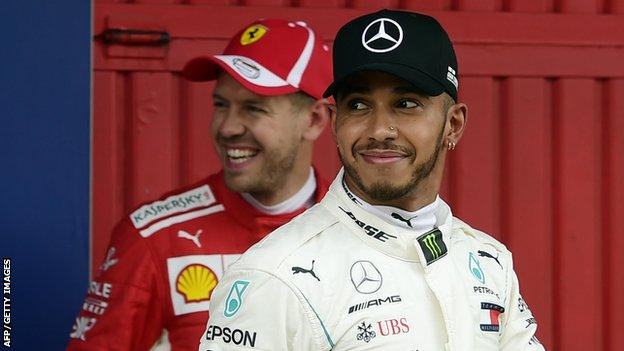 Does Lewis Hamilton's pole position at the Spanish Grand Prix mark a decisive shift in the competitive order at the front in Formula 1?
The world champion had not been on pole since the Australian GP a month and a half ago, and since then Ferrari has established itself as the fastest car. But just because that was no longer the case at the Circuit de Barcelona-Catalunya, does not necessarily mean Mercedes have suddenly made a decisive step forward.
Fears before the season that Mercedes might romp away at the front were based on testing - obviously. And pre-season testing takes place at this track. It could just be that the characteristics of a track that is notoriously demanding of a car's aerodynamic qualities suit them better than the Ferrari.
Only time and more races will give the answer to that one, but Hamilton said he believed the team had made a step forward - thanks partly, no doubt, to some aerodynamic tweaks around the front wing and floor.
"Ferrari always had a quick car," he said. "It took everything from us to get a result and a one-two is fantastic for the team. I know everyone will be very happy. It was very, very close.
"It's been a struggle. I'm sure there have been a lot of people with nerves over the last few races, just not really understanding, constantly learning but feeling we're not learning quick enough. So to come here and get a one-two is a true show of all the hard work that everyone is doing."
Only three of the past 17 races at this track have not been won from pole, so you have to fancy Hamilton's chances to take his second win in a row.
Sebastian Vettel, though, believes it is a long way from over this weekend. "We expected Mercedes to be very strong here and so they were," he said. "So hat's off to them and I think it will be a close race. Anything can happen, really, just like the last couple of races."
The top six will try to make a one-stop strategy work on soft and then medium tyres, but they don't know whether they will be able to. It seems an open race, even if overtaking will be difficult, as it always is here.
A new face at McLaren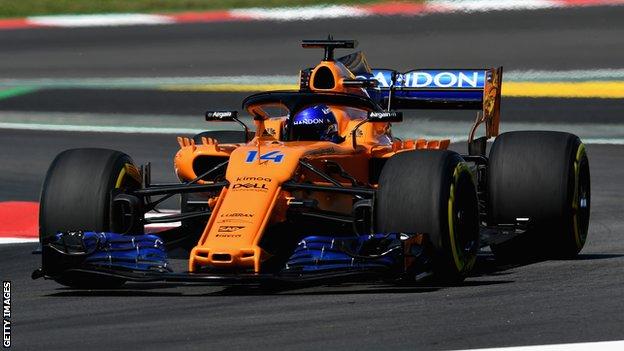 Fernando Alonso achieved his best qualifying position of the year so far at his home race with eighth place on the grid in the McLaren and afterwards he was in jovial mood.
"We average a recovery of six places in the race so P2 should be possible," he said, with tongue in cheek.
The major upgrade McLaren introduced here - a dramatically different and complex nose design - has been widely discussed and had a lot of hopes resting on it - even if in recent weeks the team have been doing their best to play expectations down.
Alonso and team-mate Stoffel Vandoorne said the car was definitely better. "We did a 1:17.7 with hyper-soft (tyres) in testing," he said, "and we did a 17.7 on softs now. So it's a huge step forward. It's important not to stop the developments."
He might also have added that while the 1.548secs gap to pole was still massive, it was a big improvement on the 2.2secs average of the season before that.
The fact remains, though, that Alonso qualified seventh in Spain with a McLaren-Honda last year and eighth this year with a McLaren-Renault - so inquiries as to whether some of the improvement was circuit-specific were legitimate.
Afterwards, racing director Eric Boullier faced questions about whether he was the right man to take the team forward. He insisted he was - saying he had won races with every team had worked for in all categories.
Tim Goss was relieved of his position as chief technical officer, chassis, two weeks ago, and restructuring continues behind the scenes now it has become clear the team are nowhere near where they thought they were on their car.
BBC Sport can reveal an interesting development this weekend - the appearance of former IndyCar driver Gil De Ferran in an informal advisory role behind the scenes.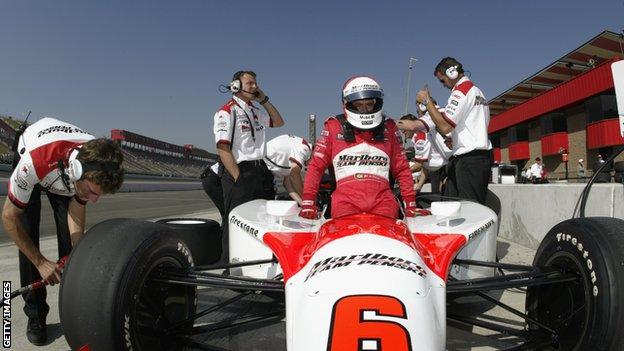 The Brazilian was Alonso's driver coach at the Indy 500 last year, where they became friendly. De Ferran has been keeping a very low profile in Spain.
Boullier described him as "a friend of the team" and said he was there to provide any advice or opinions he felt might be useful. On Sunday, chief executive officer Zak Brown said De Ferran was helping "to maximise the potential of our young drivers".
De Ferran lives in Florida, but will apparently come to a small number races this year in this capacity.
His arrival is a clear indication McLaren have an open mind about how they might go about sorting out their issues, and that anything is possible.
Is Hartley's seat under threat?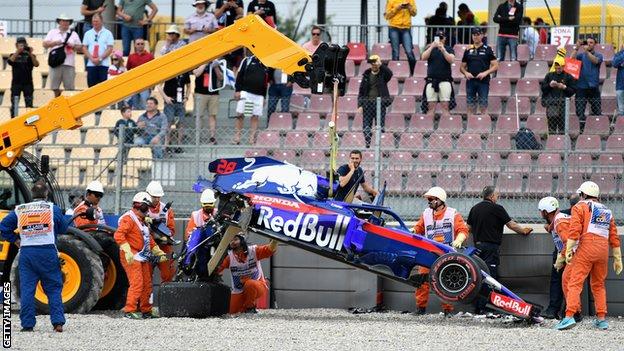 Brendon Hartley arrived in Formula 1 as a double sportscar champion, and about eight years after he might have done had his early career gone to plan.
Dropped by the Red Bull junior programme in 2010, Hartley has admitted that back then he was not ready for F1. He's certainly more mature now - he's a very affable guy, smart, eloquent, approachable. His feedback is clearly good. And he has his feet firmly on the ground.
But right now his future is in doubt after the latest of a series of mistakes this year. This was a big one - a huge crash in the closing minutes of final practice at the 160mph+ Turn Nine which damaged the car so badly he missed qualifying.
Privately, Toro Rosso are growing frustrated at the series of errors Hartley has been making. And this crash came a race after a near-miss in Baku, when he failed to get out of the way of team-mate Pierre Gasly in qualifying and they narrowly avoided what would have been a horrifying accident. Although it has to be said that senior figures from other teams have said the team might have done a better job of warning him.
There are rumours this weekend that Hartley might be dropped if he cannot improve his form. Red Bull have no obvious junior drivers in their programme who could step in. But Mercedes protege and former Sauber driver Pascal Wehrlein has been mentioned in paddock gossip as a possible replacement.
Mercedes and Red Bull do not exactly have the best of relationships but Wehrlein is certainly a qualified and potential candidate if Red Bull were to decide they needed to take action.
Woe is Williams
Spain has been anything but sunny for the Williams team, whose car has looked horrendous out on the circuit.
Its drivers have been struggling to keep it on the track and Lance Stroll has failed to do so three times - crashing in Friday practice, going off in Saturday practice and crashing again in qualifying, understeering wide at Turn 12, keeping his boot in, veering off into the gravel and spinning.
As Williams technical boss Paddy Lowe said: "This is a very unforgiving track for overall performance." It has brutally exposed the fundamental aerodynamic failings of the Williams.
Following Sauber's improvements this year, Williams are in danger of finishing last in the constructors' championship, not good news for a team who are losing their title sponsor at the end of the year.
Lowe, who has won world championships while at Williams, McLaren and Mercedes, admits: "We have to accept we have not done a good enough job. I haven't done a good enough job in making the right level of progress. There are things we should have responded to earlier which we haven't."
But he says they now have a "very good understanding of what we believe is letting us down. That gives us a target to go and correct and that's what we're doing. I think we lost our way in some critical areas that we can now understand and correct."
Choose your top three drivers from the list below
Those pesky tyres again
Tyres - and the general dissatisfaction with aspects of them - have been very much a topic for conversation this weekend.
It has emerged that at the drivers' briefing on Friday, where Pirelli F1 boss Mario Isola put himself up for questions, Vettel was especially outspoken about a number of issues he has with the tyres.
He would not talk about it after qualifying. "I like your question," he said when asked about it, "but I don't want to answer."
Others did it for him. One of Vettel's concerns in the briefing was the way they overheated when following another car closely, which he said made overtaking harder. Other senior figures felt this was an unrealistic complaint.
But many drivers agreed with Alonso's point that the gaps between the compounds are too small - in Spain there was hardly any performance difference between the three tyres at all.
There was discussion about having a bigger gap between the compounds chosen for each race, instead of having them consecutive. Many felt doing this in China this year worked well.
There may well be changes coming on this - perhaps with two gaps between compounds at future races. A hyper-soft, a super-soft and a medium, for example. Daniel Ricciardo said he saw no reason why the hyper-soft could not be brought to all races as a qualifying tyre.
There is also disquiet about the rule that dictates drivers in the top 10 start on the tyre they used to set their fastest time in second qualifying. This favours the big teams, who can often get through Q2 on a slower tyre that is faster for a race stint, while the likes of Haas, McLaren and Renault, the upper midfield, are penalised by having to start the race on the fastest but least durable tyre. This might be harder to change, though, as the top teams are unlikely to agree.
As, indeed, will the drivers' other complaint - the tyres' narrow working window, which makes it hard to get them at the right temperature for optimum performance.
"These tyres," Lewis Hamilton said, "they seem to have the smallest working window. They appear to be a lot harder than last year. I know they went softer but I think it's more so because the working range is far narrower than last year.
"So you give it everything on an out lap and you still don't have your tyres in the window. They're just too hard. That's why everyone struggles. I don't understand why they worked in Australia and haven't worked since and today we have them working."