Who really is the fastest in this crazy F1 season? The numbers, crunched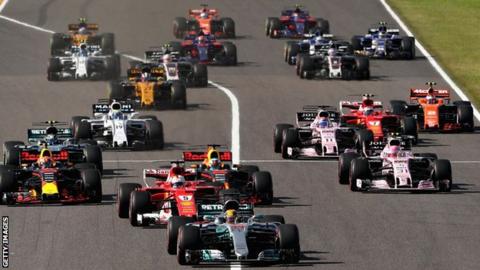 Lewis Hamilton is leading the championship heading into this weekend's first European race of 2018, but he is doing so despite a wobbly start to the season.
The championship positions are only one set of numbers - and there are others that tell a more complex story about the season.
For example, Hamilton's Mercedes is not the fastest car. That's the Ferrari. And there are other key stats, too.
Which driver is out-performing his car the most? Which set of team-mates are the most competitive - and the least?
We've crunched the numbers so you don't have to - and here they are, revealing the partially hidden real story of F1 2018 so far.
Team-mate comparison - qualifying battle
| Team | Drivers |
| --- | --- |
| Ferrari | Vettel 3-1 Raikkonen |
| Mercedes | Hamilton 2-2 Bottas |
| Red Bull | Ricciardo 2-2 Verstappen |
| McLaren | Alonso 4-0 Vandoorne |
| Renault | Hulkenberg 4-0 Sainz |
| Force India | Perez 2-2 Ocon |
| Toro Rosso | Gasly 2-2 Hartley |
| Haas | Grosjean 1-3 Magnussen |
| Sauber | Ericsson 2-2 Leclerc |
| Williams | Stroll 2-2 Sirotkin |
Qualifying pace*
*Calculated by an average of the drivers' fastest qualifying times, omitting races where a comparison is not possible, eg if one crashed or broke down
Ferrari
Vettel +0.303secs Raikkonen
Mercedes
Hamilton +0.259s Bottas
Red Bull
Verstappen +0.114s Ricciardo
McLaren
Alonso +0.304s Vandoorne
Renault
Hulkenberg +0.258s Sainz
Force India
Perez +0.194s Ocon
Toro Rosso
Hartley +0.098s Gasly
Haas
Magnussen +0.287s Grosjean
Williams
Stroll +0.170s Sirotkin
Sauber
Leclerc +0.373s Ericsson
Who is getting the most out of car?
This chart shows each drivers' average qualifying position so far this season. Their actual championship positions are also provided to compare the pace of car the versus driver's effectiveness in races.
Fernando Alonso has arguably been the most effective at getting the best out of his resources during the race. His average qualifying position is 12.5 but he currently sits sixth in the drivers' championship after four top-seven finishes so far this season.