Ferrari: Sergio Marchionne 'encouraged' by restructuring talks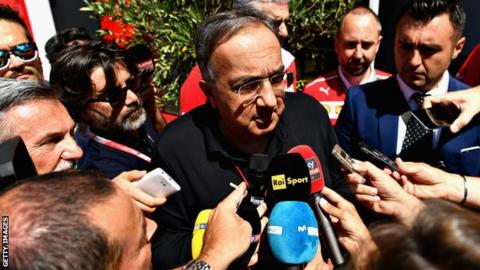 Ferrari president Sergio Marchionne says he is "encouraged" by the latest developments in discussions over the future of Formula 1.
Marchionne, 65, has warned that Ferrari could quit if plans for a restructuring from 2021 are not to his liking.
But on Thursday he said he had been pleased by a "change in the attitude" from F1 owners Liberty Media.
"The biggest sign is the recognition that engine regulations need to reflect the nature of the sport," he said.
Marchionne had previously expressed his concerns about plans to change the engines currently used in F1 and increase standardisation.
Liberty and governing body the FIA want engines that are simpler, cheaper and noisier and that will make it possible for new entrants to come in.
The current turbo hybrid engines have been criticised by some for being too expensive and complex.
On Thursday, speaking to analysts on a conference call after Ferrari's latest financial results, Marchionne said: "We can't really dumb down engine development just to accommodate new entries, right?"
Marchionne's remarks are his first public reaction since teams were given a presentation by Liberty Media of its plans for the sport at the Bahrain Grand Prix last month.
This included the intention to make a more equitable split in prize money - including reducing Ferrari's annual bonus from about $100m now to $40m from 2021.
Marchionne said: "The stuff that's on the table now is potentially workable as a system. The economics are not. That's something we need to go back to Liberty with."
However, he added: "I think we now have enough of a basis to try start having meaningful discussions. And hopefully, we'll get it all resolved by the end of this year one way or the other."
Discussing plans for a budget cap, Marchionne said he could see value in removing some of the costs associated with aerodynamic development.
"The important thing for us... is that we don't touch the nature of the technical development of the power-trains because that is at the heart of what Ferrari does for a living," he said.
"We need to continue to work with Liberty with the commercial rights holders and with the [governing] FIA to try and bring about a sensible equilibrium. If we can't, as I said before, we'll just pull out.
"But we're not there today. We owe the sport a phenomenal effort to try and bring about closure of these items. We'll try and get that done before the end of this year."