Spanish Grand Prix: Can Barcelona provide another thriller?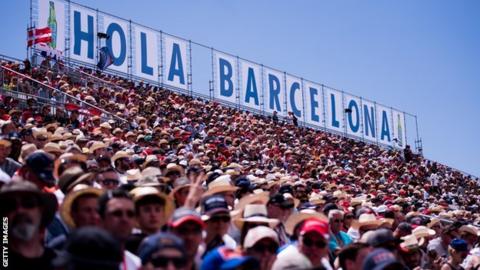 When one of the newest circuits on the block offers fans such a madcap spectacle, how does an F1 old guard reply?
Following Azerbaijan's bumps, blowouts and bonkers racing, Spain has to pick up the baton on a season which has already delivered in terms of thrills and excitement.
History tells us this shouldn't be a problem for the Spanish track. As the opening act of the European leg of the calendar, the grand prix has seen it all across the five venues it has been staged at.
Gilles Villeneuve crossing the line at the head of a five-car train for his final win in 1981; Williams' Pastor Maldonado's celebrating his sole victory over local boy Fernando Alonso in 2012 (while the Williams pit garage went up in flames); if fans want drama, this should be the place to find it.
Since the Circuit de Barcelona-Catalunya took over hosting in 1991, Ferrari have chalked up seven team victories, 17 different drivers have taken the chequered flag, while 10 nationalities have been represented on top of the podium.
In 2016, Max Verstappen wrote his name in the record books as the youngest Formula 1 winner at the tender age of 18 years and 227 days.
Coming off the back of another controversial collision - this time with team-mate Daniel Ricciardo in Baku - Verstappen will be hoping for the positive headlines of two years ago this time around.
As the pre-season testing circuit, if a team can produce the goods in Barcelona, then glory in Abu Dhabi could be in sight come November.
With a new track surface which is smoother, less abrasive and up to two seconds faster than before, the question of "which team has the best car?" could, in some small way, be answered by whoever takes the chequered flag on Sunday.
Rapido!
Flashback vote
The Spanish Grand Prix has plenty to offer when it comes to memorable F1 moments.
Does Michael Schumacher's wet-weather masterclass in 1996 take your pick?
Or maybe Ayrton Senna and Nigel Mansell's gripping battle in 1991 is the one for you?
Choose your favourite from the list below and we'll reveal the results online after the vote has closed.
Previously in F1...round four, Azerbaijan
The track
Back pocket facts
The Sagrada Familia church in Barcelona has been under construction for more than 130 years and it's only expected to be complete by 2026
Fancy walking around in your birthday suit down Las Ramblas? Not a problem in Spain, as the country currently has no laws against nudity in public
700 people in the town of Coria del Río, near Seville, share the surname Japon (Spanish for "Japan") as they are descendants of 17th-century samurais who stayed there after an embassy returned to Japan
A different way to travel is the Spain to Portugal zipline. Measuring 2,365 ft long, it takes 60 seconds to get from Sanlucar de Guadiana, in Andalucia, to Alcoutim, in the Algarve
In 2011, the village of Sodeto, on the brink of financial ruin after the economic downturn, took a chance on the El Gordo (or "Fat One") lottery and won...700 million euros
Drivers' social
How to follow on BBC Sport
BBC Sport has live coverage of all the season's races on BBC Radio 5 live, BBC Radio 5 live sports extra, plus live online commentary on the BBC Sport website and mobile app - including audience interaction, expert analysis, debate, voting, features, interviews and video content.
All times BST and are subject to change at short notice.
Spanish Grand Prix coverage details
Date
Session
Time
Radio coverage
Online text & audio commentary
Thursday, 10 May
Preview
21:00-21:30
BBC Radio 5 live
Friday, 11 May
First practice
09:55-11:35
BBC Radio 5 live sports extra
From 09:30
Second practice
13:55-15:35
BBC Radio 5 live sports extra
From 13:30
Saturday, 12 May
Final practice
10:55-12:05
BBC Radio 5 live sports extra
From 10:30
Qualifying
14:00-15:00
BBC Radio 5 live
From 13:00
Sunday, 13 May
Race
14:00-16:00
BBC Radio 5 live sports extra
From 12:30
Monday, 14 May
Review
04:40-05:00
BBC Radio 5 live