Red Bull: Honda engine talks begin for 2019 season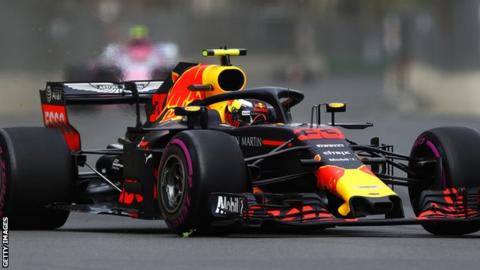 Red Bull have begun formal talks with Honda about the possibility of becoming their engine partner in 2019.
Honda motorsport chief Masahi Yamamoto told the F1 website the talks were "positive" and added: "It's the starting point for a potential future.
"We discussed the conditions of both sides, what we expect of each other."
Red Bull have to decide by mid-May whether to use Honda next year or stay with Renault, whose engines they have used since 2007.
Renault told Red Bull last September that it did not want to continue with the team in 2019 but the car company's contract with F1 contains a clause that dictates it must supply Red Bull with engines if asked to do so.
Red Bull negotiated a deal for Honda to switch from McLaren and supply its junior team, Toro Rosso, this year, as a way of assessing the Japanese engines.
With the Renault engine in one of the Red Bull teams and the Honda in the other, the soft drinks giant has a unique opportunity to compare the two power units.
Insiders say that Red Bull believes the Honda engine is only about 12bhp down on the Renault following improvements over the winter and it is understood the team is strongly leaning towards taking a gamble and switching to Honda.
Engine manufacturers technically have to tell the governing body, the FIA, which teams they will be supplying next season by 15 May, and Renault is pushing for an answer from Red Bull by then.
However, last year the deal for McLaren to switch from Honda to Renault engines and Toro Rosso to move the other way was not completed until September, so the decision could potentially be made later if necessary.
Yamamoto said: "It's something we are starting to discuss now and it has to be smooth between Honda and Red Bull.
"I want to use the time we have left to discuss with the Honda board members before I take the feedback back to Red Bull to take the next steps."
Red Bull and Renault won four consecutive world title doubles together from 2010-13, but have had a fractious relationship since turbo hybrid engines were introduced into F1 in 2014.
Renault have not been able to produce an engine that matches Mercedes and Ferrari, with qualifying trim their major weakness.
Tensions have continued this year because Renault are still struggling to keep reliability under control, as well as failing to introduce the extra power-boost modes used by Mercedes and Ferrari in the final parts of qualifying.
Honda struggled with reliability through its three seasons with McLaren, who blamed the engine for the team's lack of competitiveness.
However, since McLaren switched to Renault it now appears that Honda was not as far behind the other engine companies as McLaren said and that their car was also responsible for their performance deficit.