Azerbaijan Grand Prix: 'Everyone's a winner when F1 is this unpredictable'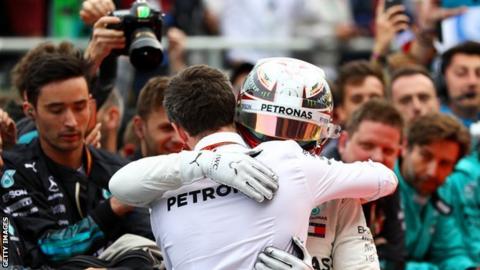 Mercedes Formula 1 boss Toto Wolff said after a pulsating, wildly unpredictable Azerbaijan Grand Prix that he felt this was developing into an all-time classic season. On the evidence so far, it is hard to disagree.
In four races there have been three different winners from three teams. Each event has been fascinating in its own way. The past three have been thrillers. And in all of them there could have been at least one different winner had things worked out in another way.
The two big beasts in the two main teams are separated by only four points at the head of the championship. And while Lewis Hamilton and Sebastian Vettel are for now comfortably clear of the rest, it feels going into each race as if any one of the drivers from Mercedes, Ferrari and Red Bull could be potential winners.
Most critically, perhaps, the underlying pattern of the sport has changed, incrementally but fundamentally - for the first time since the start of 2014, the out-and-out fastest car on the grid is not silver, but red.
'It was par, on average, and a couple of bogeys'
Hamilton needed his win in Baku badly, after a generally underwhelming start to the season from him and his team and no victories for the world champion since the US Grand Prix last October.
Not only had Hamilton not won, he had been distinctly off form since dominating the opening race in Australia before a team miscalculation saw him lose victory.
In both subsequent races in Bahrain and China, Hamilton was the slower Mercedes driver in qualifying, and in Shanghai team-mate Valtteri Bottas out-raced him, too.
Hamilton did manage to qualify ahead in the end in Baku, but it was again a far from convincing performance through the practice days, and the same could be said of the race.
He chased Vettel in the opening laps after the pair had converted their front-row slots into first and second places, but it looked like the German was just playing with his rival, managing his pace and stretching the lead only when he needed to. Hamilton said he felt the same.
Hamilton was nevertheless giving it his all, trading fastest laps about four seconds behind the Ferrari, before a lock-up into Turn One on lap 22 - caused, he said later, by a sudden switch from a 25km/h headwind to a 15km/h tailwind - cost him more than four seconds.
As things turned out, the race came back to Hamilton, through the late safety car, an error by Vettel and then a puncture for Bottas. It gave him the championship lead but he said he felt neither relief, nor justice for the win lost through no fault of his own in Melbourne.
"I don't feel unworthy of the win," Hamilton said. "I drove pretty well through the race. It was just for me, if my normal level is eagle, birdie, today was par, on an average, and then a couple of bogeys.
"Standing on the podium believing Valtteri should have been standing there; I felt like he had earned it. There have been days I have lost a grand prix and it has been gifted to someone else, and the happiness they would have, whether they had earned it or not… they had fingers up in the air, you know?
"I am wired differently. I could have done that because I still won and you take what you get. I like to win because I have outsmarted and outclassed the other driver.
"I am grateful for the win but performance-wise, not entirely (because of) me, but with the car, my performance didn't feel like it was on par with what I am capable of doing. I will take that away and try to come back and attack stronger in the next race."
Mercedes and Hamilton have work to do
If Hamilton has not been driving as well as he feels he could, so too are his team below the level they have been used to.
Vettel led the championship at this stage last season, and the Ferrari was proving the better and more flexible race car, but never was it the out-and-out fastest on average in qualifying. Now it is, if only by a few hundredths of a second. Vettel has been on pole for three of the four races.
"Being in the lead of the championship is great," Hamilton said, "but if we were to continue on the trajectory we are on it would take weird races to keep us in the mix. But you can't rely on those for the next 17.
"We need ultimate performance and confidence in the car. I have the pace in me and so does the car but both of them are not in perfect synergy. We have to improve in lots of areas.
"We definitely are there in the mix and we've not got a terrible car at all, by any means. We've just got to refine it a little bit and make it a little bit easier to drive. She definitely isn't as easy to drive as last year.
"A lot of work has been done, but we are still, performance-wise, behind them.
"I don't think we're under any illusions that we have the fastest car or that we don't have work to do. We know that. Everyone's working as hard as they can but we've really got to keep pushing.
"I've got to figure out how to get on top of this car a little bit more. Australia, as I said, I was really comfortable with it and since then I've not been and I don't really know why. So I've got to try and work on that."
Are Ferrari now favourites?
It has been a season of races that have got away from drivers who could - or should - otherwise have won. Hamilton in Australia. Bottas had some regrets in Bahrain that he had not pushed Vettel harder, and again that China had slipped through his fingers to Ricciardo's stunning rise on fresh tyres.
In Baku on Sunday, Vettel probably had most reason for regret, having dominated the race from the start only to lose out to a safety car then his own mistake in trying to wrest the lead back from Bottas at the final restart, locking his wheels, damaging his tyres and slipping down to fourth.
But Vettel exuded the relaxed air of a man who knows he is driving well in the fastest car.
"I am not worried at all," he said, "because it is quite different to last year when in qualifying we were not competitive enough for most of the year and then later in the year we were not competitive enough to make things happen. The car is there and we need to make sure it stays there."
On performance, Ferrari and Vettel have to be considered favourites at this stage, but Vettel is more than aware of the manner in which Mercedes got on top of a difficult car last year and steamrollered him in the second half of the season. And he does not want that to happen again.
Bottas driving his way to a new contract
Bottas exudes the languid calm of so many Finnish racing drivers but he was distraught to have lost a race he felt was his in such agonising fashion.
Uncharacteristically, he did his television interviews in sunglasses and, asked how he would pick himself up, he joked: "Maybe 10 pints would do it."
Bottas had appeared destined for a distant third for much of the first part of the race, as Hamilton and Vettel duelled at the front, but then, as Wolff put it: "Valtteri's race came towards him."
As Hamilton then Vettel made their pit stops, Mercedes left Bottas out, hoping to snooker Ferrari strategically in the way the Italian team had done to Hamilton in Melbourne. It worked beautifully.
"Valtteri just kept going faster and faster and faster," Wolff said, "to the point that even with no safety car we thought there was a chance because he would have switched late to the ultra-soft tyres and tried to hunt Sebastian down. But then obviously it all started."
The Red Bulls crashed, the safety car came out, and Bottas had stayed far enough ahead of Vettel following the German's pit stop to mean he had time in hand to stop himself and come out still in the lead.
From there, all he had to do was fend off Vettel at the restart and the race was his. And it would have been had he not hit the debris on the pit straight.
The loss will hurt for a while, but the bigger picture is much more positive for Bottas. His championship chance may already realistically be gone - he is 30 points behind Hamilton, and he must realise he will probably have to play a support role before too long. But he looks to be driving his way into a Mercedes seat in 2019.
His contract runs out this season and Wolff has made it clear he will take the first half of the season before making a call in the summer. But if Bottas continues to drive like this there is no reason to change him for either Daniel Ricciardo or Esteban Ocon, both of whom crashed out on Sunday.
Certainly Hamilton wants Bottas to stay. "He is more than ever earning his place here," Hamilton said. "Give him fair dues; he has risen to the challenge. He is doing a solid, solid job, more than the team would need."
Can Red Bull prevent all-out war?
Wolff does not need a lesson in the risks of having two thrusting, aggressive, equal number ones after presiding over three years of bitterness between Hamilton and Nico Rosberg, but he got it anyway thanks to the Red Bull drivers on Sunday.
The team put on a news-management masterclass after the two had taken each other out, but despite the carefully constructed message of apology and contrition, and the insistence it cannot happen again, it may not be that easy to control.
The racing between the two was fast and furious in Baku and they touched more than once before the final collision, when Ricciardo smashed into the back of Verstappen after the Dutchman defended in his usual borderline-acceptable fashion.
Red Bull might want to allow them to race, and insist they give each other space. But primacy in the team - and ego - is at stake.
To avoid a recurrence, both will have to row back on their standard approach to racing with each other - Verstappen on his tactic of changing line under braking, which all other drivers feel is beyond the pale, Ricciardo on those uncompromising late lunges that secured the win in China.
It remains to be seen whether that is a realistic aim, or whether what happened on Sunday is merely the latest step towards what some feel might be an eventual realisation - either by one of the drivers or the management - that having them both in one team is ultimately untenable.