Azerbaijan Grand Prix: what you need to know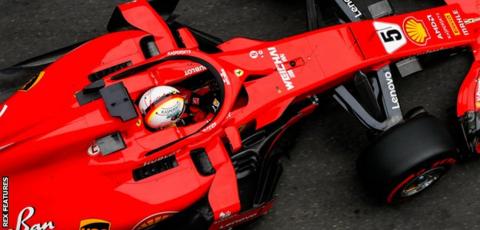 There are many twists and turns to come in this marathon 21-race Formula 1 season, but it is already clear there has been a paradigm shift at the front of the field - for the first time since turbo hybrid engines were introduced to F1 in 2014, Mercedes no longer have the fastest car.
This time last year, on the eve of the fourth race of the season, Ferrari driver Sebastian Vettel was leading the championship, just as he is now.
But that was different. For the first half of 2017, the Ferrari was arguably the best car, and it was certainly the most usable, raceable and flexible. But it was not the fastest - in qualifying Mercedes still had a significant advantage.
A Mercedes was on pole in three of the first four races last year and were on average just over 0.2 seconds a lap quicker than Ferrari. This season, the tables have turned.
Vettel has now taken three poles in a row and Ferrari have an advantage of 0.053secs, taking the fastest laps achieved by each team each weekend. Had it not been for Lewis Hamilton's outlier of a 0.7secs advantage in the first race in Australia, the margin would be significantly bigger.
"Ultimate performance we are down," said Hamilton after qualifying on Saturday. "So we have to keep working for some improvements in the next races."
At least Hamilton's back on form
In the end, the fight for pole was as tight as ever in Baku; Hamilton ended qualifying just 0.179secs slower than Vettel. But in some ways the margin was a surprise.
Mercedes were struggling badly through Friday practice, their old bugbear of tyre temperatures haunting them again. And, just as in the previous two races in Bahrain and China, Valtteri Bottas had looked the Mercedes driver most likely to challenge the Ferraris, with Hamilton again lagging behind.
Hamilton's shaky form after the first three races of the season had led to some typically provocative comments from former F1 boss Bernie Ecclestone, who had opined that the four-time world champion was not the racer he once was.
Hamilton chose not to respond when asked about if directly in the news conference after qualifying, perhaps thinking he had already done his talking on the track. But he did appear to reference the remarks in answer to another, less direct question later.
"My hunger to win the championship is as strong as it has ever been," he said, "regardless of what people may say, but I have definitely struggled the last couple of races."
Some overnight set-up changes worked wonders for Mercedes and Hamilton, and they were right back in the mix when it mattered.
Despite their drop in competitiveness this season, Mercedes could have won all three of the races with a bit of better luck with safety cars and whatnot. But they did not. Now, Hamilton could do with beating Vettel in Baku, and he knows it.
"Last night," he said, "just pushing trying to make sure we got everything and there was no stone unturned and everyone is on the edge of their seats just as hungry (as I am).
"I was here until 10pm or whatever. I don't ask friendly questions, I'm always constructive: 'Come on, what about this, what about that,' trying to extract all their expertise so we can move the car forward, collectively it was a great step we made.
"I am definitely happy to be in the mix with the guy I'm fighting for the championship with. I just hope (in the race) we can apply more pressure."
'The scariest moment of my career'
There is nothing more terrifying for a Formula 1 driver - or anyone watching one on track - than the potential of his car being launched over the back of a rival.
That was the prospect Pierre Gasly briefly had to face when he came across Toro Rosso team-mate Brendon Hartley going slowly in the middle of the track through the blind, fast sweeps between the castle and Turn 15 during qualifying.
Gasly was on a flying lap, doing about 180mph, Hartley crawling back to the pits with a puncture caused by hitting the wall earlier in the lap.
Not knowing Hartley's intentions, Gasly first went left, for the inside, and then right, for the outside to try to avoid him. He was largely successful, the Frenchman's left front wheel striking a glancing blow on Hartley's right rear as he passed, the car mercifully remaining on the ground.
"It was really scary," Gasly said, "the scariest moment of my career. I didn't know if he was going left or going right. I don't know what happened to Brendon; he slowed down massively. I was at 320km/h and, honestly, he almost stopped.
"I tried to avoid him and I was sure I was going to crash. I could already see myself in the air, I don't know how I avoided it, but it was a pretty scary moment.
"I am sure he didn't do it on purpose, but he was on the line, I wasn't sure if he was going to go on line or not."
Hartley, a two-time world endurance champion and driver of considerable experience and expertise, has had a mixed beginning to his late-starting F1 career, but in one way the New Zealander has certainly impressed - with his maturity and general groundedness. He held his hands up.
"It was a disaster; pretty upset about that," he said. "I clipped the inside wall and through the left hander. I knew I had an issue and slowed down. I was unaware Pierre was so close behind me.
"Obviously I was going half speed, trying to figure how bad the problem was and I completely messed it up. The problem is, with the walls, you don't see them coming.
"I made a big mistake, I'm sorry for him. I owe him a big apology for getting in the way and nearly causing a huge accident. I'm disappointed how that went down. Not a good day."
McLaren facing upheaval
Fernando Alonso was speaking on Saturday evening of scoring more points again, despite qualifying 13th in Baku. He has every reason to be optimistic - he is sixth in the championship despite qualifying out of the top 10 at every race this season.
That position owes a large amount to the Spaniard's undimmed - some would say unmatched - excellence as a race driver. But it does nothing to alleviate the sense of disappointment surrounding his McLaren team this season, after failing even to come close to living up to their promises or expectations.
Their lack of pace was a direct cause of their decision to axe ahead of this weekend their chief technical officer Tim Goss, one part of a three-pronged technical leadership team that racing director Eric Boullier had previously said was producing a car that was the equal of the Red Bull.
Either that analysis was wrong, or McLaren have seriously messed up this year's car. Either way, it was obvious heads would roll, and Goss' was the first. There may yet be more.
Meanwhile, a lot of hope is invested in the major aerodynamic upgrade planned for the next race in Spain, where Alonso qualified seventh in the McLaren-Honda last year.
Rivals point out a major leap forward is unlikely - everyone else will have upgrades in Barcelona, too.
Alonso, therefore, has some thinking to do. If McLaren don't significantly improve, does he stick around in 2019 for another season of this? Or - no top drive likely being available to him - does he call it a day in F1 and focus instead on Le Mans and the Indy 500? It's already a topic of discussion in the paddock, even if the man himself may not have devoted much time to it as yet.
McLaren, for their part, must be desperately hoping he decides to stick around, for they would be in all sorts of trouble without him.
Team-mate Stoffel Vandoorne, meanwhile, continues to lag behind Alonso - he was a disappointing 16th on Saturday, knocked out in first qualifying.
Alonso is, as everyone knows, blisteringly fast and relentlessly consistent - about as tough a team-mate as someone could have. But there is no doubt Vandoorne needs to do more.
If the Belgian does not up his game and get closer more consistently before too long, he risks being dropped at the end of the season. Especially with promising Briton Lando Norris, the Formula 2 championship leader, on McLaren's books and making a strong case for promotion.
Wind could cause havoc
The drivers will head into Sunday's race with some degree of trepidation, as strong winds are predicted. Gusts of as much as 70-80km/h, if they come to fruition, could cause havoc.
Already drivers were struggling with wind in qualifying - missing braking points as a result of the disruption to aerodynamics.
The stronger wind expected for Sunday could even mean the kinks on the pit 'straight' are no longer flat out, and make slipstreaming even more dramatic than usual. The buildings of Baku make it even worse - there will be areas where the wind is blocked by them, and then dramatic gusts where it has been accelerated in the gaps between them.
"Even today it was affecting the car," Vettel said, "especially the last corner which is where I think Kimi probably got caught out.
"I hope it is a tail wind down the straight because if you are the first guy going into a head wind of 80km/h it could be quite unpleasant."
The front-runners are all aiming for a one-stop having chosen to start on the super-soft tyre, the middle compound of three available for this race. But the likelihood of incidents - and therefore safety-car periods - make this race even more unpredictable than normal.