Lewis Hamilton: Mercedes driver will always bounce back - Nico Rosberg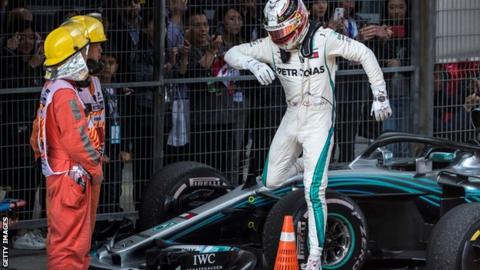 Lewis Hamilton will bounce back from his dip in form in the past two grands prix, according to his former team-mate Nico Rosberg.
The Mercedes driver followed his third-place finish in Bahrain with fourth in China last time out.
Rosberg says they were just one of the four-time champion's "typical phases".
"When it doesn't go perfectly, he starts to lose that edge a little bit and a touch of motivation and then just struggles for a while," Rosberg said.
"You have to maximise those races because Lewis always comes back."
Hamilton is nine points behind Ferrari's Sebastian Vettel in the championship after three races and has not yet won a grand prix in 2018.
The Briton lost the season-opening race in Australia because of a strategy error, finished third in Bahrain after starting ninth because of a gearbox penalty and was fourth in China.
Hamilton was out-qualified by team-mate Valtteri Bottas in both Bahrain and China and admitted after the race in Shanghai on Sunday that he would have to go away and work out what was going wrong.
Rosberg, speaking on his YouTube channel, added: "When he comes back, he comes back so damn strong that he's almost unbeatable. And so let's see when that happens."
Mercedes team boss Toto Wolff admitted Hamilton had been struggling in China.
"He was, like the car, maybe not in the best place this weekend," Wolff said. "He is the best driver, in my opinion. But also the best ones have days where it is just not 100%.
"And if underneath, you have a car that is not performing as expected - and tyres not doing what you think they should - and the strategy goes against you, then everything just goes in the wrong direction."