Daniel Ricciardo: Chinese GP win not enough on its own to stay at Red Bull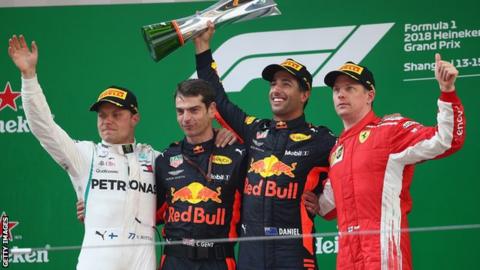 Daniel Ricciardo says victory in Sunday's Chinese Grand Prix is not enough on its own to convince him to sign a new deal with Red Bull.
The Australian is out of contract at the end of 2018 and there are potential openings at Mercedes and Ferrari.
He said: "I want to be with the best car; I think the weekend proved if I got the opportunity I can pull it off.
"If we can win a few more now with Red Bull, that looks very attractive. If not, there's probably other options."
Ricciardo has won six races since being promoted from Toro Rosso to the senior Red Bull set-up in 2014, but the team have not been able to compete for the championship.
They have largely been held back by engine supplier Renault, with whom Red Bull have endured a fractious relationship for some time amid frustration at the French company's inability to match the power-units of Mercedes and Ferrari.
Ricciardo, talking to Australia's Channel 10, said: "Obviously the win helps but if we were finishing sixth every race this year, then that's not the most attractive option to me."
Asked whether he felt Red Bull could be title contenders this season, Ricciardo said: "I think it's still too early to say yes. We won at the weekend but we need to win regularly to kind of show that.
"If we come out and win again in two weeks in Baku then I'll probably say yes."
Ricciardo won a madcap race in Azerbaijan last year, but on paper Red Bull are unlikely to compete with Mercedes and Ferrari because of the track's mile-and-a-half-long straight.
What are Ricciardo's options for 2019?
So far as existing drivers contracts go, Mercedes have two open seats for 2019 and Ferrari one.
At Mercedes, both Lewis Hamilton and Valtteri Bottas are out of contract at the end of the season, while at Ferrari Sebastian Vettel is signed up until 2020 but Kimi Raikkonen's deal expires this year.
Mercedes and Hamilton both insist it is only a matter of time until they agree a new contract but team boss Toto Wolff has said he will not decide whether to keep Bottas until he has seen how the Finn performs in the first half of the season.
Bottas has outperformed Hamilton in the last two races in Bahrain and China, but had a difficult time in the opening race of the season in Australia, crashing in qualifying and finishing eighth.
Ricciardo is one of two drivers who Wolff is considering as a potential replacement for Bottas, with the other being Force India's Esteban Ocon, who is a Mercedes-contracted driver.
Given the problems Mercedes had handling the intensity of the fight between Hamilton and Nico Rosberg when they were team-mates and title contenders from 2014-16, Wolff may be reluctant to sign another A-lister in the form of Ricciardo, assuming Hamilton stays.
However, Ricciardo would be expected to be a less disruptive character as a partner for the four-time world champion than Rosberg.
Ferrari's position on a team-mate for Vettel is unclear. They had been lining up the rookie Charles Leclerc as a future partner for Vettel, perhaps as early as next year, but the Monegasque has made a series of mistakes in the first three races of his F1 career this season for Sauber.
Vettel has said he "wouldn't mind" partnering Ricciardo again, despite the fact that the German lost out to him when they were team-mates at Red Bull in 2014, after which Vettel moved to Ferrari.
Ricciardo joined the team when Vettel had won four consecutive drivers' titles. But Ricciardo won three races to Vettel's none and finished third in the championship, 71 points ahead of Vettel in fifth.
But Ferrari operate at the moment with Vettel as a de facto number one, and Raikkonen as a support driver whose races have occasionally been compromised to help Vettel.
If Ricciardo was told he would be put contractually in the same position, he would be unlikely to find that attractive.