Daniel Ricciardo v Max Verstappen: Which Red Bull driver is best?
Last updated on .From the section Formula 1230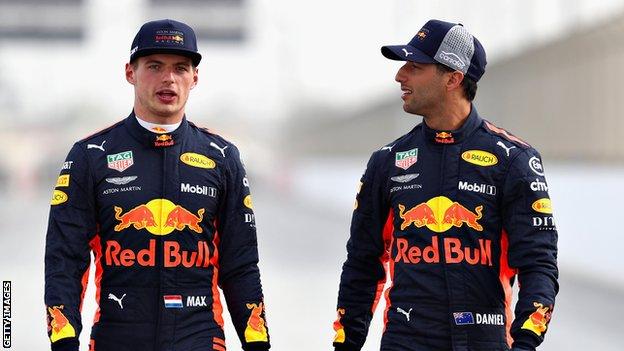 Red Bull have two drivers in their garage.
One is widely tipped as a future world champion; the other's immediate future remains up in the air.
One is regarded as one of the most exciting attacking drivers on the grid; the other's style seems to slip under the radar.
Max Verstappen often seems to steal the headlines at Red Bull but did Daniel Ricciardo's win in Shanghai prove he is the team's star man?
Who is best in attack?
When Verstappen signed a new contract last year, team principal Christian Horner said: "Max is right to be hungry for success and we are looking forward to extending that journey with him in our hunt for Formula 1 world championships.
"As we now look to the long term with Max, he is in the best place in the sport to build a team around him to deliver our shared ambition."
Any favouritism has been denied by both Ricciardo and Red Bull, and the drivers have very similar records with the team.
Ricciardo has six wins in 82 races since joining, Verstappen has three wins from 40.
Dubbed the "Master Overtaker" by F1 driver and BBC pundit Jolyon Palmer, Ricciardo earned his sixth in China in stunning fashion with a series of attacking moves. The highlights were his passes of Lewis Hamilton and the manner in which he scythed his way down the inside of Valtteri Bottas for the lead at Turn Six when it seemed as if there was no room to do so.
Attacking flair is something associated with Verstappen but Ricciardo does not seem to win boring races - as the Australian has pointed out himself.
All six of his wins have come when he qualified outside of the top three on the grid and had to work his way through.
Verstappen's erratic drives
Comparisons between the pair seem even more relevant after the Dutchman was at fault for a crash with Sebastian Vettel in Shanghai, his second collision with a title contender in as many weeks.
Afterwards, Verstappen admitted he needed to think about how to end a run of error-strewn races but said he did not need to calm down.
However, he has developed a reputation for causing accidents during his relatively short F1 career.
He has been forced out early by collisions or spins in just under 10% of his 63 races, compared to 2% of 132 races for Ricciardo.
Verstappen was at fault when the pair came together on track as team-mates at the 2017 Hungarian Grand Prix. That resulted in two memorable comments from Ricciardo - first, his "was that who I think it was?" team radio message, then his post-race description of Verstappen as immature.
The Dutchman may be eight years Ricciardo's junior but, as Vettel pointed out after Shanghai, Verstappen is "not young any more" in terms of races in an F1 drivers' seat.
Analysis
Andrew Benson - chief F1 writer
In Ricciardo and Verstappen, Red Bull have the strongest driver pairing on the grid - each of them would be in most people's top five, along with Fernando Alonso, Lewis Hamilton and Sebastian Vettel.
Ricciardo was many people's pick as the best on the grid in 2016, all things considered. But Verstappen shaded the intra-team battle last year, and who wins this time is one of the most intriguing questions of the season.
So far, it has been the Australian who has shone brightest - especially through his brilliant win in China, while Verstappen has made a series of mistakes. Yet there is still a sense that Red Bull is becoming Verstappen's team - there is little secret that the Dutchman is the chosen one of the soft drinks giant's motorsport chief Helmut Marko.
Ricciardo faces a big call this year, at the end of which he is out of contract. Does he leave, assuming there is somewhere at least as good for him to go, or stay and fight for supremacy with Verstappen?
So far, the tensions of having two A-listers under one roof have been kept more or less under control. Whether that would be the case if Red Bull were to emerge as title contenders with two such closely matched drivers remains to be seen.
Qualifying has been one area in which Verstappen has outdone his team-mate since joining Red Bull, but does his similar win ratio despite that point to inexperience which he can improve or a deeper problem? You decide...
The 5 live F1 team will discuss who is the best overtaker, and who is being favoured along with all the other the issues surrounding Ricciardo and Verstappen during the Azerbaijan preview show at 21:30 BST on Friday 27 April.
If you are viewing this page on the BBC News app please click here to vote.