Bahrain Grand Prix: Did Toro Rosso show Honda engine programme is on right track?

By Andrew Benson
Chief F1 writer
Last updated on .From the section Formula 1260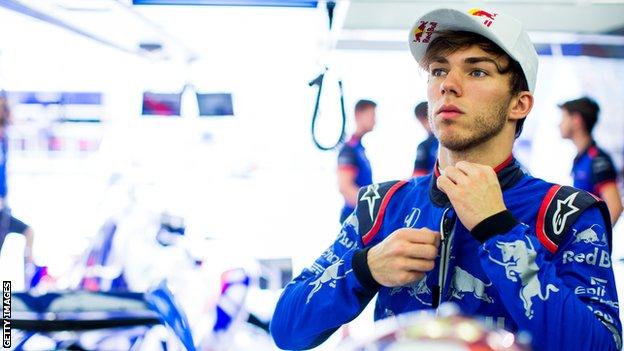 Pierre Gasly's superb fourth place for Toro Rosso in the Bahrain Grand Prix has reset perceptions of Honda's Formula 1 engine programme almost overnight.
Honda were ditched by McLaren at the end of last season, the team preferring to forego a net $100m (£71m) benefit of being a works partner with a car company in favour of paying for Renault engines because they had lost faith the Japanese company would ever get it right in F1.
That decision looks questionable following Toro Rosso's performance in the desert at the weekend.
Not only did Gasly qualify a stunning sixth, start fifth after Lewis Hamilton's grid penalty and race strongly to fourth, but both Toro Rosso cars out-qualified both McLarens, with Brendon Hartley taking 11th on the grid ahead of Fernando Alonso and Stoffel Vandoorne in 13th and 14th.
This has only increased the pressure on the senior management at McLaren, who had an abject time in qualifying at the home race of their major shareholders, the Bahraini royal family.
Alonso and Vandoorne did eventually finish seventh and eighth in the race. And Alonso, it should be noted, is an impressive fourth in the championship after the first two grands prix.
But Bahrain also emphasised that Honda, after three years of struggle, seem finally on the right track in F1, in the fourth year after their return.
Honda not out of the woods yet
It all has to be kept in perspective, as Alonso himself was keen to point out after qualifying. Asked about the Toro Rosso performance, the Spanish two-time world champion replied: "It was great - but you didn't ask about Toro Rosso in Australia. Because, I mean, if the Toro Rosso question will become a normality, I hope it becomes a normality at all 21 races - because the championship is 21 races."
In other words, one swallow does not make a summer. Alonso was referencing Toro Rosso's performance at the first race of the season in Melbourne, where Hartley and Gasly qualified 16th and 20th. The Frenchman also suffered a major engine failure in the race.
Honda got through Bahrain with no reliability problems after fitting a revised turbo/hybrid unit to both cars, which means Gasly and Hartley are now on their second of the season and only three are allowed before grid penalties kick in. So engine-related grid drops, which became all too familiar during Honda's years with McLaren, seem an inevitability again.
The wider point, though, is about performance. McLaren dropped Honda after spending much of last season claiming that their engine was the major reason for the car's lack of pace.
Even at the time, many engineers up and down the pit lane were sceptical of this claim, feeling that McLaren were somewhat overstating the competitiveness of their chassis and aerodynamics. And in Bahrain at the weekend there was a distinct sense of schadenfreude from many as McLaren reeled and Toro Rosso celebrated.
Genuine signs of progress
Of course, hindsight is a wonderful thing. At the time McLaren made their decision to ditch Honda, it was easy to question the decision on a financial basis, less so on performance.
Honda did start 2017 in terrible shape. Pre-season testing was a never-ending succession of problems, the first few races little better. And when Alonso suffered such a dramatic engine failure on his first lap out of the pits at his home race in Spain that the block was ripped in two, it seemed an apt metaphor for Honda's experience in F1, and their disintegrating relationship with McLaren.
Over the season, though, Honda began to get things together. Both reliability and performance improved, and by the end of the year the word in the paddock was that while it remained the worst engine in F1, it was not so very far off the Renault that McLaren were swapping it for.
Progress has continued over the winter. Honda's new F1 technical director Toyoharu Tanabe told BBC Sport in Bahrain that the company had "started [the season] better with both reliability and performance". A statement that seems self-evident given Toro Rosso's pace.
Honda's biggest performance weakness last year was an inability to recover and deploy hybrid energy in races - which was at least part of the reason why McLarens so often seemed either to struggle to hold off other cars, or to make any progress during a grand prix, or both.
Gasly said after qualifying in Bahrain that he expected the race was "not going to be easy [because] we know that's tougher for us than on one-lap performance, adding: "But they did get better compared to last year. I think we are closer to our main competitors now, but in the race we are still struggling a little bit on this."
Perhaps they are, but it didn't look too bad on Sunday. Gasly had more than enough pace to run on his own at the head of the midfield group, clear of the pursuing Haas of Kevin Magnussen, as well as the Renault of Nico Hulkenberg and Alonso, who spent much of the race in their own private battle.
How much progress have Honda made?
It is notoriously difficult to be absolutely sure about relative engine performance in F1. However, it can now be said with relative certainty, just by judging McLaren's predicament, that those who said Honda were not that far off Renault by the end of last year were correct.
This year, insiders say Honda have closed to within about 12bhp of the Renault and that a further 25-30bhp is due with an engine upgrade at the Canadian Grand Prix in June. Honda never divulge performance figures, and only reveal when upgrades will appear at the race in question.
Renault are also due to upgrade their engine with a new hybrid system. It was initially said to be scheduled for the start of the season, then Spain next month. But there is as yet no confirmed date.
Renault's engine is still running with its 2016 energy recovery system, after a planned update for 2017 could never be made reliable. The 2018 version has been delayed for the same reason, so it is inevitable that there is some scepticism within F1 about whether it, too, will ever appear.
It should be added at this point that the same could be said about the Honda improvement - over the McLaren years, promised Honda upgrades regularly appeared later than promised, and were quite often minimal when they did.
Meanwhile, in Bahrain Red Bull's Daniel Ricciardo retired with a failure of the batteries in the energy recovery system - something that has afflicted Renault a number of times in the recent past.
How does this affect Red Bull?
All of this makes for an interesting situation at Red Bull, currently the leading team with a Renault engine.
The relationship between Red Bull and Renault has been effectively broken since 2015, when the team were savagely and publicly critical of their partner's inability to match Mercedes in the new turbo hybrid era.
It is now no more than a marriage of convenience, and Renault effectively filed for divorce last September when it told Red Bull it did not want to extend the contract beyond its existing expiry date - which is the end of this season.
The problem with that is that Renault is compelled by a clause in their contract with F1 to supply Red Bull if requested.
So Red Bull went into this season knowing that at some point they would effectively have to decide whether to stick with Renault or switch to Honda. And that deadline is approaching - Renault Sport's managing director Cyril Abiteboul said before the season started that he wanted clarity by the end of May.
Red Bull team boss Christian Horner said he was going into the season with an open mind as to which way the decision might go, and would be watching the performance of the Honda in the Toro Rosso closely.
Red Bull are now in the fortunate position of being able to compare like with like. They know the aerodynamic performance numbers of their own car and the Toro Rosso, because the parent company owns both. And therefore they know the exact performance comparison of the Renault and Honda engines.
Back in September last year, a decision between them looked a no-brainer in favour of Renault. If Honda keep up their current progress, it could easily go the other way.