Bahrain GP: Ferrari on fire and McLaren's emergency meeting

By Andrew Benson
Chief F1 writer in Bahrain
Last updated on .From the section Formula 1388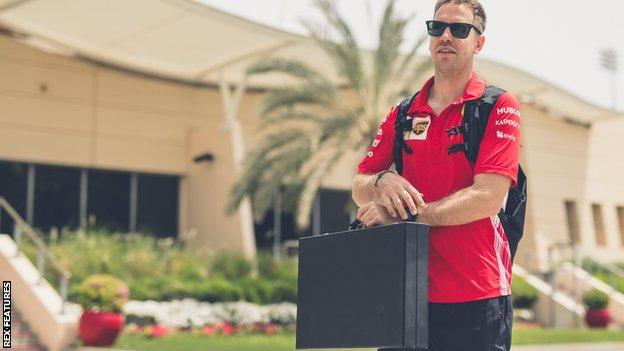 So far, not everyone has believed Mercedes' consistent claim that it would be a tight championship fight this season but it is looking increasingly accurate after two days of the second race weekend of the year.
Sebastian Vettel won in Australia largely because of luck, and a Mercedes strategy error, but Ferrari have the fastest car in Bahrain and the world champions have simply lacked pace.
Lewis Hamilton faces a tough fight through from ninth on the grid after qualifying fourth and earning a five-place penalty for a gearbox change. "If I can overtake, I will; if I can't, I won't," he said on Saturday after qualifying. "What will be, will be."
Hamilton said he was not struggling with any particular aspect of the car, it just wasn't quick enough. And Mercedes are - as they have before - struggling most on the softest tyre compounds, which they are overheating.
"I don't have any answers as to why we don't have the pace," Hamilton said. "But what we do know is that Ferrari have been quick all weekend and we haven't been able to match them. It doesn't matter what tyre they are on, they are quicker. I can tell you it is going to be a very close championship."
Ferrari - literally on fire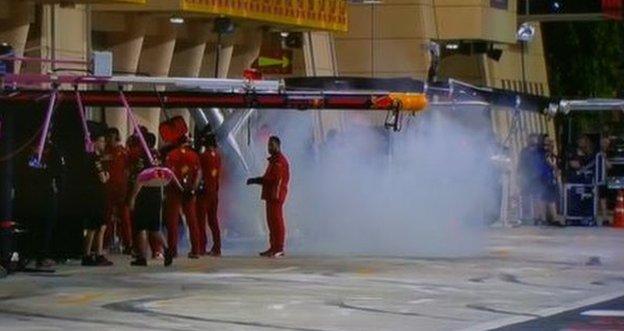 Ferrari's pace has drawn further attention to an unusual feature of their car, which is that it pumps out a big cloud of smoke when it starts in the garage.
There were suspicions about this from the start of pre-season testing, but governing body the FIA say they have no concerns. It is said to be a function of a rule change introduced this year to stop teams burning oil as fuel, which helps reduce detonation - or 'knock' - in these complex turbo hybrid engines.
The breather pipe for excess oil has been rerouted and must now exit out of the back of the car, whereas before many were venting it into the engine air intake.
FIA F1 director Charlie Whiting said: "We see it quite often, we saw it a lot with the Toro Rosso last year whenever they fired up. We think that's just oil getting into the turbo through the seals. It's not doing it on the track."
Predict who will win in Bahrain
Predict who you think will finish in the top three at the Bahrain Grand Prix
McLaren's emergency meeting
McLaren racing director Eric Boullier missed the team's post-qualifying news conference because he was in what was described as an "emergency meeting" with the team's engineers, picking over why the cars were so slow.
Embarrassingly, McLaren were behind both Toro Rosso cars - which are using the Honda engine McLaren ditched last year claiming their car was among the best but being held back by the engine. A decision that cost the team a net $100m when Honda's financial assistance is taken into account.
McLaren's bosses have some serious questions to answer, which Fernando Alonso - who only made it out of the first qualifying session because of another driver's mistake - was left to fend off in Boullier's absence. He said all the right things, that upgrades were coming that would fix all the issues, and that it was up to the team to do the required job.
But make no mistake, pressure is mounting quickly at McLaren. Owners the Bahraini royal family are asking tough questions and if things do not improve quickly, heads could roll. All the bosses are in the firing line - including executive director Zak Brown, who has brought in minimal new sponsorship, and chief operating officer Jonathan Neale. But Boullier is the most vulnerable, as the man who set up McLaren's current technical structure.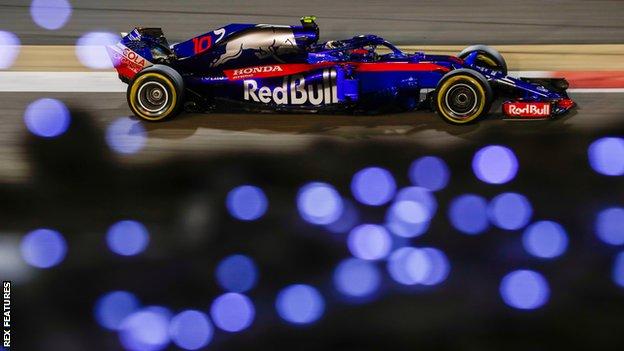 As for Toro Rosso, their glee was palpable. Pierre Gasly, who has qualified a stunning sixth, said it was the lap of his short F1 career, and said the increased pace was as much to do with set-up changes since Australia as an aerodynamic upgrade at the rear of the car.
If the Frenchman carries on like this, he could well vault ahead of Carlos Sainz - who is on loan to Renault - as the next Red Bull young driver to fill the next available slot at the senior team.
Want more overtaking? The top teams don't seem to
Overtaking - or the lack of it - has been a bit of a topic in F1 since the opening race of the season featured only five passing moves throughout the field. Leaving aside for a moment that passing is always difficult in Melbourne, and there is likely to be much more in Bahrain on Sunday, a key part of the problem is that the cars lose too much of their overall aerodynamic downforce when following each other.
F1 is researching what can be done about this for new rules to be introduced in 2021 but a meeting on Saturday morning with the teams' technical directors about bringing some ideas in early in 2019 did not go well.
F1 and the FIA want to simplify the front wings and brake ducts and make minor changes to the rear wings in the hope of making of following easier.
But this was rejected by six teams to four - Mercedes, Ferrari, the two Red Bull teams, McLaren and Renault being the objectors.
The interesting thing will be whether this is a fight FIA and F1 choose to pursue, given the wider debate over their desire to make bigger changes for 2021. But it seems an easy win and they could force it through if they want to. The next couple of weeks will be decisive on this issue.
Is Verstappen finally showing his age?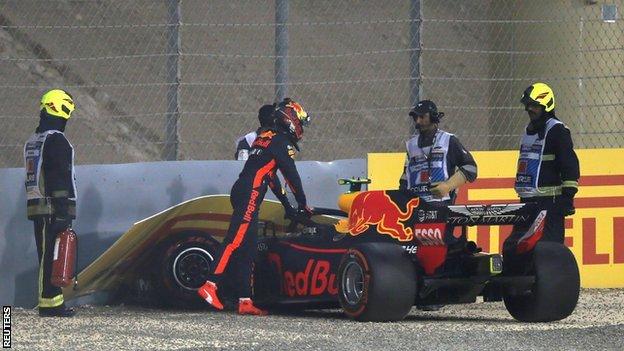 Is Max Verstappen over-driving this year? He certainly was guilty of it in Australia, when he flung the Red Bull about behind Kevin Magnussen's fast-starting pace in the race, cooked his tyres and then spun, wrecking his race, the rest of which he spent stuck behind Fernando Alonso's McLaren.
It looked like he had done it again in qualifying here in Bahrain, when he crashed in Q1. But he blamed an unexpected power surge from the engine, despite using the same map and same throttle position.
Team boss Christian Horner said it was a "mistake" and that the Dutchman had a chance to recover from it in the race. Verstappen said he was hoping for a race like Austin last year, when he charged through from the back and was denied a podium only by a controversial stewards' decision after a spectacular off-track pass on Kimi Raikkonen.
Woe for Williams
If McLaren are in trouble, Williams are in even worse shape, qualifying 18th and 20th with Sergey Sirotkin and Lance Stroll.
Technical chief Paddy Lowe said he did not understand why Williams had slipped from what he believed was about sixth quickest team in testing and Australia, on underlying pace, to the back.
He admitted judging form was "more difficult" with two unproven drivers - Stroll was about 0.7secs on average off Felipe Massa over last season.
But he said that it was "not a time to get depressed, it is time to work together objectively on the problem".
Future's bright for British talent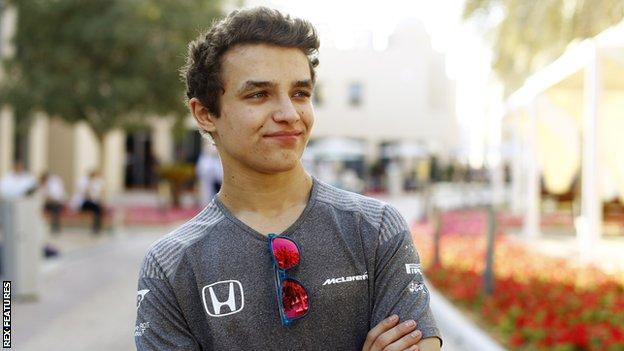 Britain only has one driver in Formula 1 this year but it does not look as if anyone needs to worry about what might happen once Lewis Hamilton decides to hang up his helmet. Lando Norris - an 18-year-old from Somerset - is continuing his rocket rise to the top, taking a dominant and highly impressive victory in the first Formula 2 race of the new season in Bahrain on Saturday afternoon.
The McLaren reserve driver is starting his first full season in the category having done a one-off meeting in Abu Dhabi at the end of last year after clinching the European Formula 3 title. He shot off pole position like a scalded cat, built a huge lead in the opening laps and controlled the race thereafter.
Norris is already being tipped for a promotion to a McLaren race seat in F1 next season - and who he replaces will probably depend on whether Fernando Alonso wants to carry on after this year or not.
With Mercedes reserve driver George Russell finishing fifth after a bad start from the front row alongside Norris, the future looks like it could be bright for British talent.